Roku Stick: Plug 'N Play Redefined
Price
: $100
At a Glance
: Small stick connects directly to HDMI input on TV • Same menus and channels as full-sized Roku Box • No additional power connection; requires MHL-enabled TV
That Roku box is shrinking…again. The Roku Stick looks like a thumb drive and is only about 3 inches long. For the most part, it provides the same experience as the standard Roku boxes—same menus, same performance. But to use one, you'll need an MHL-enabled TV or other device.
Mobile High Definition Link (MHL)–enabled displays can power a device connected to an MHL-compatible HDMI input without the need for a separate power source. At the January CES, the MHL consortium announced that, to date, there have been more than 200 unique MHL-enabled devices (including smartphones, TVs, and others) released and more than 220 million installed units in the marketplace. TVs from Samsung, Toshiba, LG, Hisense, Sony, Sharp, Hitachi, and Insignia (Best Buy's in-house brand), among others, were either MHL-compliant in 2012 or will be this year. Two new Blu-ray players from Oppo Digital have MHL HDMI inputs, as do several late-generation Onkyo A/V receivers.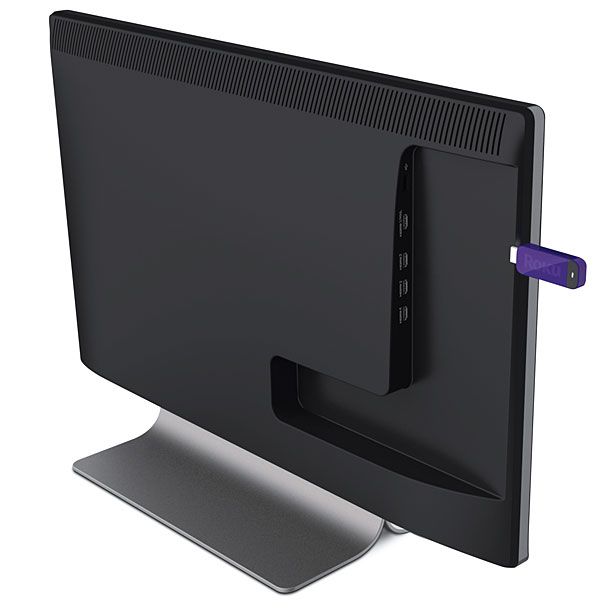 Many of the 2013 TVs are advertised as Roku Ready. Along with being MHL enabled, the remotes on Roku Ready TVs incorporate controls for playback and navigating through the Roku Stick's menus. Some manufacturers are offering Roku Readiness to avoid adding built-in smart TV features, billing these models as upgradeable because consumers can buy a new Roku stick in the future at a relatively low cost.
If you don't want to use a Roku Ready device's remote control, the Roku remote app easily finds the Roku Stick and controls all its functions. Plus, it's easy to type in logins and search terms using the virtual keyboard in the Roku remote app.
Content
Roku was the first device to stream Netflix, and it now offers more than 700 channels, as Roku prefers to call what everyone else refers to as apps. These include all of the most popular streaming services, including Hulu Plus, Vudu, Amazon Instant Video, Crackle, Flixster, HBO Go, and Epix. There are also channels to receive live and recorded shows from SimpleTV.
In the past, it was awkward to stream via Roku from your home network's media libraries and DLNA sources—computers and network-attached storage (NAS) drives. But new channels have been added that can easily access your downloaded and stored media. The Plex and PlayOn apps connect to a computer running their respective media server software. Both apps also stream from popular video Websites.
A new option is the PlayTo channel. Using the PlayTo app on an Android smartphone or tablet, you can select a media source containing your home content and the video you want to play on the Roku Stick. Then, choose the Roku Stick to receive the video, and it instantly starts to play. Like the Plex and PlayOn apps, a number of online streaming video Websites can be accessed through the app.
Several Roku channels have been added since I reviewed the Roku 2 XS media streamer (Home Theater, April 2012). The iFood videos channel was added along with an array of specialty recipe channels—from Indian and Italian cooking, to vegetarian and low-fat cooking. Other channels include Roku Newscaster, which features videos from many major U.S. news outlets, the BBC, and select others, and the Spotify music-streaming channel. Screensaver channels replace the bouncing Roku logo with beautiful photos when the Stick is idle for a period of time. There are more special-interest channels, including the Black Independent Media Channel, Trigger Talk, Kung Fu Theater, UFOs and Aliens, the Autism Channel, and AgSmart to keep you up on news about livestock. Channels for learning French and Spanish are also new.
Performance
Like other Roku models, the Roku Stick is a strong performer. Videos play smoothly with almost no wait (buffering). The Stick is quick to move from menu to menu and equally speedy to browse or search through content. In testing, I used 3M's MHL-enabled portable streaming projector with the Roku Stick. Although I had less than optimal viewing conditions for a front projector, I could see that video was streaming in 1080p resolution and comparable to other Roku Box models. Likewise, the 5.1 digital surround sound was adequate.
The only performance issues I found were related to the specific channels. The Plex and PlayOn channels had problems playing certain video formats like MKV or XVID high definition. Although the files showed up in the menu among my computer's list of videos, they would not play. On the other hand, PlayTo played almost every file I tested. The Hunger Games played beautifully in full 1080p high definition without a single hiccup or problem.
Final Thoughts
Again, you'll only be able to use the Roku Stick if you have a TV or device that is MHL enabled. A list of compatible products is available online at mhlconsortium.org/productlist, but check your TV's specifications. If you can use a Roku Stick and like Roku's offering, it's definitely the way to go. You get all the benefits of Roku and don't have to find a place to put the little box. If Roku were to become any smaller, I'd probably lose it.
Roku • (408) 446-1734 • roku.com