Rickey Medlocke Conjures the Next Generation of Blackfoot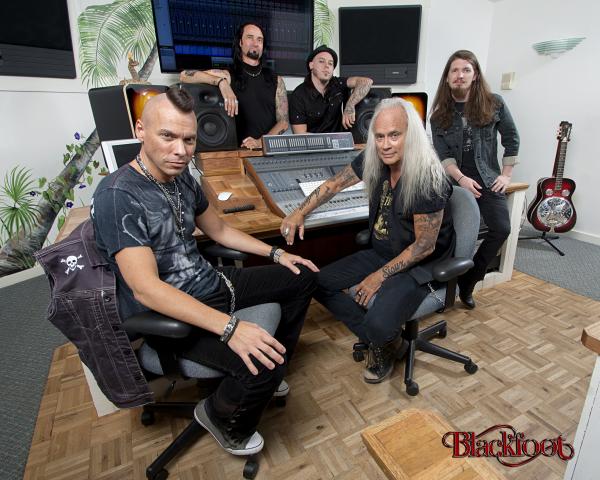 If there's one thing Rickey Medlocke can't do, it's sit still. The Blackfoot cofounder and longtime Lynyrd Skynyrd guitarist is constantly looking for ways to challenge his creative impulses, and his latest pet project has been to shepherd the next-generation incarnation of his beloved Blackfoot. Under Medlocke's steady guidance, the Florida-based foursome — lead guitarist/vocalist Tim Rossi, vocalist Rick Krasowski, bassist Brian Carpenter, and drummer Matt Anastasi — has been jamming together live under the vaunted Blackfoot banner for quite some time, and now they've committed their hard-charging sound to the grooves of a new album,
Southern Native
(Loud & Proud Records), that beautifully meshes traditional tones with modern sensibilities.
"I don't think things should stay the same. They should continue to expand and grow," believes Medlocke, who also produced and played guitar on the new album. (In the above photo, Medlocke is seated at the console at Studio Sea in Fort Myers, Florida, surrounded by the kickass new-gen Blackfoot.) "We should all expand our horizons, whether it be through friendships, marriages, bands, or artists and actors creating new art. Anything in the arts needs to go forward."
Such forward-moving proof can be found deep within the grooves of Southern Native, from the proud heritage callbacks of the title track to the tasty slide-driven travelogue of "Take Me Home" to the harmonic ramrod-riffage twist on Crosby, Stills, Nash & Young's powerful "Ohio" (which includes — spoiler alert! — a quite shrewd wink/nudge lyrical shout-out at the end). "To me, it's a very well-rounded record," observes Medlocke.
Adds aforementioned lead guitarist/vocalist Tim Rossi, "Rickey bridged the generations by having his grandfather Shorty Medlocke play on those early Blackfoot records, so having Rickey play slide and other guitar with us on this record bridges the modern gap. It's a full-circle kind of thing."
I got on the horn with Medlocke, 66, to discuss the genesis of Southern Native, keeping true to his analog-centric inclinations, and what it was like working with his grandfather Shorty back in the early days. It's a highway song that keeps going on and on...
Mike Mettler: One of the things I like in your approach with Blackfoot these days is how you embrace multi-generational ideas. As a listener, I'm totally down with that. The name Blackfoot carries a lot of weight, and however you want to carry it on is the way it should keep going. Evolve or die, as the saying goes.
Rickey Medlocke: Yeah. It does needs to evolve. Here's how it happened. The original guys in Blackfoot had the name for 7 years and they didn't want to make another lease deal with me for the name, so it reverted back to me. I was going to put it away and maybe break it out if I was going to do a tour, or whatever. I was perfectly happy doing that.
But Eric Liebl, the Blackfoot manager, came to my manager Al Nalli and me with this idea: "What if, because Blackfoot has been in existence for three generations, we develop a new band with younger guys in it, like a new generation of the name?" I didn't really cotton to the idea at first. It didn't hit me.
And then Al and I got to talking. We said, "You know, maybe this could work if we put the right guys together." There were these guys, Tim Rossi and Brian Carpenter, in Fort Myers. They were playing little juke joints together — little clubs, country clubs, bars, and so forth. And they had been playing together for quite some time.
Tim is just an extraordinary guitar player and Brian has a knack for mirroring what he's doing. Tim has all these crazy riffs and ideas that I've got on record now. Both of them are as good as each other. That was the start. They were into it, and they wanted to give it a try. We located singer after singer after singer and drummer after drummer, but finally we settled on what we've got now.
The way I said I would be involved would be only if I could produce the records, and co-write or give them songs that had been unreleased. That's the way I would do it. Everybody was in agreement, and we went forward from there. I gotta tell you, I went into it thinking my vision for it was old school meets new school. If you keep that in mind as you're listening to the record, you'll hear what I'm talking about.
Mettler: I totally get it. On Southern Native, you marry traditional Blackfoot heavy riffs with a modern crunch sensibility. Was that the sonic goal you had in mind as the record's producer?
Medlocke: I wanted to basically bring about a traditional sound, but updated. We used an array of guitars and amps in the studio. As a matter of fact, we used a guitar Brian May of Queen gave me, and some old Marshall amps — and some new stuff too, like the Wizard amps I use now.
It was a good time — it really was. The guitar sound we went after were nice tones, different tones, and different styles. There are a couple of songs on there that are only one rhythm guitar, or just the leads. We didn't do a lot of layering. I like to keep it as simple as possible.
Mettler: I like how you charged out of the gate with "Need My Ride" and "Southern Native," and then you dial back a bit with "Everyman," slowing it down with a nice ballad. That's the mark of good sequencing — how you put a record together and take us on a journey. That's a lost art in the digital and CD age. People kind of forgot how to put a record together to take you on a ride.
Medlocke: Right. Well, thank you. Yeah, that's exactly it. It is a journey, you know what I mean? It actually is. And what I wanted to do was take people on a journey of yesterday and today.
Mettler: We now have a multi-generational audience coming to see you that's not necessarily so hardcore about seeing certain lineups — they just want to see good music. And if it's played by the right people, it's all good.
Medlocke: It's funny. The old Blackfoot — well, I shouldn't say "the old" — my version of Blackfoot, in the days we were together, we had a version of [CSNY's] "Ohio" that was so heavy, man. The guys pretty well copped it for this record, except they changed it around some and turned it inside out, and put it back together. I thought their version of "Ohio," when I heard them play it, was really kicking. Really killer.
Mettler: They stayed true to the original idea. It's the Blackfoot family heritage, which is something that's always been important to you, having Native American blood running through your veins.
Medlocke: Well, yeah. It was on my father's side bigtime, and part on my mother's side. I've always been very proud of that. All these tattoos all over me are strictly Native American. The other guys in [early] Blackfoot — Jack [Jackson Spires, drums/vocals] and Greg [T. Walker, bass/vocals] — all of us were of Native descent. We carried that very proudly, and I still do today. It's a big part of my life, you know?
Mettler: Earlier this year, I spent some time down in Florida with some of your Southern brethren — namely, 38 Special and The Outlaws. You guys pretty much all grew up together around the same time in Jacksonville, right?
Medlocke: Yeah, pretty much so, with 38 Special. Lynyrd Skynyrd and The Allman Brothers were also in Jacksonville, and The Outlaws were from Tampa, actually.
But all of that started with my grandfather, Shorty Medlocke, who wrote "Train, Train" [the song with Shorty's infamous harmonica intro on Blackfoot's 1979 debut, Strikes]. And Ronnie [Van Zant, the late cofounder and original vocalist for Lynyrd Skynyrd] modeled Curtis Loew after him [i.e., the title character in "The Ballad of Curtis Loew," on Skynyrd's 1974 album, Second Helping]. Shorty had a bunch of bands over the years. He played authentic Delta blues right there, with guitar reminiscent of old blues players.
I've often been asked what was it about Jacksonville and why there are so many musicians and bands there, and I always tell people, "It probably had something to do with the water."
Mettler: When I spoke with [now retired 38 Special cofounding guitarist] Donnie Van Zant about it, that's almost exactly what he said, word for word: "There's gotta be something in the water."
Medlocke: (laughs heartily) I guess it runs true with all of us, you know.
Mettler: Molly Hatchet was also down there too, right? Isn't that something?
Medlocke: All of them came from Jacksonville, yes; there you go. Another great Southern band. I'll tell you, man, it was pretty interesting. Then, later on, you had the Johnny Van Zant Band, and the Austin Nickels Band — oh my God, just a ton of people.
Mettler: And now you and Johnny get to play together all these years later in Lynyrd Skynyrd. [Johnny took over the vocal reins of the reconstituted Skynyrd lineup in 1987, and Medlocke rejoined the fold in 1996.]
Medlocke: Oh yeah, man, it's very cool. We've enjoyed good success together. It's been great. [Skynyrd cofounding guitarist] Gary Rossington and I go back to when we were 15, 16 years old. It's just been great; it really has. But I'd say my greatest accomplishment is that I got to stand onstage and play with the world's greatest musicians in Skynyrd: Gary, Ronnie [Van Zant], Allen [Collins], Leon [Wilkerson], Billy [Powell]… so forth and so on.
Mettler: Let's talk about how you first got into playing music. Didn't you start out on the drums before you were a guitar player?
Medlocke: Actually, I was a banjo player at the age of 3 and started playing guitar at the age of 5, and then I started playing drums at the age of 8. The reason I picked up playing the drums was out of necessity with my grandfather, Shorty. Playing with his band was a good novelty because I played with him on a live TV show that originated out of Jacksonville called the Toby Dowdy Show —
Mettler: — on WMBR, right?
Medlocke: WMBR, that's it. My grandfather thought it might be cool that all of a sudden, his grandson had taken up drums and was playing in his band, which was very cool. I played off and on for quite a while with his bands, in fact.
And then I had the chance to join Lynyrd Skynyrd because things weren't working out in the band I was in and they needed a drummer in late '70, or early '71. So I joined the band and became one of the original drummers in the group.
Mettler: I'm glad we got to hear some of that drumming work of yours on the First...and Last record, to hear the DNA of it all. [That album, initially released in 1978, was later expanded into The Complete Muscle Shoals Album in 1998.]
Medlocke: Oh yeah, right. I played with them up until '73, and then I went and did my own thing. And then I rejoined again to play my guitar and sing.
Mettler: Was Al Kooper in the Skynyrd mix in those early days? [Kooper produced Skynyrd's first three studio albums.]
Medlocke: No, not at all. It was just Jimmy Johnson and David Hood [at Muscle Shoals Sound Studio in Sheffield, Alabama].
Mettler: I'm glad to see we're also getting Southern Native on vinyl. Are you still a fan of vinyl yourself?
Medlocke: I am. I still have a turntable. I just love analog. It has a warm, rounder sound to it. I love to hear tones, whether it be the tone on a guitar, a bass, or vocals. I love smooth highs, warm mids, and a good round bottom, like I do my women.
Mettler: (laughs) Ah, nice! And Stacy approves of that? [Stacy Michelle, Medlocke's better half, sings with Kid Rock, and she also did some background vocals on Southern Native.]
Medlocke: She does. Absolutely! (chuckles)
Mettler: Since younger listeners are now getting into Blackfoot, are you cool if they stream this new record on services like Spotify?
Medlocke: Well, you know what? I have mixed opinions of stuff like that. What people don't understand today is we spend an exorbitant amount of time writing, developing, recording, and doing all the stuff to put it out, and for someone to come along and say, "I'm going to take that because I want to," and then not pay for it — I can understand why a lot of artists get upset about that.
But it's a thing of today, man. It comes along with progress. It comes along with technology. But something's got to give, one way or another. There's give and take with everything. Some people will buy it, but 10 people will share it.
Mettler: You could say it kind of started like that in the days of home taping.
Medlocke: Oh yeah, absolutely, man. Think about it. There are a lot of different ways to look at it. But in today's world, technology is moving so fast, and so rapidly. I know in terms of recording, I'm doing everything I can to keep it analog — everything but going back and buying a Studer 24-track with 2-inch tape. And a 2-inch reel of tape is not cheap today. It's hard to buy.
Now, I'll tell you one thing that you can do. What's interesting is that you can record onto Pro Tools, and then when you go to mix, you mix your songs on the 1-inch analog. All of a sudden, it's the digital going onto analog, and the analog will make it nice and warm.
Remember back when CDs became available and you were taking tape, transferring the tapes over, and writing your own CDs? Yeah, man. So there are ways.
Mettler: I do remember that. We did what we had to do to get the best sound we could. The last thing I wanted to ask you about was Elvis Presley. I love that you got to see Elvis when you weren't even 7 years old. What was that like?
Medlocke: It was in late 1956, not long before my seventh birthday [in the following February]. My grandparents, Shorty and Nita, took me to see Elvis at the Florida Theater in Jacksonville [in August 1956]. What an amazing show. Afterwards, I looked at both of them and said, "That's what I want to do." So I set a course for living that life — thinking about it and believing it my whole life. And here we are today — still doing it, and still loving it.