RHA MA450i In-Ear and SA950i On-Ear Headphones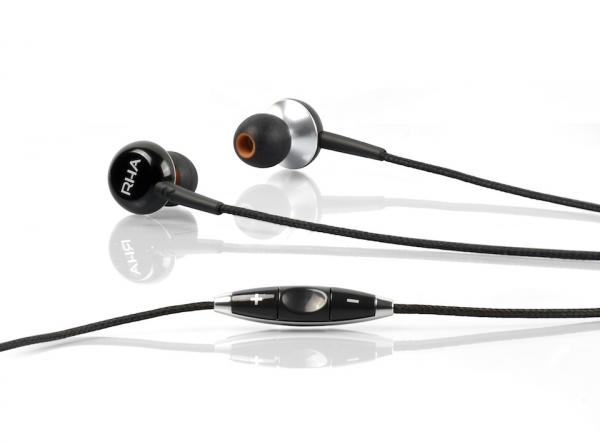 Scottish headphone manufacturer RHA hasn't had much of a stateside presence, but this week marks their arrival in Apple stores, with the MA450i in-ear ($49.95) and SA950i on-ear ($59.95) set to appeal to budget-minded consumers looking to accessorize their iDevices. And appeal they may.
The in-ear MA450i, available in (of course) black and white, is very comfortable; the aluminum housings are quite tiny, and reassuringly solid in construction to boot, with beefy strain relief conveniently marked with L and R channel indicators. I'd have liked to see a right-angle plug in place of the straight one used here, and the fabric-wrapped cables seem overly prone to tangles.
But any way you look at it, for 50 bucks, with 7 pairs of ear tips included and an iOS-compatible mic/remote pod, the MA450i is really a fine deal - the question at this price point is always whether or not you're actually getting a significant improvement over the freebie earbuds (EarPods, nowadays) that shipped with your iDevice, and in this case you certainly are.
Sound quality is pretty impressive. Bass is tight and unexaggerated; midrange is what headphone aficionados would likely call "recessed," but it's refreshingly uncolored for an in-ear in this price range. The top end is a tad strident for my taste, but those looking for an affordable in-ear that offers a good amount of detail without sounding thin will want to investigate.
The little RHA offered solid performance on a wide range of tracks. The stereo effects on Peter Hammill's "The Institute of Mental Health, Burning" (from Nadir's Big Chance), with its mix of heavy guitars, processing, voices, and winds, was presented quite well here, the upper-register percussive guitar and electronics perhaps a bit forward, but a big step up from an earbud. The tone of the fretless bass on Bohannon's "Run it On Down, Mr. DJ" (from Stop & Go) was clear, and though the female vocals and snare had a bit too much of an edge, everything else sounded very nice; the organ and wah-wah-guitars sitting in the mix as they should.
The on-ear SA950i is a similarly attractive package. The lightweight 'phones are quite comfortable, and they look, on first inspection, a lot pricier than they are, with welcome features like a detachable cable (including, again, an iOS remote). Sonically, I don't think these offer as much bang for the buck as their in-ear siblings - low-end performance is less robust, with drums and bass lacking muscle on heavy stuff such as Meshuggah's "Pravus" (from Obzen) and hip-hop tracks like The Pharcyde's "Runnin'" (from Labcabincalifornia), and more coloration is evident in the midrange, with Radka Toneff sounding quite cardboard-tubey on "The Moon is a Harsh Mistress." The on-ear doesn't have as much top-end zing as the in-ear, though so it might be a less fatiguing 'phone in general if you like it loud.
Still, for the money RHA have done a solid job with these two phones, particularly so with the MA450i. You could do worse than give 'em a listen if you're in the accessory market after picking up your iPhone 5.