Review: Pro-Ject Box Design Stream Box DS and Media Box S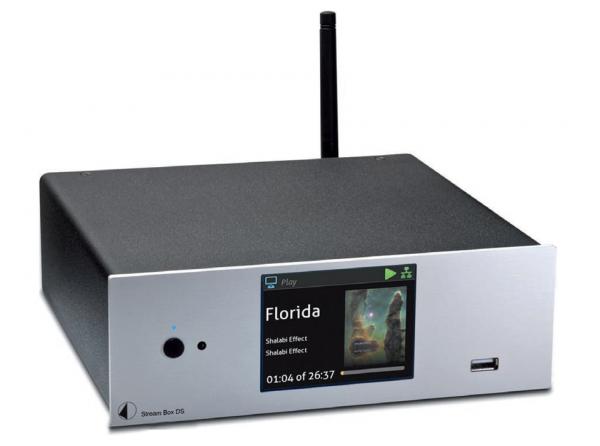 Who wouldn't want to play their growing horde of audio files – the same ones that feed the iPod and iTunes — on the "big" system, with big-system volume, quality, and impact?
Nobody, that's who.
Big-brand manufacturers have been quick to oblige: virtually every AV receiver and preamp/processor above mid-range today includes basic home networking and audio streaming capabilities. (So do most Blu-ray players, game consoles, Internet radios and, for all I know, cappuccino makers.) At the other extreme, set-top-box makers have rushed to fill the low end: you can buy an AV STB (boy does that sound like a disease) that will perform the same audio tasks, plus a slew of streaming-video ones, for about what a family of four will spend on lunch at Applebee's.
Apple – of course – has taken a stab at owning this product space, too, with its AirPlay and AirPort Express product categories. Yet demand for more audiophile-oriented solutions continues, and has engendered a whole 'nuther host of products striving for the high-end-stream.
Stream Box DS ($999)
The example before us here originates from Pro-ject, an Austrian firm best known for its affordable-audiophile vinyl turntables. Pro-ject's "Box Design" sub-brand encompasses docks, DACs, decks (CD players), amps, phono pres, and, now, audio-streamers, all built on a mini-chassis about the size of a paperback dictionary.
The Pro-ject Stream Box DS front panel presents a single button (power), a 7x 5 cm color LCD display, and a USB port; its rear, another USB, plus an Ethernet port, analog stereo and digital (S/PDIF-coax) outs, and a connector for its Wi-Fi receiving antenna (wireless LAN ability is built in). Hookup and setup are largely self-explanatory, especially so if you've already dipped a toe into the, ahem, stream as often as I have, and the Stream Box DS found my network (on both wired and wireless trials), and handshaked (handshook?) with its DHCP address server just fine.
One quick aside: the basic Stream Box DS layout and guts shows up in quite a range of products, from makers as disparate as Pioneer and Musical Fidelity. It turns out that the bare-bones chassis and operating firmware originate from an outfit called StreamUnlimited Engineering — also an der Wien, and in fact just a few long Viennese blocks from Pro-Ject's home office. Nevertheless, what StreamUnlimited's relationship to Pro-Ject is I cannot say.
After so verbose a preamble, my main story here will be short and sweet: the Pro-Ject's audio quality is very difficult to fault. The Stream Box DS incorporates some pretty high-zoot digital-to-analog, with 24-bit/192 kHz conversion via CirrusLogic delta/sigma silicon. And in fact, the Pro-ject solution sounded superb. I played most of my growing hi-rez audio library – mostly FLAC files in 24-bit/96 kHz format — and never heard anything but excellent playback. (The Stream Box DS handles MP3, AAC/MP4, WMA, WAV, AIFF, and FLAC file types, plus a couple more oddballs.)
Usually, in my system this material streams directly to my preamp-processor, a respectably high-end piece of kit that incorporates its own elevated D/A excellence, and I heard no difference whatsoever in musical texture, timbre, transients, spatiality, or anything else. A performance of music of Alban Berg (pieces from the Lyric Suite), in this case in 24/88, is among the best-sounding of the lot, and I heard all the detail, and transparency, and truly lifelike dynamics I've come to expect when auditioning it via suitably competent means.
That's the ease-of-listening score: very high. The ease-of-use one is not quite so brag-worthy. The Stream Box DS' color display is small but very sharp, and its navigation of folders, tracks, and so on (this organization is dictated by the file structure of your server software, with very little input from the Stream Box player client), via simple up/down/left/right keys on its remote, was straightforward, responsive, and rather quicker than many media streamers I've used.
All good — but there's no video output, and hence no possibility of viewing the track or folder info shown by the small front-panel LCD at a bigger scale on your TV. This means you must be standing within a few feet of the Stream Box DS to operate it at any level much beyond play/pause. The supplied remote controller, a simple, compact button design, is useful enough, I suppose, but the fact that you must be within viewing range of the front panel anyway to do any meaningful operations detracts from its utility dramatically, outside of play/skip/pause. Pro-Ject's website offers (in German) that iPhone and Android control apps are on the way "Soon," but as of this writing I could not find a live link, nor locate the iOS app on the iTunes store.
The Stream Box DS includes some further features and streaming options. You can stream content from a USB drive connected to either port (a feature shared by the Media Box S, discussed below); you can call up umpteen thousands of Internet radio streams, ranging in audio quality from hideous to "okay," and you can choose between multiple DLNA servers, in the unusual case that you're home network hosts more than one — this of course, also opens up the possibility of streaming from mobile devices running DLNA server software such as Twonky.
But mostly, the Stream Box DS is going to appeal to serious listeners, looking to add serious-quality streaming audio from their music file collections, onto an existing serious-quality system, and this the Pro-Ject unit delivers. Now, whether or not this fact justifies an expenditure 6 or 7 times that of, say, an Asus O!Play, a set-top box which, functionally speaking, does all the same things (plus, of course, the whole video side), with the added, undeniable convenience of an on-screen display, is not a question I'm prepared to answer. It depends on just how much audible difference you perceive, or at least believe, between audiophile D/A processing and audio circuitry, and run-of-the-mill chip solutions. Certainly, differences exist (and even Asus is in the high-end audio game these days). Just how big those differences are is another issue, and generalizing about them is one mistake I'm not going to make.
Either way, the Stream Box DS is an elegantly made, elegantly simple solution that sounds great. And for one class of buyers, at least, that's all it needs to be.
Media Box S ($359)
Among the myriad streamers and other goodies in Pro-Ject's portfolio is the Box Design Media Box S. The "s" surely stands for "small": the thing is no bigger than the larger sort of portable hard drive (4x4x1.5 in., roughly), yet includes front-panel USB and SD Card slots, a miniscule color display (1 in. diagonal), and four tiny buttons for power and navigation; the back panel offers stereo analog audio and coax digital outs, and a port for the supplied 9V wall wart. A clever rotary onscreen image permits pretty spry navigation of folders and files, though I must relay that I found the Lilliputian display all but unreadable without some concentrated squinting, even with my glasses.
The Media Box S literature states that it will power USB external drives and mount FAT32 format volumes (only), so you could conceivably use the Box Designs unit as a very small, yet high-capacity music server. It would not mount the shirt-pocket-sized, port-powered terabyte USB drive on which my Mac OSX–hosted media collection, but it streamed files from thumb drives just fine, and the SD slot is rated as accepting cards up to 32 GB.
Unlike the Stream Box DS, the pint-sized Media Box S limits playback to the basic file types: MP3, WMA, and AAC/MP4. I confirmed that all these played without incident, and that FLAC files, including standard-rez ones, indeed would not.
As to quality, the Media Box S, too, sounded very good. Box Design's lit reports its D/A hardware as coming from Texas Instruments, in a 24-bit/96 kHz upsampling package, and I did not hear anything that would suggest this is any sort of serious limiting factor in reproducing digital audio. The little unit was very quiet and clean, and musical sound struck me as crisp and defined.