GoldenEar Triton Seven tower speaker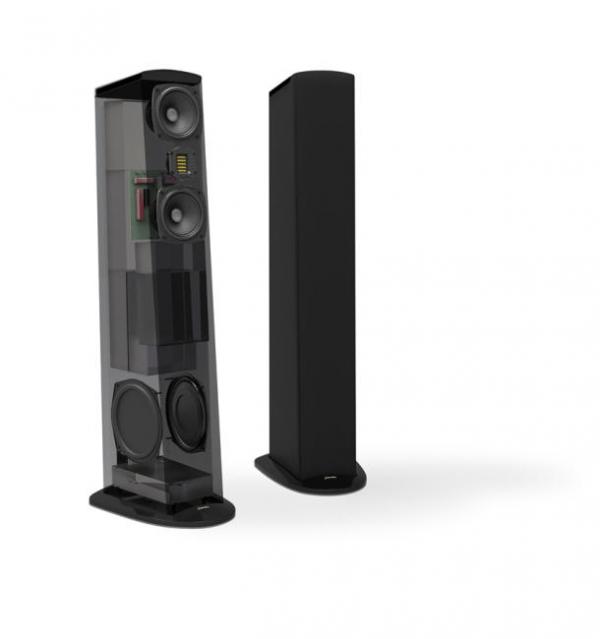 The seeds were planted at CES this past January in Las Vegas. I was ushered directly to the SSS, the Sweet Spot Seat (middle chair, second row) in GoldenEar Technology's private suite at The Venetian. GoldenEar's major audio domo, Sandy Gross, had been waiting patiently for my arrival so I could hear the company's new speaker pair, the Triton Seven towers. Before cueing up the first audition disc, he told me something quite interesting: "They're totally passive. No built-in subwoofers."
It's a good thing I was sitting down when Sandy let loose with that not-so-insignificant tidbit. I instantly recalled the innovative design of the company's inaugural speaker offering in 2010, the $3,000-per-pair Triton Two tower that made audiophile heads turn with a built-in powered sub featuring dual 5 x 9-inch drivers that readily handled deep bass all the way down to 20 Hz. Al Griffin reviewed the Two in January 2011, and he found the imaging expansive and spatially precise. Overall performance was so good, in fact, that the Triton Two easily earned our 2010 Audio Product of the Year Award.
I next flashed back to the 2012 debut of the $2,000-per-pair Triton Three tower, which was 4 inches shorter than the Two and contained just one oval-shaped bass driver as opposed to the Two's two. In our April-May 2012 issue, Brent Butterworth put the Three through its paces and found its off-axis response to be great and the sub section's output to be modest but deep. Concluded Butterworth, "It's simply one of the best tower speakers I've reviewed at any price."
With those Triton Series facts in mind, I began processing the no-subs-for-you bombshell when Gross hit me with another kicker: The Sevens would retail for $1,400 per pair. Once I made sure there were no "gotcha!" hidden cameras in the room, I gathered my faculties for what quickly became an impressive and (pardon the pun) engrossing audition. I immediately told Gross that we at S&V needed to get the Sevens into our über-capable product-testing hands as soon as the speakers were ready. Gross smiled. Soon after, he offered me the exclusive. The very first pair of Sevens to roll off the line were mine to test. Yes, "mine," as in: You will test them yourself. You will not assign them to anyone else. It was, of course, an offer I couldn't, and wouldn't, refuse.
The facts are these: Each of the Sevens has two 8-inch low-side-mounted passive radiators and two 5.25-inch cast-basket bass/midrange drivers surrounding a High Velocity Folded Ribbon tweeter (the same one used in both the Triton Two and Three) in a D'Appolito array. The spider-leg woofers are said to have been designed specifically for "deep bass response." And the Seven is more compact than its brethren: At 40.25 inches high, it's 3.75 inches shorter than the Three and 6.75 inches shorter than the Two.
Gross pointed out that the anechoic chamber in the company's Arnprior, Ontario, research facility — an "exact duplicate" of the one at Canada's National Research Council in Ottawa — was instrumental in the Seven's development process. According to Gross, the speaker's "slanted baffle apparently makes more of a difference than just aiming and aligning the drivers at a seated listener's ears." I was eager to find out how much of a difference that, and no built-in subs, would make.