Revel Ultima2 Studio2 Surround Speaker System
The Revel Ultima series has survived for an unusually long time in the competitive loudspeaker market. I reviewed a Revel Ultima home theater package built around the stand-mounted
Ultima Gem
way back in 1998. When a line of speakers can remain a fixture in the audio world for so long, largely unchanged, it's a reflection on its solid performance out of the gate.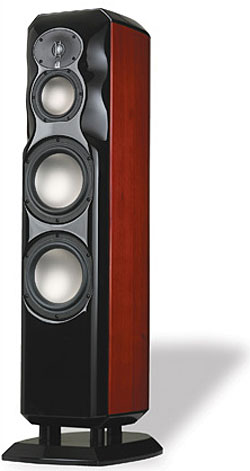 But no speaker line can survive indefinitely. Audiophiles, like most consumers, are constantly looking for the new and different. And the competition is especially fierce in the high-end, where each sale is far more than a blip in a manufacturer's market share.
Enter the new Revel Ultima2 range. The model names are all familiar, but with a "2" tacked on. Our review system is built around the Studio2, which at $15,998/pair is one less one step removed from the top of the line Salon2. The center channel Voice2 ($7,999) has the same driver complement as the Studio2, and the smaller Gem2 ($9,998/pair) is a three-way, three-driver design we used for surrounds here. Also included were dedicated stands for the Voice2 ($599) and Gem2 ($1,398/pair).
About Revel
Revel is a division of Harman International Industries, Inc. While Harman makes mass-market electronics and other consumer electronics products under well-known names such as Harman Kardon, Infinity, and JBL, Revel is part of the higher-end Harman Specialty Group, which also includes electronics from Mark Levinson and Lexicon.
While no one can argue that the best designs from Infinity and JBL are not high-end, for some corporate reason these two brands are not under the Harman Specialty Group tent. Nevertheless, Revel, Infinity, and JBL share Harman's speaker development and testing facilities in Northridge, California. These are among the finest in the world, and include anechoic chambers, equipment to fabricate experimental parts from computer designs, several fully-equipped listening rooms of various sizes, an additional, state-of-the-art room designed for double blind listening tests, and, most important, technical expertise in all aspects of speaker design and the all-important, related areas of room acoustics and psychoacoustics.
I have seen all of these facilities first hand on more than one occasion, and they provide advantages available to few speaker manufacturers. Revel Ultima2 and Performa series speakers are built in Northridge, CA, while less expensive Revel speakers are now manufactured either in Mexico or China (hardly a unique situation today). But Revel makes the point all Revel speakers are designed and refined in the U.S.
Rounding out my review system was a Revel Performa B15 subwoofer ($3,295). There will also be a new Ultima2 subwoofer, but it is not yet shipping. But if you insist on spending over $6,000 to get your woof on now, I suggest that two Performa B15s just might outperform most single subwoofers in any room of less than palatial size.
Description
When the original Ultima series debuted, its styling was quite radical. The new Ultima2s are less far out, but their sleekly rounded sides and back would have been considered cutting edge cabinet design back in 1998. And they are far from ordinary looking. They are also as solidly built and massive as you have a right to expect for the price, but not overbuilt to the point that it takes piano movers to get them into your house.
Not everyone will like the change in style, but that's a personal call. I find them elegant and just slightly understated.
The Ultima2 speakers are available in your choice of black or mahogany, either of them polished to a high gloss. If you have a video screen positioned just slightly behind the speakers you might find the reflections from the Ultima2's glossy finish slightly distracting. However, my setup is like that, and the reflections didn't bother me.
While the drivers in the Ultima2 line look similar to those in the original designs (apart from the tweeter), they are completely new. The woofers and midranges employ dual neodymium magnets, oversized voice coils, and titanium diaphragms. Distortion reduction was a high priority, together with the low dynamic compression that's long been a fixture in Revel speaker design.
A new 1" pure Beryllium dome tweeter is used in all the Ultima2 models, which employs a third generation waveguide. Unlike most previous Revel designs, including the original Ultimas, the Ultima2s do not include a rear-firing tweeter. Because of the wide dispersion characteristics of the new tweeter, the Revel designers did not feel a rear tweeter was necessary.
LATEST VIDEO