Revel Ultima2 Salon2 Speaker System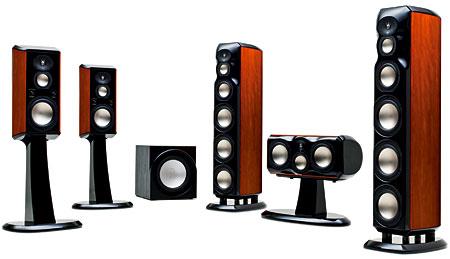 Price: $45,993
(
reviewed with B15a subwoofer, which has been discontinued
)
At A Glance: Seductively powerful bass, with or without the sub • Complex midrange timbre • Depth and imaging maestro • What movie theaters should sound like
The Finest Money Can Build
I first heard Revel speakers many years ago at CES when they burst on the scene. The curiously modest-looking original Gem speakers were sitting behind their designer Kevin Voecks as he introduced them. Then he fired up an exquisitely calibrated 9-inch CRT projector. I remember this as the exact moment when I decided, by hook or by crook, there would be a front projector in my house someday. Such is the influence of great sound accompanying good video. All of this introduction is my way of saying that the Revel system here is once again best of show in my book.
Revel has the art of speaker creation down to a science, and that's a good thing. The company came along in the mid-1990s, at a time when the voodoo hype of speaker manufacturing was at its height of absurdity. Under the tutelage of Voecks, chief speaker designer at Snell from the mid-'80s, and with the financial backing of industry giant Harman International, Revel has access to multiple large anechoic chambers for measuring and testing. Its multichannel listening lab trades subjective evaluation for double-blind listening tests. Using computer-aided finite element analysis for speaker design and laser interferometers for driver and cabinet analysis is just part and parcel of the Revel business process.
The Salon2 ($21,998 per pair) that performed left and right duty here is Revel's top speaker. It looks very much like a solid curved billet of mahogany, and its 178 pounds hover deceptively above the base as if buoyed by an antigravitational engine. Magnetically attached grilles hide a sculpted baffle that holds no less than six drivers in this four-way design. Three 8-inch woofers, a 6.5-inch midwoofer, and a 4-inch midrange riff off a design concept that shares dual neodymium magnetic-motor assemblies and titanium diaphragms. The 8-inch drivers share a ported cavity that fires out the bottom of the cabinet via a tube that flares at both ends a few inches above the Salon2's base. The 6.5-inch midwoofer and 4-inch midrange operate in their own sealed enclosures.
Revel claims the Salon2's bass output is down only 3 decibels at 23 hertz, and nothing in my listening experience contradicted that. An unported Vandersteen 2W subwoofer I owned years ago with a pair of Magnepan MG IIIa panels also used three 8-inch drivers to get deep, powerful bass extension. Smaller drivers, provided they are capable of high excursion, can generate massive amounts of tight bass.
The Salon2's tweeter is pure beryllium. At about one-third the density of titanium, it provides a lighter, stiffer diaphragm that's capable of better performance than a diamond-coated dome. The tweeter uses a waveguide that helps control diffraction and directivity while it simultaneously increases effective output.
Nine layers of laminated MDF form the Salon2's beautifully curved cabinet. The MDF wraps from the left edge of the 2.5-inch-thick front baffle all the way around and back to the right edge of the baffle. In the case of the similarly constructed Voice2 center speaker ($7,999), they wrap from the top edge of the baffle around to the bottom edge. In both cases, this eliminates two large joints in the rear that would have otherwise been required. Speaker connections are on the back, behind a curved Plexiglass door. If your cables are large and as uncooperative as my AudioQuest Mont Blancs, you may want to leave the door open. Or you can simply unhinge the doors and put them away, as I did. Revel also offers two pair of speaker terminals that you can use to biwire or biamp the Salon2, Voice2, and Gem2 speakers. I left the input terminals bridged and ran a single pair from my amp to each speaker.
Two frequency contouring controls on the back of the Salon2 and Voice2 speakers let you set the low-frequency compensation to Normal, Boundary (if the speakers are close to the wall behind them), or Contour (for a modestly shelved bass response that might make them easier to place). A five-position tweeter control gives you two boost and two cut options in addition to flat.
I've heard the five Gem speakers (predecessor of the Gem2) used as a complete surround system. They sounded so good, I felt particularly pretentious using the new Gem2 speakers ($9,998 per pair) merely as surrounds here. Obviously, with the same driver complement as the Salon2 speakers, timbre matching was all but a given. The rather pricey pedestals for the Gem2 ($1,398 per pair) provide a pleasing final aesthetic, so these Gems can linger mid-room without objection. I can say the same for the Voice2's pedestal ($599), which ended up 4 feet into my room in order to provide clearance to open the doors to my equipment cabinet behind it. If you're looking for a speaker system for your cramped Manhattan pied-à-terre, the Ultima2 line from Revel will not be your first choice.
Basso Performa
Revel's Ultima2 line may lack its own subwoofer, but the Performa B15a subwoofer ($2,999) is as ultimate as you can get in any case. A 15-inch inverted metal dome driver with a 3-inch voice coil that's coupled to an 8-pound magnet driven by 1,000 watts of power (1,400 watts on peaks) is all a reasonable person could want. I used two B15a subs in this 5.2-channel review system.