Revel Performa F52 Speaker System
Sonic revelation.
When the assignment came in to review Revel's Performa system, I was more than just a little bit excited. After all, spending time with a Performa F52, C52, S30, M22, and B15A setup is akin to driving a Mercedes-Benz CL600 coupe with every conceivable option when you're accustomed to commuting in a Honda Accord. There's nice, and then there's, "Give me the keys, and get out of the way!" Yes, this would be fun.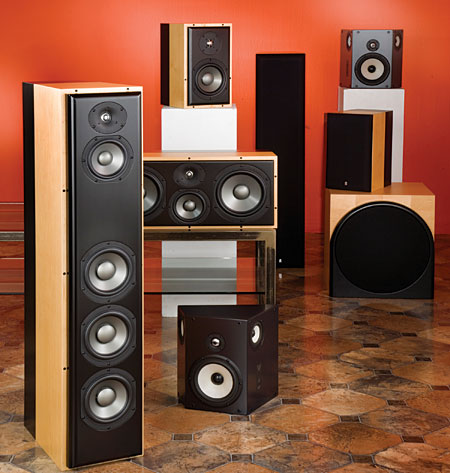 Revel enjoys a stellar reputation in the audiophile community. People recognize their products as tools for the discriminating audio enthusiast, and, with the support of parent company Harman International, Revel enjoys the financial support required to remain on the cutting edge. Of particular note, Revel is one of just a few select companies with membership in the far more elite Harman Specialty Group. Make no mistake: Revel is a cream-of-the-crop brand.
Initial Impressions
For this evaluation, I configured a 7.1 system with the C52 center-channel speaker, flanked on the left and right by the F52 tower speakers. Positioned on the left and right sides were a pair of S30s, while the M22 loudspeakers served as the left and right rear channels. I also placed a B15A subwoofer along a side wall on the floor.
The Revel Performa F52 system makes quite a statement in terms of visual impact. The F52, C52, and M22 enclosures were finished in a lustrous maple veneer, with black rear panels and black, fine-mesh cloth grilles in front—creating a very sleek look designed to blend nicely into a variety of living spaces. The B15A subwoofer shared a similar aesthetic, and the S30 surround speakers were finished in black. The S30 is available only in black or white, with matching grilles. All of the other models are available in black ash, natural cherry, or maple.
A Closer Look
The F52 is a five-driver, three-way design that includes three 6.5-inch woofers that utilize the company's proprietary Organic Ceramic Composite (OCC) cone technology for rigidity and low weight. These are coupled with a 5.25-inch OCC cone midrange driver housed in its own subenclosure within the F52 tower. A proprietary 1-inch aluminum dome tweeter, housed in what the company calls the Constant Acoustic Impedance waveguide, reproduces high-frequency content. The enclosure is ported at the rear. There are two sets of gold-plated binding posts mated with shorting straps to facilitate single-wire, biwire, and biamped connections. There are also provisions for adjusting low-frequency compensation (Normal, Contour, and Boundary) and tweeter level (–1, –0.5, 0, 0.5, and 1 decibel). Floor spikes are included.
The C52 center-channel speaker is equally comprehensive. It has dual 8-inch OCC cone woofers, a 5.25-inch OCC midrange driver, and a 1-inch aluminum dome tweeter housed in a Constant Acoustic Impedance waveguide. The rear input panel is essentially a duplicate of the F52's but differs in the inclusion of a placement-compensation switch, which offers flush-mount, stand-mount, and on-top-of-monitor settings.
Designed for wall-mount installation, the S30 enclosure features a high-output 6.5-inch woofer and a 1-inch metal dome tweeter on its largest panel. There are also two 4-inch full-range drivers on the enclosure's side panels. You can configure these enclosures for either dipole or monopole operation. I selected dipole, as I find this setting works best for most program material in many listening environments.
While I was using the M22s for rear surrounds, these enclosures can certainly function as front speakers in a somewhat more modest setup. The driver compliment uses a two-way design that includes a 6.5-inch cast-frame OCC cone woofer mated with a 1-inch titanium dome tweeter. There's a single pair of gold-plated binding posts, complimented by a placement-compensation control (flush or stand mount) and tweeter-level control.
The Performa line's B15A subwoofer is, without a doubt, one of the most highly configurable subwoofers available. The system provides comprehensive control over equalization (frequency, bandwidth, and level) with EQ in/out, plus high- and low-pass contour control with master in/out. There are settings for automatic-on/standby operation, as well as external trigger operation, whereby the subwoofer will switch between film and music contour-response settings—dependent upon whether it detects a steady 12-volt DC voltage (from elsewhere in the system). Furthermore, the B15A ships with an LFO test-signal CD to aid in the setup process.
Performance
For my evaluation, source playback equipment included an Onkyo DV-SP800 SACD/DVD/DVD-Audio player, Parasound's Halo C2 controller, and Sunfire's Cinema 7 amplifier. Kimber Kables fed the front and center-channel speakers, while Monster Cables fed the S30s and B15A subwoofer. XLO Electric cable provided signal to the M22s. The system was calibrated at 75 dB with a C weighting.
I auditioned my classical-music selections strictly in stereo—without the subwoofer. The first movement (Allegro) of Beethoven's Concerto No. 5 in E Flat, Opus 73 (Emperor) was delightful. I was particularly impressed by the F52's ability to handle vast dynamic changes. From pianissimo through fortissimo, the Royal Philharmonic Orchestra's performance was vibrant and highly detailed, and the subtlest nuances of the piano were evident.
Similarly, the first movement (Allegro non troppo) of Lalo's Symphonie espagnole, Opus 21, was inspiring. The solo violin exhibited a presence that is rare in all but the best-performing systems. The system presented the subtleties of Jascha Heifetz's bowing technique with aplomb. Pizzicato string passages sparkled—with just the right amount of bite to the pluck.
On both pieces, stereo imaging was highly detailed and exhibited an almost three-dimensional quality—enabling me to identify placement of various instruments quite easily. Center imaging was particularly impressive. On both the piano concerto and the Heifetz violin performance, I twice found myself checking to make sure I had not accidentally engaged the center-channel speaker.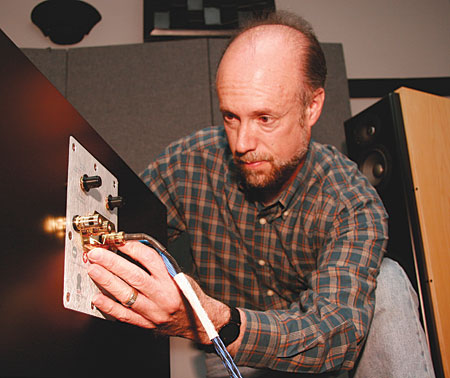 Switching my configuration to a 2.1 setup for R&B, I listened to a number of tracks from Stevie Wonder's A Time to Love and Anita Baker's My Everything. The B15A subwoofer delivers what I consider to be an incredibly articulate, natural bass response right down to the lowest depths. This subwoofer is a terrific compliment to the F52s. Together, the system delivered vocal tracks that were big and highly intelligible, and the low-mid background vocoder tracks on Wonder's "Positivity" rang clear as a bell. Similarly, Baker's lush, soulful style came through as if she were right there in the room. Simply put, this loudspeaker combination gave new meaning to the term "smooth jazz."
For my surround music evaluation, I listened to an SACD sampler of film composer Jerry Goldsmith's Movie Medleys. While my system was configured for 7.1 surround, this is a 5.1 disc—so the side (S30) and rear surround (M22) loudspeakers received the same signals. During all of the selections, the entire frequency range was evenly represented—with crystal-clear definition at the high end, a full midrange presence, and low-frequency response you could easily feel. The Performas handled sweeping orchestrations from side to side and front to rear beautifully. By the time I concluded with "The Generals," I was ready to stand up and salute.
My surround movie experience was equally exciting. I auditioned selected scenes from The Incredibles—also in 5.1. This was where the C52 center-channel speaker, along with the S30 and M22 loudspeakers, really shined. The C52 did a wonderful job with dialogue and exhibited a real theater-type presence. Meanwhile, the S30 and M22 side and rear surrounds did wonders with the ambient effects. I heard echoes from seemingly everywhere, while nature sounds abounded. During the film's "Missile Lock" scene, filter sweeps danced throughout the entire soundfield with dizzying speed; and, when bombs exploded, the B15A subwoofer shook the room with conviction.
Final Thoughts
I've gushed about sound quality throughout this entire review, and, quite frankly, this system deserves every bit of praise. Like that CL600 coupe, however, performance has its price, and, with an MSRP of $17,583, this Performa setup is clearly not for the economically challenged. Aside from the price, there is an additional issue to consider.
These are demanding loudspeakers that require an equally capable power amplifier to do the system justice. When I backed down on the master level, I felt as though the system really wanted more juice. Thankfully, the Sunfire Cinema 7 had the muscle to handle this—although I could have probably benefited from more power. If in doubt, it's always best to have more power as opposed to not enough. My recommendation: Don't cut corners on your choice of amplifier.
With dramatic visual appeal, beautiful workmanship, and performance that offers a rich, natural sonic presentation with superb dynamic contrast and imaging, the Revel Performa F52 system delivers the goods. I say, if you've got it, flaunt it!
Highlights
• Great imaging, with superb ability to handle wide dynamic contrast
• B15a subwoofer is highly configurable and exhibits extended, controlled bass response