Revel Performa F50 speaker system Page 2
High-resolution, multichannel music only gave the F50 more real estate to work with and finally let the C50 join in. I also added other top-shelf Revel performers: a pair of S30 surrounds and a pair of B15 subs (see my review in the November 2001 issue). Before I hooked up the B15s, though, I gave the F50's bottom end a chance to show what it could do, and it responded enthusiastically. Its three 6.5-inchers will punch you in the gut if you ask them to, but they'll do so with an undeniable composure, cleanliness, and articulation that makes them entirely musical and impactful at the same time. Whether it was something as focused as the big bass-drum kicks throughout Bucky Pizzarelli's
Swing Live
disc or as broad-based as the large orchestral assault of Jerry Goldsmith's famous movie medleys, the F50s didn't ask for any assistance from the subwoofers to deliver well-extended, powerful bass.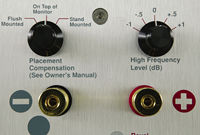 As good as orchestral pieces sounded with the LX-7 amp, the full 5.2-channel Revel system tempted me to give it even more juice at times. With 200 watts per channel and ample current capability, the LX-7 is certainly no lightweight. By the same token, the Revels aren't particularly hard to drive. However, since the speakers have medium sensitivity ratings (in the high 80s) and lower impedances (predominantly around 5 ohms or less), it's logical to assume that they want every bit of power they can get. I quickly confirmed this theory when I switched over to the Sunfire Cinema Seven Signature Edition amp (see my review in this issue), which has no less than 400 watts per channel into 8 ohms and current potential that's off the chart. The Sunfire wasn't quite as precise or warm as the Lexicon, but there's no doubt that it gave the F50s an even larger, more-potent presence and an immediacy that wasn't as noticeable before. Even in a high-resolution format, it's difficult to keep a large orchestra from compressing and failing to maintain the space and separation that it offers live—especially as the volume rises—but the Sunfire/Revel combo held form consistently and almost effortlessly, even at punishing levels. With the Sunfire, the upper frequencies weren't quite as silky, and the midrange was less transparent, but there was plenty of both to combine with the new power it delivered for hard-driving, densely packed numbers like "The Generals" from Patton on the Goldsmith SACD or the gathering storm of Beethoven's Sixth on the AIX Records DVD-Audio.
Naturally, the Sunfire let the Revels loose with movie soundtracks, although the LX-7 was no slouch here, either. Basically, the difference boils down to your taste. If you want sweep-you-out-of-your-seat power and a limitless stage, give the Revels juice like the Sunfire offers. If you want accuracy and tonality beyond reproach, still with ample power, go for something like the Lexicon. If you're lucky (and wealthy), you'll get the best of both worlds from top-shelf monoblocks or stereo amps.
Whichever power route you choose, the Revels will respond, as they did with the exceptional Band of Brothers soundtrack that I started with. My initial focus was on the C50, and it didn't disappoint. My fondness for larger, three-way center channels is well documented, and this is a prime example of the form. Hollywood couldn't pack any more sonic information into the center-channel track if they tried, so you'd better be prepared with a speaker that can give dialogue the critical attention and finesse it needs while it also hacks its way through everything else the standard soundtrack feeds it. The C50's first mission was to handle the cacophony of World War II, and it responded with unmistakable calm under fire. Dialogue was no less tonally accurate and powerfully realistic through the C50 than vocals had been with music through the F50s. In chapter 7's assault on Foy, there is dialogue of several varieties—panic and fear, determination, and even Lt. Spiers' uncanny calm as he assumes command. Each type of dialogue has intense thematic value, and each has to come forward under heavy fire from explosions of every shape and size. True, this DVD hasn't been out long, but the C50 easily handled this sequence better than anything I've put it through yet, refusing to allow the peripheral sounds to overpower the dialogue. It won't cheat you a bit in terms of impact or potency of effects, but it won't let you lose track of a center channel's most important function, either.
As successful as Revel's ceramic drivers are, don't think they're the only reason that the F50s and C50 sound the way they do. After all, Revel has done quite well with their more-conventional driver models for some time now. One of technology's promises is to make good things better, and that's exactly what Revel has done. When all of the dust settles, it doesn't matter as much what your speakers are made of. What matters is how they sound, and the Performa F50 and C50 sound as good as any speakers you'll ever find at any price.

Highlights
• New ceramic drivers are the real deal
• F50 tower is exceptional from top to bottom
• C50 center is a big, three-way speaker with plenty of presence
Performa F50 Tower Speaker $7,500/pair
Performa C50
Center-Channel Speaker $3,000
Performa S30
Surround Speaker $2,295/pair
Performa B15 Subwoofer $2,995–$3,295