The Revel Concerta F12 Surround Sound Speaker System Page 2
Not surprisingly, the F12 towers have been voiced to sound somewhat warmer, less brash and more refined than the Beta 50s, but not to the point where the resemblance was masked. Now that I know that the Beta 50s showed a significant valley at around 650Hz that the ear can interpret as a peak where the valley rises sharply at 1K, I will chance the prediction that the F12 will exhibit a somewhat smoother response where the Beta 50 dipped. What have I got to lose by making such a prediction but my credibility? (
UAV
reviewers don't see the measurements before sending in their reviews, so I haven't yet seen the Revel results. But I have, of course, now seen the measurements on the Betas.)
That leaves the small, two-way, stand-mounted M12s. As the Beta system measurements demonstrate, the tweeter's on-axis response is impressively smooth, so firing them directly at the listening position resulted in surround effects that were more direct (and sometimes more startling) without becoming obtrusive, and without the speakers making their locations obvious. That said, the dipole/bipole Revel S12 would be my choice, for its ability to throw a larger, more enveloping and more convincing rear soundfield—one that would integrate better with the front trio.
While reviewing Outlaw Audio's RR 2150 Stereo RetroReceiver for Stereophile I used it to drive the M12s, which I moved to the front of the room. This combination makes a nice, compact two-way stereo system, capable of response into the 40Hz range. Using the receiver's mild bass boost EQ feature, enhanced the overall picture and produced a supple, pleasing foundation that fooled me into thinking I was hearing beyond the speaker's low frequency limitations. Crossed over to a subwoofer using the receiver's built in bass management system (based upon the company's outboard ICBM system) produced a full range system that was laughably good for around $1650. Just don't expect it to play too loud or produce the last word in low-level resolution or dynamics.
Putting It All Together in 5.2
This budget Revel assemblage had no weak links and produced well-balanced, coherent surround sound that a few years ago would have been hard to imagine possible for around $3400 (add another $999 for a second subwoofer). Speaking of the second subwoofer, its usefulness will depend upon your room, your ability to place it optimally, and the number of people you home theater needs to accommodate. Mine only needs to manage a few sitting on a couch (I don't find watching a movie at home in the dark an acceptable social event when we entertain). While adding a second sub did smooth out the low frequency response in the room and add a sense of overall spaciousness to the picture, I'm not sure it's worth dropping an extra thousand dollars for, especially if you're financially constrained and can put the money toward a better and more powerful A/V receiver. You can always add a second subwoofer later.
If you go back and read my review of the Infinity system (so easy to do with web publishing!) you'll have a very good idea of how this Revel system stacks up, though there are differences, both physically and sonically.
Physically, the Revels are somewhat more compact and more elegantly finished, especially with the grille cover left off (as was always the case here since they sounded better that way). The faux wood, textured vinyl finish is a pretty convincing replica of the real thing, though the color is a bit on the orangey side. I was surprised to find that my wife actually preferred the Infinity system's looks. Not me: I thought the Revel system was far more living room-friendly.
Sonically, whether because of better cabinet bracing, butyl rubber surrounds, cast baskets, or slightly different "voicing" due to crossover choices, the Oldsmobile, er Revel struck me as being somewhat more refined tonally.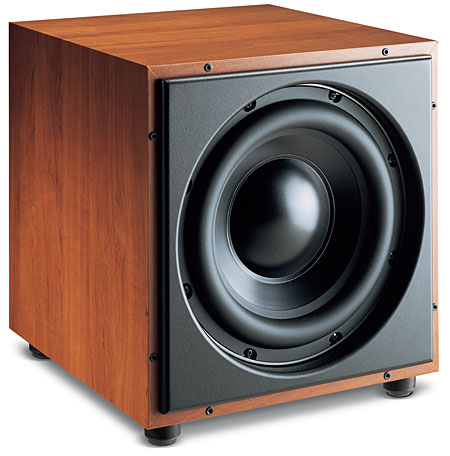 Is it worth spending the extra $500 or so for the Revel version? The instructions are more informative and better written, and given the upscale Revel distribution channel, chances are you'll have a more pleasant retail experience including a better opportunity to listen to the system in pleasant surroundings. On the other hand, the Infinity system can be found online substantially discounted.
Basically the choice comes down to whether you prefer an Oldsmobile or a Buick. In this case, I could drive either one. With apologies to Eli and Kevin!
Highs and Lows
Highs
• Tonally refined, solid performer at a modest price
• Superb technical design, including a three-way center channel (see "Measurements")
• Solidly built, well-finished cabinets
Lows
• Subwoofer parametric equalizer tricky to set up