Pump Up Your Pod!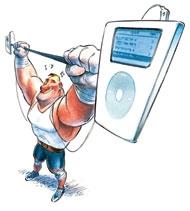 Over 10 million of them have been sold, and it seems like everybody has one. Some are pink, some are green, some are blue, some are black, but most are white. Owners caress them, lovingly running their fingers back and forth across "my precious." Some can hold 10,000 of your favorite songs, and they'll follow you wherever you go.
They're iPods, and they're the first cultural icon of the 21st century. Nearly every computer and electronics company makes portable digital audio players, but Apple does it best. The iPod is the Mona Lisa, the Porsche, the Shaquille O'Neal of portable music playback. But just as Mona Lisa's face might contain elements of Leonardo's self-portrait (yikes!), a 911 needs a better-sounding horn, and Shaq can't shoot free throws, iPods aren't perfect.
That's a radical statement. But once you get over the heresy, you'll realize that half the fun of an iPod is personalizing it and finding even more ways to enjoy it. So with the utmost humility, and with a tip of the hat to David Letterman, here are the Top 10 ways to improve your iPod experience. (You'll find a list of manufacturers' Web sites at the end of the article.)
10. Baby Needs New Shoes Cover up the most beautiful example of industrial design since the Hula Hoop? Yes, that's right. The iPod is a fashion statement, but do you really want yours to look like everyone else's? And cases protect against dings and scratches or worse. So accessorize, baby, starting with a new case. • I like RadTech's Podsleevz ($20). It envelops the player but doesn't get in your way, and it helps keep you from accidentally jostling the controls. • If you ever drop your iPod, you'll immediately wish you hadn't. But if it's inside Speck Products' ToughSkin ($35), it stands a good chance of surviving. The case is bulky, but its bumpers might save the day. • Can't live without your tunes when scuba diving or water skiing? H20 Audio's SV iPod and SV iMini ($149 each) give your player a completely waterproof skin. • And if you like to skydive and listen to music at the same time, invest in Matias's aluminum iPod Armor ($50), which fully encapsulates the player and cushions it with foam. It won't do you much good if your chute doesn't open, but at least your grieving girlfriend will get a functioning iPod out of the deal.
9. Back It Up! No one likes to be nagged, so I'll keep this short and sweet. Pretty please, back up your computer. Buy an outboard hard drive from a company like Seagate or Maxtor (most come with backup software), and let it do its thing overnight. That way, if some creep breaks into your crib and steals your computer and iPod, you won't lose your entire music collection. Back in the old days, it was way too expensive to have a spare copy of your LP or CD collection, but today it's pretty cheap. (You'll pay only about $250 for a massive 250-gigabyte drive.) Sooner or later, all security systems fail and hard disks crash, so back up. You'll thank me.
8. Begin Your Podcasting Day Can't stand the bubble-gum mediocrity of mass-produced pop music? Tired of Don Imus? Tune into podcasts. Your dentist, your neighbor's wife, and your buddies are all podcasting - plugging a microphone into their laptops and recording their rants and musings so they can post the MP3 files on their Web pages. You can download their sonic blogs for free and play them on your i Pod (or any MP3 player) at your convenience. You'll hear peop le's innermost thoughts on wine, bicycling, politics, religion, sex, sports, music, and of course, iPods. Get a utility like those at ipodder.org, ipodderx.com, and dopplerradio.net, and you can get a free subscription to podcasts. Each time a new edition is posted, it's automatically downloaded and saved in iTunes. And let's not forget companies like audible.com that offer downloadable audio versions of best-selling books, magazines, newspapers, radio programs, and more. What? You want to podcast, too? Excellent! I'll be listening.
7. Read the Manual, Dummy!Whenever you buy a piece of gear, you thoroughly read the owner's manual and carefully memorize every feature, right? Yeah, sure. If you're like me, you ignore the manual and just fool around until the damn thing starts to do stuff. You also avoid strange-looking menus like the plague because you have no idea what they do and are afraid you might never be able to get back to a menu you recognize. The problem with this is that you miss out on cool features. For example, iPods have fixed EQ presets for things like classical, dance, jazz, and small speakers. The paper version of the owner's manual is often simplistic, so check for a CD-ROM disc or go online and download the manual.
6. Go Wireless, Young Man Your dumb old phone is wireless, so why is there a wire hanging off your iPod? Consider transmitting your tunes to a nearby FM radio in your house. Yes, sound quality will suffer - but sometimes, convenience is just more important. • There are all kinds of transmitters, but Sonnet Technologies' PodFreq ($100) is specially designed for iPods. Your player rests in a docking station that has a telescoping antenna for wringing out the best possible transmission. • Instead of FM, try Bluetooth. The plug-in module in Ten Technology's naviPlay ($199) uses Bluetooth wireless technology to send the audio signal to the nearby receiver module. I also like Ten Technology's naviPro eX ($50), a neat way to remotely control your iPod. A small module plugs into the player and receives IR commands from its companion remote. This lets you kick back and enjoy the music library at your fingertips from across the room.
LATEST VIDEO