Pretty Fly for a Bike Cam: Cycle Safer with Fly6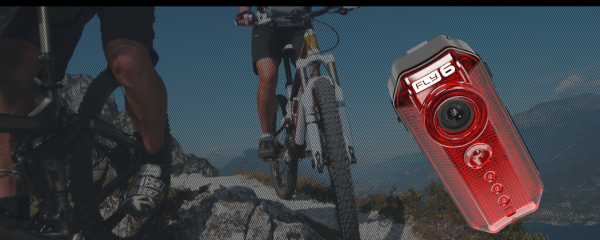 The weather is warmer, and you can't wait to pull your trusty 2-wheeler out of the garage. Or maybe you're a dedicated bike commuter, saving the planet and burning off your morning donut on the way to work. The thing is, unless you live the country life, it can be a real (urban) jungle out there. Dodging traffic, animals, and other cyclists can be a bit nerve wracking. And, sadly, hit and runs happen. More and more motorcyclists have started wearing rear-facing cameras on their bikes or helmets, so why shouldn't the pedal pushers of the world have their own solution?
Enter Fly6
, a rear facing HD camera and bike light that not only sees, but helps you be seen. I took one for a spin, and came back convinced. Read on to find out why.
My first impression was skeptical: sure, everyone's seen GoPro-style camera HD footage, but how well would this little camera do while strapped to a bumping bike and flashing a red light? The answer: pretty well, actually! First of all, attaching the Fly6 to your bike is a snap. The included mounts and fasteners of varying sizes make it foolproof and simple. And, because it's a light, you can replace your existing bike light, avoiding a plethora of devices cluttering up your seat post or back basket.
Fully charging via mini USB gives you a 6 hour runtime while recording 720p video (though you'll want to upgrade the memory card if you'd like more than the 2 hours the included 8GB micro SD allows.) The Fly6 also has two recording modes: constant, which is the default, and records once you turn the device on, until you shut it off. As the memory card fills up, new recordings eventually loop over the oldest video.
Then there's "incident" mode, which is activated after 5 seconds of the camera being off axis by 30 degrees or more. Incident mode records for an hour, then auto shuts off. If incident mode is activated, the Fly6 won't record over the hour previous to whatever caused you to tip over. So you'll have the events leading up to whatever caused the bike to fall, as well as the hour following saved until you decide to pull it from the memory card.
You'll want to clear out the micro SD card on occasion if you want to save your video, but if nothing interesting happens, there's no need. The Fly 6 will simply start recording over the oldest files once you hit capacity. But for those archivists out there, you'll want to pull your video when you charge the Fly6 so you don't lose a thing.
That aside, the Fly6 takes minimal setup, and recorded .AVI files can be accessed and viewed by downloading a free app. File sizes are about 10 minutes each, but those who want to create a movie of a journey can easily edit the files together in their software of choice. I sent the Fly6 on a trip around the pothole-ridden streets of Los Angeles, and was impressed at the clarity of video and minimal jiggle and rattle. Yes, it's an action POV video, but I could read license plates of cars as well as see and hear everything that the bike passed by. (Or, conversely, passed the bike)
When I checked out the playback, there was no indication that a red light was flashing just below the camera. The safety light can be dimmed or brightened up to 30 Lumens, so no matter the situation, you'll be seen. Plus, the Fly6 has been element-proofed, so rain or mud or humidity won't damage the electronics. Overall, the folks at Cycliq have put a lot of thought into the Fly6, which retails at an affordable $170. For anyone who has had a close call or a driver clip them at a corner, it's a small price to pay for documentation.
Now, if you want to record what's ahead of you, the Fly12, a 400 Lumen headlight and WiFi-enabled 1080p front camera will soon be available for $399. It was recently funded through Kickstarter in just under two hours, and should be available to purchase sometime later this summer.
Forward or back, the bike camera is likely to become a safety staple for pleasure bikers and commuters alike. The people at Cycliq have put a lot of thought into the design and details of what a cyclist would want in a camera: lightweight, durable, stable, multi-function, easy to use, with a minimal use of space. So if you've been considering adding some new tech to your trike, the Fly6 is a great place to start.
The Fly6 is available now for $169, Fly12 will be $399 and both are available at http://cycliq.com.