Polk Signature S60 Speaker System Review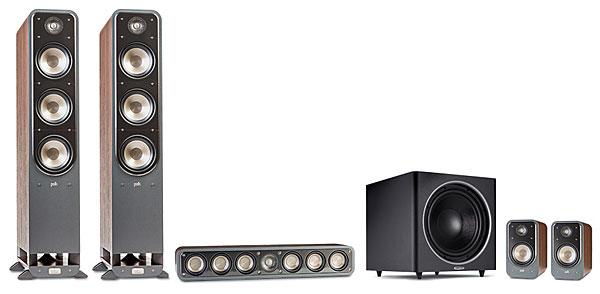 PRICE
$1,600 as reviewed
AT A GLANCE
Plus
Excellent range and tonal balance
Dramatic looks
Good blend from unusually low-profile center
Minus
Sub doesn't add much to the towers alone
THE VERDICT
With the Signature Series, Polk successfully practices its long-held ethos of delivering high performance at affordable cost in a new, smartly designed lineup.
Of the three or four speaker brands that pumped the vast majority of air throughout the hi-fi boom of the 1970s, only one—Polk Audio—is still doing what they've always done (design and make loudspeakers), where they've always done it (more or less), and with very much the same ethos (value/performance, with value in italics). OK, so Polks, like virtually all other mass-market speakers sold in the U.S. are now actually manufactured overseas. But they're still conceived here according to the old Polk standards—industrially designed in San Diego out of the corporate headquarters and engineered in Polk's original hometown in greater Baltimore.
Although co-founder Matt Polk has long since departed to retirement and ancient-textiles collecting (audio folk do make the most interesting retirees!), the company has stayed remarkably close to its roots and true to its creation story. Which, if I'm allowed a somewhat brutal paraphrase, might be: really good speakers, cheap (they would prefer the word affordable, I'm sure). For nearly five decades, Polk has demonstrated that you can get about 92 percent of the performance of the very best loudspeakers for about one tenth the cost, and each generation of their speakers seems to nudge a half-point closer. This is no writerly hyperbole. You can easily spend $3,500 on a pair of esoteric 6-inch two-ways, to which something like Polk's RTiA1 (which I reviewed in an earlier version a few years back) will directly compare with eyebrow-raising success (all prejudice aside, or double-blinded away).
The most recent exposition of the Polk Way arrives in the form of the company's new Signature series, its latest entry into the value wars of full-sized speakers. Polk is promoting the Sigs as "Real American HiFi," and the look, which in my samples featured dramatic "washed black walnut" vinyl woodgrain exteriors, silvered driver diaphragms, and gloss black baffle trims with prominent, brushed-nickel fasteners—has an undeniably tough, Harley-esque air. (They're also available in a Classic Brown Walnut vinyl as shown.) On close inspection, it must be said, both the look and the feel are budget: The vinyl wraps' seams are clearly evident on the speakers' bottoms, and the towers' integral feet are distinctly plastic. None of which has any bearing on the sound, of course, although all those décor-group elements cost money.
Nonetheless, as these are Polk speakers, my expectations were substantial as I unboxed the Signature system that had been shipped up from the Chesapeake: a pair of flagship S60 towers, an S35 ultrawide "slim center," and a pair of S20 bookshelf models that we pressed into service as surround channels." (Polk now offers a smaller S15 bookshelf ($230 pr) and a dedicated S10 surround satellite ($200 pr) for when compactness counts.) Polk also sent a PSW125 subwoofer, not officially in the Signature series, to round out the 5.1-channel array.
The S60 tower deploys three identical-looking 6.5-inch cone woofers made from mineral-filled polypropylene and a 1-inch dome tweeter made from terelyne, a polyester fiber that is said to offer extended high-frequency response over a standard silk dome and which allowed the Signatures to become Polk's first line to be awarded official Hi-Res Audio certification. The "four-driver cascading tapered crossover array" makes the S60 a two-and-a-half way design, wherein the top 6.5-inch driver runs like a regular two-way, from low frequencies up to the tweeter; the bottom two drivers also start in the low frequencies but roll off sooner, producing less midrange.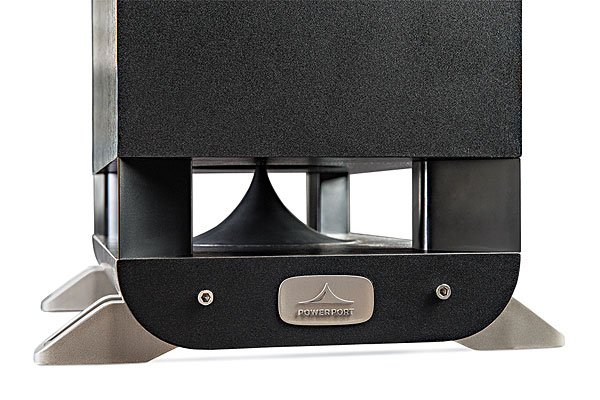 The S20 speaker employs similar drivers in a simple two-way design, but the S35 center is dramatically different. Fully 2 feet wide but barely 4 inches tall, it packs six 3-inch drivers to flank a 1-inch tweeter similar to those found in the other speakers. The 3-inch drivers are similarly cascaded, with the inner pair passing the most midrange and the two outer pairs each passing successively less midrange component; all contribute low-frequency output.
All three speakers are vented designs, exploiting Polk's proprietary Power Port, which locates a turbulence-smoothing parabolic diffuser directly opposite the port openings on the rear of the S20 and S35 (which has dual small ports) and on the bottom of the S60.
Setup and Listening
I set up the front Polks in my standard 5.1-channel layout: S60 towers flanking my 55-inch Vizio TV (and just behind my acoustically transparent Seymour screen, when extended) and S35 center on a low stand just below the Vizio's bottom edge. The S20 being used as surrounds went on tall stands in the commonly utilized direct-radiating surround positions, about 110 degrees south of the on-axis (viewing) line. The PSW125 sub went in my long-proven subwoofer position to the right of and behind the right-front tower. With everything in place and functioning, I left the Polk suite on for a couple days of casual use and overnight radio playback to cover any break-in questions—Polk made no requests in this regard, but belt and suspenders—and then settled in for the serious listening.
I always prefer to begin my listening with full-range stereo auditions, straight no chaser (and no subwoofer). So I cued up "Straight, No Chaser"—a hard-driving version of the Thelonious Monk classic by B3 lunatic Dr. Lonnie Smith (via Tidal) on my Oppo BDP-105D player. Drummer Johnathan Blake's busy cymbal rides and aggressive snare fills sounded excellently airy and lifelike, while the good Doctor's percussive organ riffs carried that peculiarly Hammond-tonian note-attack puff, and some gurgly grit when a handful of low notes collided, to underline realism. And this persisted at lifelike levels: The S60s had no trouble producing real-club levels without compromising the lower-frequency clarity and dynamics necessary to convey Smith's B3 barrage.