Podcast 45: David Reisner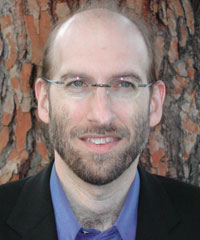 Digital-cinema consultant David Reisner discusses the transition from film to d-cinema and the differences between them, such as resolution, colorimetry, cameras, production, and delivery as well as the creation of the Standard Evaluation Material (StEM) and Camera Assesment Series (CAS) of images, which are used to verify the performance of d-cinema projectors and help filmmakers select the right digital camera for each project, respectively.
David Reisner's motion-picture work emphasizes creative flexibility and best practices in image quality, color, workflow, digital intermediates, and digital and hybrid imaging in production, post-production, distribution, and exhibition for features. Digital cinema work also includes security, testing, interoperability, and standards.
Run Time: 56:00
Click here to listen to this podcast.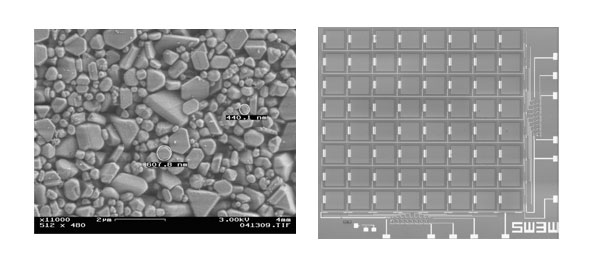 Images are captured on film by exposing grains of silver halide to light, and those grains are of irregular size and orientation. By contrast, digital images are captured by regular pixels on a CCD imager.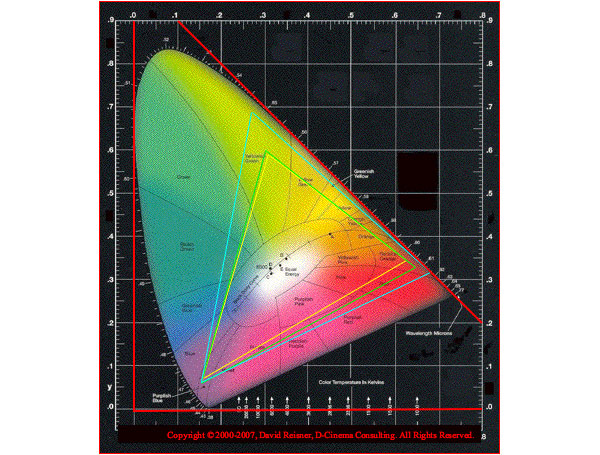 In this CIE diagram, the blue triangle represents the digital-cinema target color gamut, the green triangle is the Rec.709 (HDTV) gamut, and the yellow triangle is the Rec.601 (SDTV) gamut.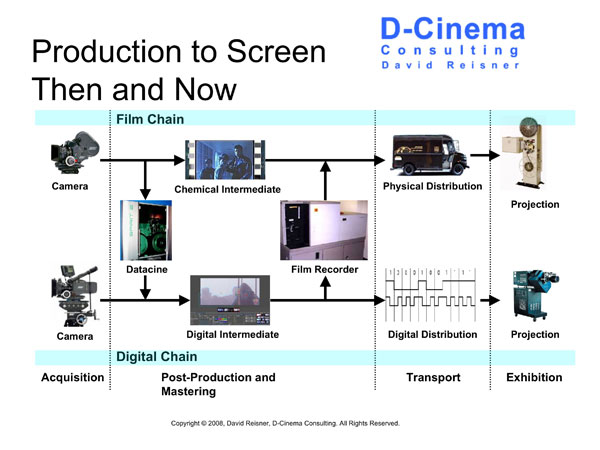 The diagram illustrates the production and distribution of film-based and digital movies. Today, film is usually converted to digital for the intermediate editing steps, then reconverted to film, or it can remain digital for d-cinema. Digitally originated content normally stays digital throughout the production and distribution process, though it can be converted to film for non-digital theaters.
The opening title of the ASC-DCI Standard Evaluation Material (StEM) includes a blue sky with subtle variations in shading and confetti, which is very difficult to encode and decode.
In this shot from the StEM, subtle variations in the white of the dresses reveal certain problems with the projector.
Test Scenes
Dark Details in Dark Scenes, Handling of Black Crush
Road to Perdition (Hall). Alley at night, in rain, machine gun killing of Paul Newman. Machine gun flashes firing from deep shadow (what's on the negative?), detail in dark alley, rain highlights in street lights.
Harry Potter II (Seale). Pulling away from castle at night. Lots of CGI detail on castle stones. Possibly sensitive to projection lens flare. Rotating zoom might also make a good compression test, although small dynamic range makes scene less demanding.
The Godfather (Willis). Many candidates including Brando and Duval talking in dark office; night car ride with headlights through rear window.
Apocalypse Now (Storaro). Brando monologs in jungle temple.
Bright Details in Bright Scenes, Handling of Overblown Whites
Easy Rider (Kovacs). Cruise through small town, riders in foreground, town buildings in background. Background detail, blown.
Details in Mixed Dark and Bright Scenes
Road to Perdition (Hall). Bedroom at night, machine gun case on dresser in window light grading to deep shadow. Detail on the case from light to shadow.
The Godfather II (Willis). In room with round wall of windows overlooking water and dock. From crushed blacks inside to blown whites outside.
Le Week-end (Godard/Coutard, 1967). Two-shot of Yanne and Darc silhouetted in front of a bright window.
Fat City (Hall). Entering bar. Very dark people, windows blown.
Cotton Club (Goldblatt). Night, Geer and girl on bed, lace curtain shadows.
Reproduction of Black & White Films
Oliver Twist (Lean/Green, 1948). Opening, mother crossing moor in storm. High contrast, old footage.
In Cold Blood (Hall). Interior, night, prison. Head and shoulders of Blake standing at window lit by light coming through rain. Rippling shadows on face.
On the Waterfront (Kaufman). Exterior, night, couple chased by truck. Lots of dark detail, highlights.
Anything with Marlene Dietrich and her hot key lighting.
Detail and Resolution
Sum of All Fears (Lindley). Pan down from flag over White House to picnic on lawn. Stripes in flag over White House very sensitive to resolution, though may be artificially enhanced by sharpening. Antenna on radio aliases (stair-steps) with resolution.
Moulin Rouge (McAlpine). Kidman's boudoir with writer shortly after her collapse from trapeze. Kidman's skin.
The Conformist (Betrolucci/Storaro). Couple getting out of car and crossing carpet of autumn leaves. Lots of detail, depth shift.
Monsters Inc. Factory area full of doors off into distance in all directions. Lots of CGI detail.
Color
Taxi Driver (Chapman). Cab cruise to first sight of Foster. Color exterior night.
The Last Emperor (Betrolucci/Storaro). Lots of primaries and shadings of tone.
Umbrellas of Cherbourg (Rabier). Large blocks of color with texture.
Meet Joe Black (Lubezki). Opening several minutes, through helicopter ride. Reproduction of brightly lit scene.
Gattaca (Idziak). Variety of scenes with good variations of surface, detail, and overall gold tone.
Visibility of Imager Structure
Ice Age or other material with extended shots of large, even white/light fields.
Compression
Young Man with a Horn (McCord). Douglas wandering city streets in early morning. Lots of detail, bright spots in gray.
Chinatown (Alonzo). Nicholson looking over dry wash and car. Wide shot with lots of detail.
Apocalypse Now (Storaro/Burum). Helicopter landing with multi-colored flare smoke.
Harry Potter II (Seale). Rotating zoom pulling away from castle at night. Lots of CGI detail on castle stones. Small dynamic range may be less demanding.
Charade (Lang, 1963). Stamp market, quick cuts between screens filled with stamps.
Other
Lawrence of Arabia (Lean/Young). Early shot with Omar Sharif riding out of expanse of desert, because if a system can't produce this scene in a satisfying way, what good is it?
French Connection (Roizman). Section of chase with blown highlights, lots of movement.
McCabe and Mrs. Miller (Zsigmond). Lots of dark interiors. Lots of flashing.