Playing to the Audience
CES spawns a number of satellite events, including T.H.E. (The Home Entertainment) Show, which focuses on high-end audio. Among the exhibitors this year is
Audience
with its new ClairAudient LSA 4+4 speaker, a mouthful of a name for a product that is said to provide an earful of great sound in a relatively small package measuring 17 x 15 x 12 inches (HxWxD).
All Audience speakers are based on the principle of a line-source array, in which identical, full-range drivers are positioned in a vertical column. The LSA 4+4 is so named because it consists of two such line arrays, one in the front and one in the rear, each with four drivers. The so-called A3 drivers measure only 3 inches in diameter and are said to exhibit an unusually flat frequency response from 40Hz to 22kHz. This eliminates the need for separate tweeters, midranges, and woofers as well as the crossovers that must accompany them, thus avoiding all the problems associated with such designs. A large neodymium-magnet motor drives an anodized aluminum-magnesium cone diaphragm, and the concave dust cap is a proprietary material specially designed to control high-frequency breakup and provide optimum dispersion.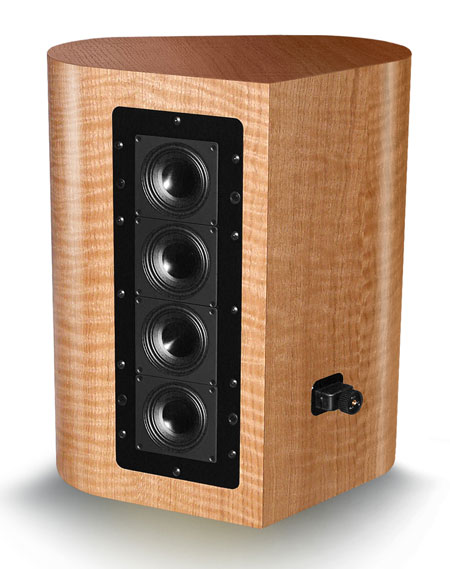 According to the company, the sonic result is exceptional clarity and resolution of fine musical detail, smooth frequency response both on- and off-axis, precise imaging on a realistically scaled soundstage, and superb dynamic range and transient response. Of course, with one line array in the back, it wouldn't sound like that if you placed these speakers in a cabinet!
The ClairAudient LSA 4+4 is available now for $12,000/pair. I hope to get over to the Flamingo to hear it during the show, and if I do, I'll certainly let you know how it sounds.