Plasma Cool Page 4
LG DU-42PZ60 While not quite as striking as the Sony or the Panasonic, the still stands tall on the plasma catwalk. An inch-thick border of what appears to be stainless steel surrounds a thinner strip of black on all sides of the glass, creating an understated, classic look. Along the lower edge is a reflective strip of plastic, printed with markers that correspond to keys hidden on the bottom of the panel.
LG DU-42PZ60
DIMENSIONS (WxHxD) 41 5/8 x 25 x 4 3/8 inches WEIGHT 76 pounds PRICE $4,500; optional stereo speakers, $699; optional table stand, $499 MANUFACTURER LG, www.lgusa.com, 800-942-3786
Along with the Sony, this LG is one of the few plasmas on the market to have a built-in over-the-air HDTV tuner. Plug an antenna into the back, and you can immediately tune in any digital and high-def broadcasts in your area. Doing just that, I discovered that the LG's tuner outperformed the one in my Dish 921 satellite receiver/recorder. It snagged a channel the Dish couldn't find, and reception of weak channels seemed less prone to breakup.
Aside from the usual connectors on the back of the LG, I counted a trio of optical digital audio jacks. One pipes Dolby Digital from the HDTV tuner to an A/V receiver, and the other two - associated with the component-video and DVI inputs - function just like analog inputs to supply sound to the optional pair of speakers in our photo (AP-42SA70, $699). LG also offers a matching tabletop stand, the AP-42DA70, for $499.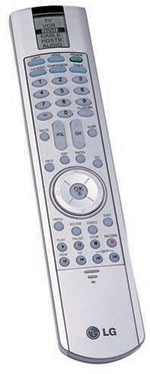 I liked the design and ergonomics of LG's remote. Fully backlit, its keys were easily accessible to my thumb - except for the two used to cycle through the SD and HD inputs. A sliding door hides a set of buttons for picture-in-picture (PIP) and other lesser-used functions, including a convenient dedicated button for DTV channel signal strength.
Another big plus: the DU-42PZ60 delivers full aspect ratio control for high-def sources. I could expand, crop, or shrink HDTV and regular, standard-def shows with equal agility. This plasma also offers more aspect ratio choices than any other I've seen, including a 16-step Cinema Zoom setting that expands the picture incrementally.
While the DU-42PZ60 may out-feature the other two sets here, it couldn't match their image quality. During Gothika, Miranda's lighter cheek lacked the texture and depth I saw with the other two models. Her black sweater looked dark gray, and it crawled with "black snow" video noise, especially on borders between darker and lighter areas. To its credit, the LG didn't seem quite as snowy as the Panasonic, and moving back to about 10 feet made the motes too small to detect.
As I expected, the panel's picture improved immensely as Miranda walked out of the dark confines of the crazy ward and into brighter climes, like the office of her boss/husband, Douglas. I could clearly make out the fine grain in the wood paneling.
One important caveat emerged after looking at the LG panel: even with contrast at its minimum setting, I was missing important detail in white areas. For example, areas of Douglas's shirt sleeves looked like smooth swaths of white, without any wrinkles or texture. I had to enter the service menu to reduce contrast enough to restore lost detail in white areas.
The DU-42PZ60 certainly looked its best displaying HDTV. The Discovery HD special looked sharp and powerful. I could see even the tiniest shacks in the satellite shots of the Eskimo village and every line of muscle in the exposed innards of a dead seal. Other issues remained, however - I still saw distinct bands of color across what should have been a smooth sky and crawling motes of noise in the shadows of mountains. Happily, fine detail, such as those wisps of dry grass on the hillside, was realistically conveyed.
With its many friendly features and built-in HDTV tuner, the DU-42PZ60 is one of the best-equipped plasma TVs I've seen. Sure its picture doesn't outdo the other two, but its aggressive pricing could help overcome the qualms of less critical viewers.
The flipside of plasma's incredible popularity is that most prices for name-brand models haven't fallen very far in the last year or so. If the Sony and Panasonic are any indication, the trend is to imbue high-end flat TVs with great style and keep prices relatively high - but some manufacturers, like LG, are willing to buck the trend. In any case, all three of these plasmas will earn hungry looks from TV browsers in specialty A/V stores and jealous stares from lucky visitors to their new homes.
PDF: Features Checklist
PDF: In the Lab
LATEST VIDEO