Plasma Cool Page 2
Sony KDE-42XBR950The KDE-42XBR950 takes plasma TV closer to wall art than ever before. Its 42-inch screen is framed by a wide swath of black, but that's where the similarity to other sets ends. Beyond the frame is an inch or so of glass through which your wall will show. Since the screen and the black frame are both behind the sheet of glass, the overall effect is like a painting hung between a pair of slim, silvery speakers.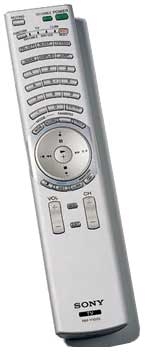 The heavy, metal-sheathed remote control ups the design ante another notch. Closely spaced buttons form subtle arcs around the central cursor, a solid ring around the single principal play/select button. While aesthetically pleasing, the layout was a nightmare to navigate in the dark because there's no illumination.
Connections are made not on the panel's backside but on the back of a component-sized "media receiver" that connects to the TV via a 10-foot cable (a 30-foot version is available for $299). Besides connectors, including a DVI (Digital Visual Interface) input and a pair of i.Link (a.k.a. FireWire) ports, the box boasts a digital TV tuner so you can connect an antenna to watch over-the-air HDTV.
Other highlights include a Twin View mode, for watching two programs at once, four aspect ratio (screen shape) modes - unfortunately, they can't resize an HDTV source - and a convenient Memory Stick slot for displaying your digital photos. The most glaring omission is a lack of independent picture memories, which makes adjusting the set for different input sources inconvenient.
Sony KDE-42XBR950
DIMENSIONS(WxHxD) 53 1/4 x 28 3/8 x 4 1/8 inches WEIGHT 86 pounds PRICE $8,000 MANUFACTURER Sony Electronics, www.sonystyle.com, 800-222-7669
After making a few service-menu picture adjustments (Click to view 'In the Lab' PDF), I slid the horror flick Gothika into my DVD player. I immediately noticed a few things that the Sony did better than most other plasmas I've seen. In the opening scene, where Miranda (Halle Berry) questions Chloe, the camera orbits their isolation cage, peering through the mesh. The 42XBR950 handled this difficult section well. Each pass of the shadowy wire was relatively clean and natural - a somewhat solid shadow as opposed to a mass of moving motes. I still saw some unnatural contours rather than smooth gradations, but they were much less severe than I've seen elsewhere. And when the camera passed a large swath of black, I saw one solid color.
Unfortunately, that color was closer to dark gray than true black - par for the course with many plasma TVs. Miranda's black sweater showed only a few levels of darkness, and the depth of blacks bottomed out too early, leaving the image a little washed-out compared with the best plasmas (or any tube TV).
Color and detail, on the other hand, were superb. In the mass shower scene, the rills of water flowing down Miranda's face seemed to stand out like molten silver. The various skin tones all looked appropriately pale and greenish in the grim crazy-ward shower, and I saw no trace of the exaggerated reds characteristic of less accurate displays. When Miranda finally emerged into the sun in the prison yard, her light brown skin shone with warmth.
The KDE-42XBR950's video processing worked well, and in CineMotion mode it did a good job of detecting 2:3 pulldown - a byproduct of the process of transferring film to video. Sony provides a few Digital Reality Creation modes, but none of them did much to improve a standard-definition cable signal.
HDTV looked great. I watched a spectacular Discovery HD Theater production on our Dish Network DVR 921, Arctic Mission: Eyes of the Inuit, and every shot was a smorgasbord of detail. One Eskimo's fur-lined hood glistened with tiny snowflakes, and the expanses of snow revealed weathered texture, small depressions, and little hillocks. I could see every hair on the ice fisherman's polar-bear mittens. I noticed one slight flaw, however: in a scene where an Inuit woman sits on a hillside of waving grass, some of the long, thin stems broke up into fine lines. This didn't happen with the Panasonic or the LG.
When it comes to design, Sony's KDE-42XBR950 simply outclasses any other TV I've seen. Its striking looks alone might not justify the high asking price for average consumers, but this TV wasn't created with "average" in mind. PDF: Features Checklist
LATEST VIDEO