Over The Top
And now for something completely outrageous—a $135,000 Blu-ray player! Leave it to hyper-high-end
Goldmund
to charge that much for the Eidos Reference Blue, which will be limited to a production run of 50 units. But how can it possibly justify such an astronomical price tag?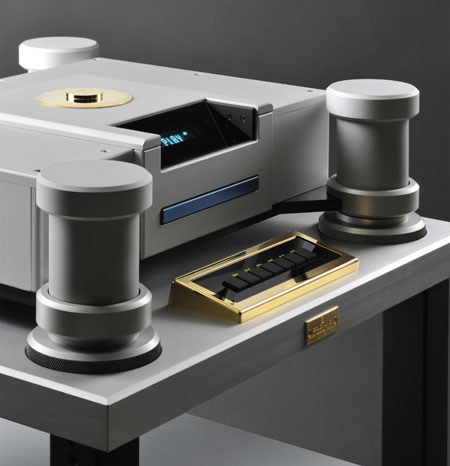 Sure, it's built like a tank—the heavily damped, brass-and-aluminum mechanism weighs 66 pounds and is suspended by four spring-loaded legs on its own dedicated table. Also, the power supply is completely isolated from the mechanism, and something called Goldmund Magnetic Damping is said to greatly improve image stability and sonic transparency.
On the flip side, while Goldmund calls the Eidos Reference Blue a "universal" player, it can't play DVD-Audio or SACD. And the analog-audio outputs—one L/R pair and a 5.1 group—are unbalanced, which is ridiculous for such a pricey disc spinner. The owner's manual refers to secondary video and audio, but it says nothing about Internet access or BD-Live, which means this is a Profile 1.1 player, another inexcusable limitation.
Goldmund has always represented the extreme high end, at least in terms of cost, and many of its products are truly outstanding. The Eidos Reference Blue's performance might be exceptional, but at $135,000, it should offer all the features found in much less expensive players and then some. But hey, at least it comes with its own table!