Oscars 2011: What is Hip?
As I wrote a couple of weeks ago
, my favorite awards show of the year is the Grammys. But for home-theater enthusiasts—including myself—the most
important
awards show is clearly the Oscars, broadcast from the Kodak Theater in Hollywood, CA. Watched by an estimated one billion people worldwide, this year's show was rather strange, but I thought most of the winners were well-justified with one or two exceptions.
Hosts Anne Hathaway and James Franco didn't do much for me—they were obviously chosen to appeal to a younger demographic, though I can't imagine that even they found the pair all that entertaining. Hathaway went so far as to say, "It's the young and hip Oscars!" after Melissa Leo dropped an F bomb in her acceptance speech for winning the Best Actress Oscar for her role in The Fighter. Yeah, right, swearing is young and hip—no one over 30 has ever used that word before!
Even worse for Leo was that she swore while standing next to Kirk Douglas, who presented the award. I mean, come on—Kirk Douglas? Sure, he's a living legend, and I have the greatest respect for him, which is why I think they should not have trotted him out with his stroke-impaired speech. His appearance was embarrassing, much like Dick Clark on New Years Rockin' Eve the last few years after a stoke severely affected his speech.
Aside from the orchestra, which sounded superb playing excerpts from the nominated scores and lots of filler material, I was pretty disappointed in the music. The only other live performances were the four nominated songs and Celine Dion singing "Smile" during the "In Memoriam" segment. Dion sounded great, but most of the others didn't, especially Randy Newman singing "We Belong Together" from Toy Story 3 and Florence Welch and A.R. Rahman singing "If I Rise" from 127 Hours. Gwyneth Paltrow sounded pretty good singing "Coming Home" from Country Strong, as did Mandy Moore and Zachary Levi singing "I See The Light" from Tangled, but they were all somewhat buried in the mix, so they couldn't be heard as well as they should have been.
For me, the biggest disappointment of the show was that "We Belong Together" won Best Song. Don't get me wrong, I love Newman's songwriting in general, but this isn't one of his best, and I think "I See The Light" is better than the other nominees by far.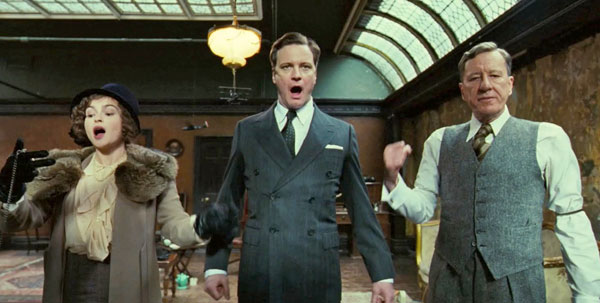 Otherwise, the awards went more or less as I had hoped. I was thrilled that The King's Speech got Best Picture, Best Actor, Best Director, and Best Original Screenplay, though I was disappointed that Geoffrey Rush didn't get Best Supporting Actor, losing to Christian Bale for The Fighter. (To be fair, I didn't see The Fighter—it's not my type of movie—but my wife did, and she says Bale's performance was definitely Oscar-worthy.)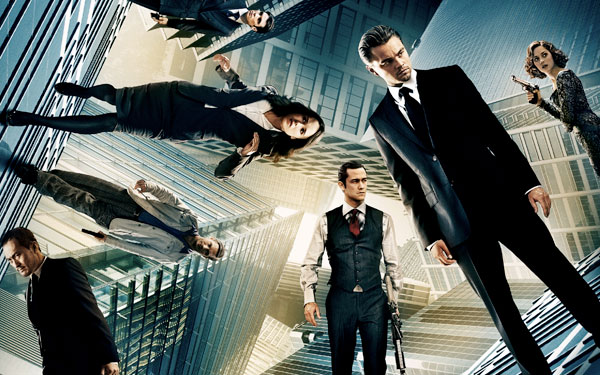 Inception deserved its wins for Best Visual Effects, Best Cinematography, Best Sound Editing, and Best Sound Mixing. However, unlike many of my colleagues, I thought the movie itself was pretty bad—nothing more than a cross between Mission: Impossible and The Matrix as an excuse for lots of gunfire and explosions. Also, I was not at all impressed with Leonardo DiCaprio, Ellen Page, and Joseph Gordon-Levitt, who all seemed miscast and very unbelievable to me. Of course, the visuals were stunning, but a movie should be more than that (Hollywood, take note), and this one wasn't for me.
Alice in Wonderland—one of my faves from 2010—certainly deserved its awards for Best Art Direction and Best Costume Design. And I was glad that The Social Network got its share, with nods for Best Adapted Screenplay, Best Original Score, and Best Film Editing. It's a great movie, but I'm also glad the Academy didn't go all young and hip by giving it Best Picture.
Given the studios' strong emphasis on 3D these days, I was surprised that there was nothing about it during the show. With so many movies being released in 3D, I would expect the Academy to create a new category—Best 3D Picture—to promote the format.
Next year, I'd like to see the hosting duties given back to Billy Crystal, who made a brief but funny appearance in this show to introduce a flashback to Bob Hope hosting the first Oscars telecast in 1953. (It was particularly interesting how often this "young and hip Oscars" looked back at the shows and awards of long ago.) Crystal may not be all that young any more, but he was among the funniest and most entertaining hosts I can remember—and entertainment is always hip.