Samsung Reviewers' Workshop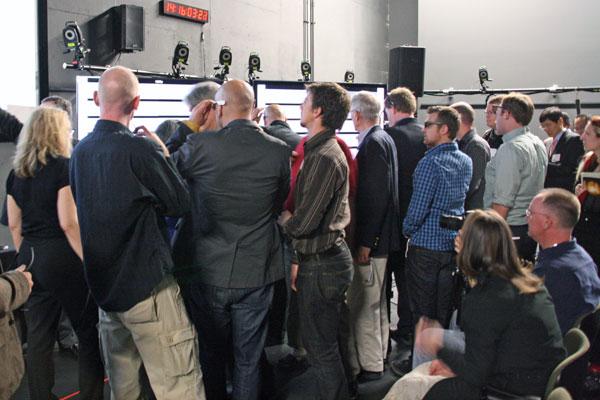 Last Thursday,
Samsung
held a day-long workshop for TV reviewers on the campus of
DreamWorks Animation
in Glendale, California. About 25 journalists assembled in the studio's motion-capture stage, which is painted the same Munsell gray as our own video-testing lab and ringed with cameras to capture the motion of actors wearing bodysuits with reflective dots all over them. Fortunately, we were not asked to wear such suits!
First up was a short welcome from DreamWorks Animation co-founder and CEO Jeffrey Katzenberg, who reiterated the studio's intention to produce all of its movies in 3D, including six so far. He also extolled his studio's partnership with Samsung, which provides TVs for use during the production of movies and offers DreamWorks Animation 3D Blu-rays with its 3D TVs in exclusive bundles.
I believe that such exclusive bundles—which are also offered by Sony, Panasonic, and others from different studios—actually slow the growth of 3D in the home by limiting access to content, so I asked Katzenberg about this point. He said that sports, not movies, are the most important early driver of 3D in the home, and that the manufacturers understandably want something unique to offer consumers. Also, these exclusive deals are time-limited, and all titles will eventually be available to everyone. But the most telling response was that it made good business sense for DreamWorks Animation—in other words, Samsung gave the studio a boatload of money for this exclusivity, enough not to care what consumers think of it.
I can't really blame the studios for taking the money, but I think this approach is terribly shortsighted of the manufacturers. As I mentioned, it slows the adoption rate of 3D in the home, and it fosters ill will among consumers. Whatever short-term gains the manufacturers see as a result of exclusive bundles will be more than offset by these factors.
Of course, Samsung is very bullish on 3D—60 percent of its 2011 TV lineup is 3D-capable. (This PowerPoint slide shows only the LED LCD TVs.) And all of them use active-shutter glasses rather than passive glasses with an FPR (film pattern retarder) filter on the screen because an active 3D display provides full resolution for each eye and no thin, black horizontal lines. (For more on this, see my previous blog about it.) Also, the company expects demand for 3D TVs in 2011 to be five times what it was in 2010.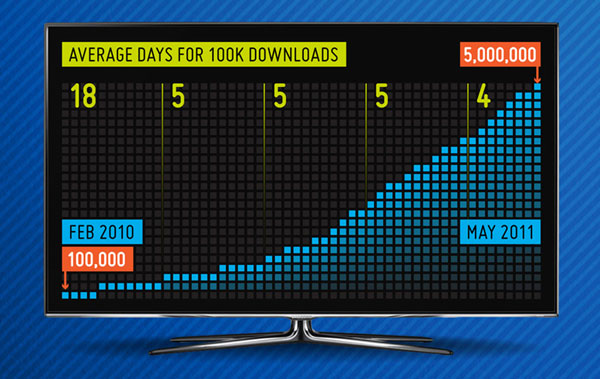 The Smart TV paradigm is no less important to Samsung, which is now offering its fourth generation of TVs with Internet apps and DLNA networking capabilities. In fact, Samsung just surpassed a major milestone—5 million TV apps downloaded globally with over 550 to choose from, and more are being added all the time from third-party developers. We were told that in the global TV market this year, 11 percent of flat-panel TVs are "smart," and the company expects that 80 percent will be in 2014.
After all that marketing info, it was time for a delightful lunch by the lagoon. We learned that all 1675 DreamWorks Animation employees have access to three catered meals a day, free of charge. No wonder it's rated as one of the best places to work!
The afternoon session began with a summary of the technical improvements in the 2011 TV lineup. For example, this year's LED LCD models have LEDs on the sides rather than on the top and bottom of the screen as in the 2010 TVs, which allows the LEDs to scan horizontal bands of black from top to bottom to hide the liquid crystal state changes from one frame to the next, decreasing crosstalk in 3D mode and improving motion detail. This arrangement of LEDs also enables a new feature called Cinema Black, in which the LEDs beside the letterbox bars of a widescreen movie are turned off to make them blacker.
LED scanning, frame interpolation, and panel refresh rate combine to yield what Samsung calls Clear Motion Rate (CMR), which is the effective frame rate resulting from these technologies. For example, the flagship D8000 LED LCD TV has a 240Hz panel, but when you take into account frame interpolation and LED scanning, its effective CMR is 960Hz, whereas the D7000 (also a 240Hz panel) has a CMR of 720Hz because its LED scanning isn't quite as fast. This was clearly visible on a horizontally scrolling test pattern shown on two D8000s—the one with all relevant processing enabled looked far sharper than the one with all relevant processing disabled.
Samsung plasmas have also been improved. For example, the rate at which the panel is reset has been reduced, which results in lower black levels.
Next, video guru Joe Kane presented his new 3D test patterns and proposed a procedure for testing 3D TVs that gets past the "wow" factor to reveal what's really going on. It was much the same presentation as he showed Tom Norton and me in our studio the week before, which I discuss in detail here.
The final presentation of the day was given by Phil "Captain 3D" McNally, one of the world's foremost 3D experts. In this photo, he is showing us a software tool that lets technicians change the depth of an image from in front of the screen to behind it or vice versa in real time without having to re-render it.
Interestingly, separation of the left and right images in stereoscopic images for commercial cinema is generally limited to no more than 25 pixels. However, TVs are smaller, and relative to screen size, people sit farther from them than they do from a commercial screen, which increases the perceived depth. As a result, McNally says, the depth range should be pushed more behind the screen for TV.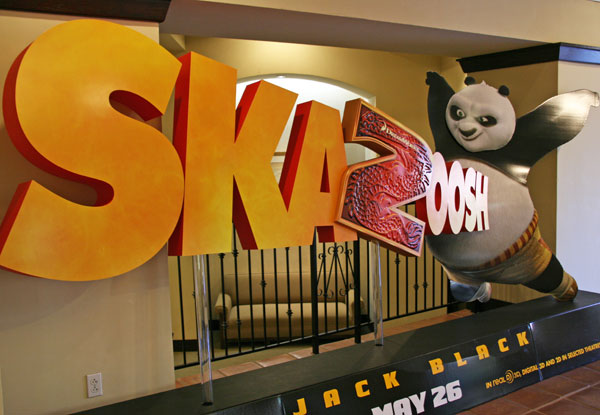 As a final treat, we got to see a screening of Kung Fu Panda 2 in 3D, but the studio placed us under embargo until the movie opens on May 26, so stay tuned for my report then.
It was a long but fascinating day with Samsung at DreamWorks Animation, and I thank them both for their hospitality and informative presentations.