AMC ETX & 3D Rio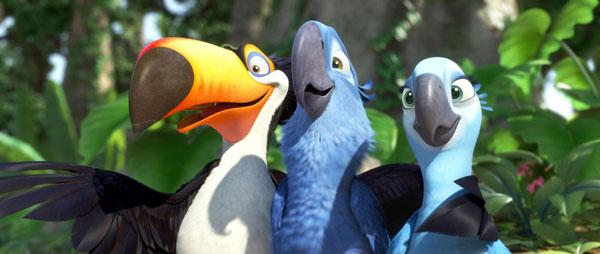 Tom Norton and I saw
Rio
in 3D last week at our local AMC multiplex, which offers something called Enhanced Theater Experience (ETX) with a larger screen, digital projection, and a beefier sound system. I guess this is somewhere between a conventional theater and Imax, and it was quite good overall.
One thing's for sure—they aren't kidding about the beefier sound system. I measured the sound levels during the previews and the movie all the way through the end credits. As expected, the levels were higher than those I measured during Source Code in one of the multiplex's conventional theaters a week earlier—84.1dBA average level over the entire length of the movie, compared with 73.0dBA for Source Code; 97.0dBA highest RMS maximum (1-minute intervals) versus 91.0dBA; 124.0dBA highest instantaneous peak versus 118.0dBA.
Also, the exceedance metrics were much higher—10 percent of the time, the level exceeded 88.5dBA during Rio as opposed to 77.0dB for Source Code; 33 percent of the time, the level exceeded 83.5dBA compared with 69.0dBA; 50 percent of the time, the level exceeded 80.0dBA versus 65.5dBA; and 90 percent of the time, the level exceeded 69.0dBA compared with 56.5dBA. Rio got close to hearing-damage levels over its 96-minute length, so I was glad I had my custom-molded earplugs!
For a children's movie, I quite liked Rio, with its colorful characters brought to life by outstanding voice talents such as Jesse Eisenberg, Anne Hathaway, Jamie Foxx, will.i.am, George Lopez, Tracy Morgan, and Jemaine Clement as the deliciously evil cockatoo Nigel. I particularly enjoyed the Brazilian music, which was supervised by Sergio Mendes. Also in the score are several hip-hop selections, I suppose to make the movie more appealing to kids, for whom it's clearly intended. I would have been happier with an all-samba score, but I'm not in the target demographic. (Also, I could have done without Luiz the bulldog's copious slobber, but I'm sure kids love it, and it does play a key part in the plot!)
The 3D was in RealD format from a Sony 4K projector, and I thought it looked great—that is, when it was evident, as in the shots of birds flying. Oddly, the 3D seemed to come and go, which was a little disconcerting.
Still, I thought the movie was enhanced with 3D, which strengthened my growing conviction that 3D is here to stay—sorry all you 3D haters out there. Certain genres, such as animation, documentaries, live performance, sci fi, action/adventure, and sports, can definitely benefit from well-done 3D, while others—drama, comedy, and classics to name a few—not so much.
I've heard and read many complaints that the A/V press spends too much time covering—and praising—3D. But 3D is a big deal right now, so of course we're going to cover it. As for praising it, that's an individual preference—I happen to enjoy 3D when it's done well, and I say so. But I also say when I think it's done poorly. In other words, I call 'em as I see 'em, as all good journalists should. And the way I see it, 3D isn't going away, so I will continue to cover it with praise or scorn on a case-by-case basis.