Origin Acoustics/Bang & Olufsen BOC106 In-Ceiling Speaker Review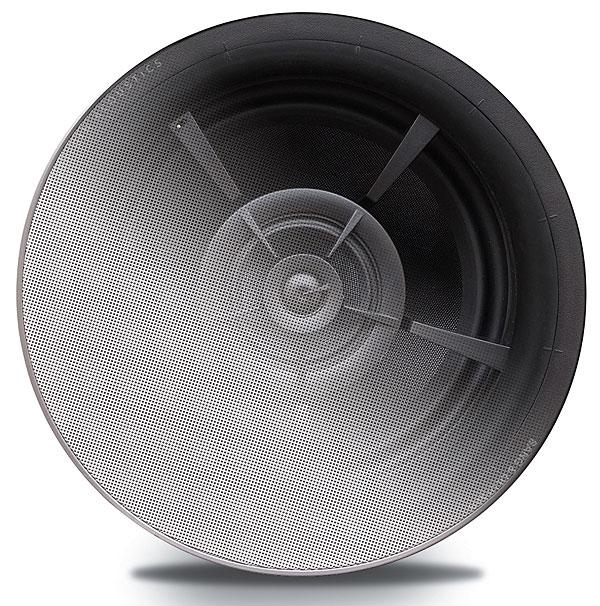 PRICE
$1,595/each ($7,975 as reviewed)
AT A GLANCE
Plus
Zip-Cliq mount for easy install
IPX6 rated for use in high-moisture locations
10-inch woofer
Optional billet aluminum Advanced Grille
Minus
Expensive
THE VERDICT
The overhead fruit of Bang & Olufsen's partnership with Origin Acoustics combines superior, finessed sound quality with remarkably refined looks for any ceiling.
Although the story of its beginning may sound like it, Bang & Olufsen isn't one of those up-and-coming startups that briefly create a lot of noise and then are never heard from again. B&O's is a classic tale, though. Two engineers, Peter Bang and Svend Olufsen, tinkering in the Olufsen family's attic (not garage) in Struer, Denmark, start building and selling radios. They didn't do a Kickstarter campaign because, well, it was 1925, and Kickstarter hadn't been kickstarted yet. The fledgling company's first "commercially viable" product was the ominous-sounding B&O Eliminator, a device that allowed a radio to run off of AC (alternating current) from a wall outlet instead of DC (direct current) from expensive batteries. This early innovation set the tone for Bang & Olufsen ever since: be innovative, use quality materials, and above all (some would argue), do things your own (e.g., the Bang & Olufsen) way.
For a variety of reasons, Bang & Olufsen hasn't been much of a force in custom-installation and whole-home audio—in North America, anyway. They've definitely made some cool built-in-able stuff, like the to-drool-for BeoLab 15 motorized in-wall speaker that tilted out of the wall whenever audio was playing, but the multiroom applications were usually limited. As a result, had I not been given an early heads-up, I'd have been seriously befuddled when five Bang & Olufsen Celestial BOC106 in-ceiling speakers arrived at my door. The fact that the boxes had Bang & Olufsen and Origin Acoustics logos on them would have made the situation even more of a head-scratcher. Under normal circumstances, I also would have been totally bamboozled as to where I'd find enough pristine ceiling space in my theater room to saw five more holes. But normal isn't what it used to be anymore.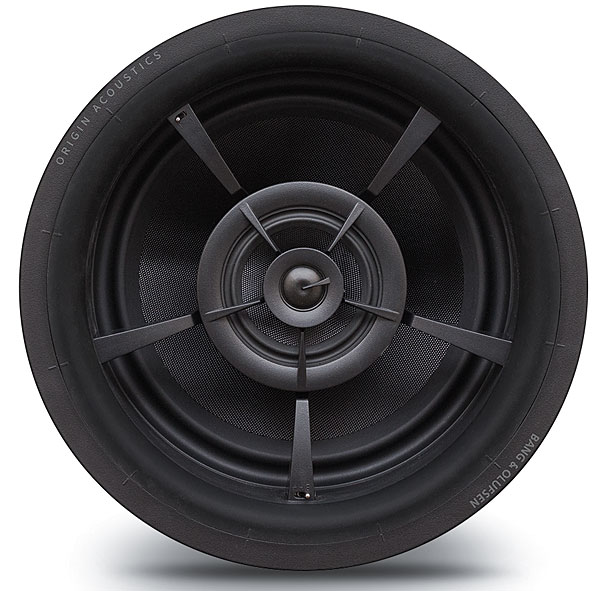 The Originals
B&O, it seems, is getting serious about American-style custom installation and architectural speakers. To begin with, the company is introducing the Celestial range of in-ceiling speakers. After that will come the Palatial range of in-wall speakers. For both lines, Bang & Olufsen chose to partner with a relatively new company in the architectural speaker industry: Origin Acoustics. If you've read my highly entertaining November 2015 review of a 5.0.4 all-in-ceiling Dolby Atmos system (whose f'ing crazy idea was that?) with nine Origin Acoustics Director D108 10-inch in-ceiling speakers, you'll catch the joke in saying Origin Acoustics a "relatively new" company. The old fogies behind Origin Acoustics are the very same dudes (young fogies, then) who helped create and develop the architectural speaker industry starting in the late 1970s and continuing to the current day. Combined, these guys can arguably claim to have introduced "the first flush-mount high-fidelity in-ceiling speakers" in 1978, the first in-wall speaker in 1982, and the first in-wall subwoofer system in 1986. Eight years later, they formed the highly successful company, SpeakerCraft—and blah, blah, blah, blah. If you're interested in the backstory, read my Origin Acoustics Director D108 review—you'll get a better understanding of why the company is such a good fit with Bang & Olufsen for architectural speakers.
Gotta' Keep 'Em Perforated
Instead of rebadging an assortment of existing Origin Acoustics speakers, the two companies rejiggered and re-tweaked much of the basic designs to produce speakers that are somewhat similar to but also, importantly, somewhat different from what Origin Acoustics currently offers in its own line. Neither company is shy about admitting this partnership, either. Not only are the boxes co-branded, but the Celestial speakers themselves have both companies' logos embossed along the outer rim of the speaker assembly—although the unassuming, circular, perforated-metal grille that ships with each speaker conceals the logos (and the rest of the hardware). Both companies will be concurrently marketing these co-branded products—Origin through its worldwide distribution to independent dealers, and B&O through its worldwide network of retail showrooms.
Critically, the Celestial speakers utilize Origin Acoustics' patented "tool-less" installation mounting system, called Zip-Cliq. It's one of the easiest and cleverest mounting systems I've ever worked with; and, fortunately for me, the Celestial BOC106 speakers fit precisely in the Origin Acoustics mounting rings that were still installed in the ceiling from my Director D108 review. All I did was twist and pull the D108s from their mounts, and then push and twist the Celestial BOC106 speakers back into the same ring. The Celestial BOC106 models have magnets buried in the plastic of the bayonet ring that align and hold the grilles in place. "Burying" the magnets in plastic is part of Origin Acoustics' "proprietary Weather-X coating process" that includes the use of stainless steel hardware and a coating on the grilles. The result is a speaker that can function under extreme moisture conditions (all of the Bang & Olufsen Celestial speakers are IPX6 rated) and, according to Origin Acoustics, "prevent rust for over 10 years." The speakers aren't designed for outdoor use per se, but they can definitely be installed in bathrooms, saunas, indoor pools, sweat lodges, yachts, cruise ships, dinghies, and other unusually wet locations.
If that unassuming, round white grille (with an outer ring of aluminum trim to discreetly dress it up) that comes with each BOC106 doesn't float your boat, there's an optional stillunassuming, square, perforated-metal, white grille to use instead. On the other hand, if circular is fine but unassuming is most definitely not fine with you, the Celestial range's Advanced Grille (the standard grille is confusingly called the Premium Grille) is pure Bang & Olufsen in terms of style, design, fit, and finish. In fact, these Advanced Grilles are all made in B&O's impressive production facility in Struer, Denmark, where they are milled out of a solid block of billet aluminum, precision CNC-machined, and anodized. (B&O didn't invent aluminum, but they are known for their work with this material across their product lines.) Rather than being perforated, the Advanced Grille has a series of curvaceous slots that begin at the top of the grille with a single dot and gradually radiate outward, expanding like ripples in a pond, then gracefully flattening out towards the bottom. Unlike the Premium Grille, the Advanced Grille has the B&O logo embossed across a solid section at the bottom of the grille.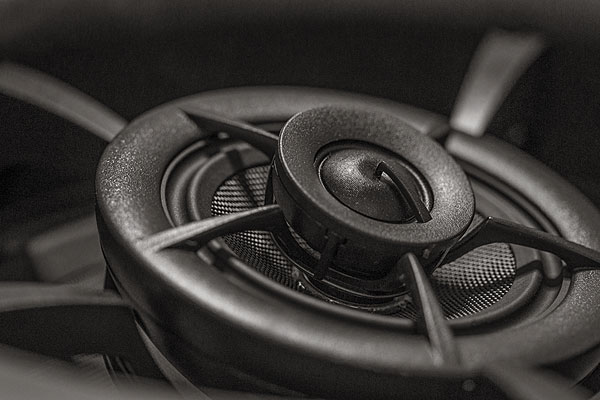 I showed an early sample of an Advanced Grille to everyone I know (man, woman, child, even the ghost who inhabits the upstairs of my house), and all thought it was gorgeous, extremely classy, and—surprisingly to me—totally worth the $395/each price. ("Each" in the price is not a typo.) I must admit that I was skeptical about someone spending what amounts to an additional 25 percent of the cost of the speaker for a grille that will be mostly unnoticed, but I began to appreciate its special beauty. That being said, its benefit is aesthetic, not acoustic, so it's a statement of style and luxury rather than a necessary performance accessory.
Cutting Hertz
Regardless of which grille is on the front, the three-way Celestial BOC106 in-ceiling speaker includes a 10-inch glass-fiber cone woofer, a 4-inch glass-fiber inverted-dome midrange, and a 1-inch silk dome tweeter in what Origin Acoustics calls a "TriLinear Configuration"—essentially a tweeter/midrange/woofer shish-kebab (without the skewer). The midrange/tweeter pod can independently pivot up to 18 degrees off axis, allowing the installer to "aim" the most directional range of the speaker's sound toward the listening position, a feature that's very beneficial for a home theater setup or serious stereo listening. There are also three-position bass and treble adjustment switches on the speakers for additional tweaking of the sound. The tweeter assembly has a tiny bar, cheekily called a "tonearm" here, spanning halfway across the front of the dome, pinning it at the center. According to Origin Acoustics, this increases the stability of the dome so it can play louder with smoother dispersion. The company also says that the "X-Wave Woofer Surround" on the 10-inch driver is not only a suspension element that helps maintain the optimal linear excursion of the woofer, but also helps terminate unwanted frequencies that reflect up and down along the cone.