Onkyo Previews New Flagship AV Receiver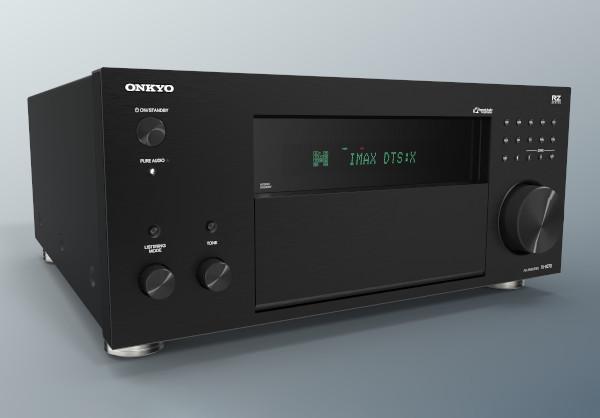 Onkyo today announced plans to bring a new flagship 11.2-channel AV receiver to market this spring.
Following on the heels of the Pioneer flagship AVR announced a couple weeks ago, the Onkyo TX-RZ70 was "developed from scratch" under a collaboration between Onkyo Japan and Premium Audio Company, the Voxx International subsidiary that's owns Onkyo and Klipsch and the rights to Pioneer in the home entertainment space.
At $2,799, the TX-RZ70 is THX Select-certified for spaces up to 2,000 cubic feet with a 10-foot viewing distance and will sell for $200 less than Pioneer's forthcoming Elite VSX-LX805, owing largely to THX certification and the difference between the Onkyo's 11.2 architecture with 11-channel processing and 13 preamp outs and the Pioneer's 11.4 layout with 15 pre-outs.
Marquee features include Dirac Live room correction with full bandwidth capability and the extra-cost option to add Dirac Live Bass Control for systems with one or more subwoofers (the receiver has two independent subwoofer outputs), Roon Ready integration (through a firmware update promised in September), and immersive surround processing for Dolby Atmos, DTS:X, and IMAX Enhanced with Auro3D promised via a firmware update in June.
The AVR is hi-res audio-ready with two audiophile-quality ESS 32-bit Sabre digital-to-analog converters (DACs) and supports HDMI 2.1/HDCP 2.3, Dolby Vision and HDR10+ high dynamic range (HDR), 4K and 8K resolution, and speeds up to 40Gbps for fast refresh rates, which is especially important for avid gamers. Onkyo, which has a long history in audio design and engineering, has paid particular attention to "capturing every detail" of the audio signal as it passes from HDMI to the DAC, according to the brand's engineering team in Japan.
At the heart of the RZ70 is an Onkyo-designed Class AB amplifier rated to deliver 11 x 140 watts into 8 ohms. The amp boasts high-current capability for driving speakers when impedance drops, low negative feedback to mitigate unintended signals coming from the speaker, and a closed loop ground architecture to minimize noise between the amp's gain and power stages. The transformer, which is physically separated from the centrally mounted amplifier, is also shielded to further reduce noise
App-controllable streaming options built into the RZ70 include aptX-enabled Bluetooth, AirPlay 2, Chromecast, DTS Play-Fi, Tidal, Spotify, Amazon Music, Pandora, and Deezer with virtual assistant/voice control supported through Google Assistant, Amazon Alexa, and Siri. The receiver is also compatible with Sonos.
Connectivity options include seven HDMI inputs (one in front), six of which are 8K-comptible and support eARC and speeds up to 40 Gbps, three HDMI outputs, two optical and two coaxial digital inputs, four analog RCA inputs, one phono input, and Zone 2 and Zone 3 stereo outputs.
For more information, visit onkuyousa.com, though as of this writing details on the TX-RZ70 were not yet available on the site.