Pioneer Unveils New Elite Flagship AV Receiver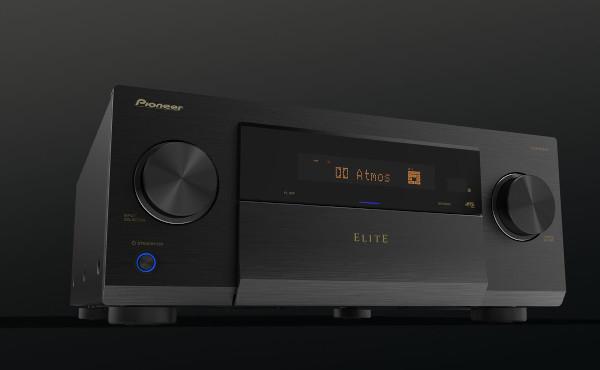 Pioneer today unveiled a new flagship AV receiver under the prestigious Pioneer Elite label.
Slated to sell for $2,999 when it ships this spring, the VSX-LX805 boasts a feature-packed 11.4-channel architecture and marks the first update to the brand's top-of-the-line receiver in quite some time. The LX805 is also the first Pioneer product developed with the involvement of Premium Audio Company, the wholly-owned subsidiary of Voxx International that in 2021 acquired the rights to the Pioneer brand in the home entertainment space. The company is also home to the iconic Klipsch brand as well as Onkyo, Integra, Jamo, Magnat, and Heco.
Topping the AVR's long list of features is Dirac Live room correction with full bandwidth capability and the option to add Dirac Live Bass Control for systems with one or more subwoofers (the receiver is equipped with two independent subwoofer outputs). Both Dirac Live and Bass Control are said to use artificial intelligence (AI) and machine learning to determine settings that deliver the best sound quality, regardless of system layout. Dirac Bass Control for one subwoofer will cost $349, $399 for two subs.
Also on board is the latest version of Pioneer's Multi-Channel Acoustic Calibration System (MCACC), which was the world's first automatic sound-field correction technology when it was introduced in 2001. Among other things, the system analyzes phase differences and makes real-time adjustments to compensate for the gap between the LFE and main signals for improved performance.
The receiver promises audiophile-quality music and immersive surround processing for movie soundtracks through Dolby Atmos (with Dolby Atmos height virtualization), DTS:X, and an IMAX Enhanced mode. Auro3D immersive processing is promised for June via a firmware update and Roon Ready certification will be added via a second update in September. In running through the key features of the LX805, global senior product manager Rob Vieira went out of his way to highlight the immersive 3D capabilities of Dolby Atmos Music, which is streaming on Apple Music, Amazon Music, and Tidal.
As you might imagine, the list of features is exhaustive and includes support for Dolby Vision and HDR10+ high dynamic range (HDR), HDMI 2.1/HDCP 2.3, 4K and 8K resolution, and speeds up to 40Gbps for fast refresh rates with the newest gaming consoles, including the Xbox Series X. The AVR is equipped with two audiophile-quality ESS 32-bit Sabre HyperStream digital-to-analog converters (DACs) and boasts a new symmetrical class-AB amplifier section rated to deliver 11 x 150 watts into 8 ohms (FTC-rated with 2 channels driven at 0.08% THD).
The amp section features custom (18,000uF) capacitors for improved dynamic performance and uses fan-shaped extruded-aluminum heat sinks for improved heat dissipation. Everything is situated in a new rigid chassis designed to suppress vibration and the transformer is housed in a shielded case to reduce noise.
Connectivity options are plentiful with seven eARC-compatible HDMI inputs, six of which will pass 8K, three HDMI outputs, three optical and two coaxial digital inputs, four analog RCA inputs, one phono input, two balanced XLR inputs and outputs for high-performance stereo listening, Zone 2 and Zone 3 stereo outputs, and more. There are also RCA preamp outputs for all channels.
Other highlights include app-based streaming via Chromecast, AirPlay 2, Spotify, Amazon Music, Tidal, Pandora, aptX-enabled Bluetooth, to name a few, plus built-in access to voice-enabled smart-home assistants from Josh, Alexa, and Google, and compatibility with custom control systems.
Working with Pioneer engineers in Tokyo, "we took extra time and care to make sure the 805 features the latest and best audio performance possible, including upgrades in digital audio processing, room tuning, high-res streaming capability as well as the inputs and outputs to ensure the Elite customer has the best experience with their connected gear," said Rob Standley, senior vice president of global brands for Premium Audio Company.
"We also spent time meticulously listening with our engineers making adjustments to the circuit path to ensure the most dynamic and expressive performance, honoring the brands promise to bring the listener as close as possible to the artist's intent."
For more information, visit pioneerhomeusa.com.