Onkyo HT-S9100THX Integrated System Page 2
Not much adorns the SKW-960 subwoofer's back panel except a single RCA input jack and a volume knob. It doesn't include crossover control, phase control, a power switch, other inputs, or any kind of output. Presumably, the standard THX crossover is fixed in the HT-R960 A/V receiver. The 12-inch driver is propelled by an amp that's rated at 290 watts peak power, not the more rigorous RMS standard. THX says the sub maintains meaningful output down to 20 hertz (see HT Labs Measures).

The HT-R960 receiver is rated at 130 watts times seven with one channel driven. See our test measurements for an idea of what happens with all channels driven. Although the connectivity suite is limited, it does have what I regard as the essentials—including four HDMI inputs, one HDMI output, a component output for a second high-def display, and a 7.1-channel analog input for legacy surround sources.
Setup was routine. Audyssey requires you to plug in a setup microphone and run test tones for a few minutes, which is always a painless process. If you choose manual setup, you'll find some reasonably attractive menu graphics. The remote control is a new design that has already appeared in Onkyo's regular receiver line. Although it's smaller than the old Onkyo remote, it makes effective use of size, shape, color, and layout to distinguish the buttons from one another. Any one of those things is good, so the combination of them is very good. With minimal training, my thumb pretty easily found what it was looking for.
Associated gear for this review included an Integra DPS-10.5 universal player (from Onkyo's sister brand), Rega Planar 25 turntable, Shure V97xE phono cartridge, and NAD PP-1 phono preamp. My Blu-ray player sat this one out. All movie selections were DVDs with Dolby Digital 5.1 soundtracks. All music was on vinyl.
Elegant Midrange
As the movie auditions got underway, the HT-S9100THX shrugged off its Secret Service trench coat to reveal an Armani-clad midrange. It was painlessly smooth, classy, and well mannered. It fit all the demo material like it was tailor-made for it. The top end was occasionally airless, but not enough to impair intelligibility. Bass was present, if not overwhelming. It was usually proportionate and well integrated with the rest of the speakers.
I make no secret of the fact that I like orchestral music. When I hear it oozing out of the opening frames of a movie, I can feel my pleasure receptors being tickled. That's what happened when In Bruges serenaded its first-class, medieval urban setting with lush, soft-edged strings. The story, about London-Irish hit men on the lam, gave the system a chance to deliver some tense short-reverb information involving gunshots in a church vestry. While the sound was artificial (it's hard to imagine Belgians letting filmmakers shoot up a church), it was scarily effective.
After I'd enjoyed the first movie without enhancement, I turned on THX Loudness Plus for August. The story of a disintegrating Internet startup echoed a chapter of my life, complete with a shot of Radiohead in the soundtrack. Loudness Plus' main impact was that it maintained a constant minimum of audible activity in some or all of the channels. In my low-volume movie watching, the soundtrack usually drops below audibility in some of the channels. But with Loudness Plus, the soundtrack did a better job of engaging my attention since the perceived volume level was more consistent in more channels. It also prevented me from straining to hear sotto-voce dialogue.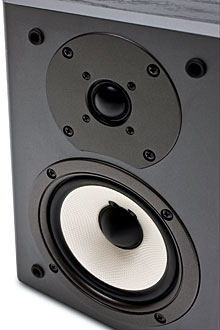 M. Night Shyamalan's The Happening achieves a Hitchcock-worthy level of weirdness as it tells the story of Philadelphians fleeing a nameless but deadly dread. Accompanying them is a string orchestra, with some solo cello. It starts out sweet but turns dissonant as the victims pile up. Toward the end, as the sound of wind becomes associated with the unseen threat, the trombones of doom kick in. The soundtrack was so eloquent—even in old-fashioned Dolby Digital—that I could have turned off the video display and just listened to the movie. This system can work wonders with good material.
Supernovas and Dollhouses
The Clash had exploded like a supernova by the time it recorded Combat Rock. But the fading embers still included classics like "Rock the Casbah" and "Should I Stay or Should I Go," even if casually brilliant studio craft had taken over from passion. Like its predecessor, Sandinista!, this album has a phasey vibe that reacts well to surround enhancement. Dolby Pro Logic II and DTS Neo:6 did equally fine, but different, jobs of expanding the murky multitracked guitars. DPLII (as usual) was closer to the original feel of the stereo mix. However, Neo:6's more radical soundfield expansion suited this spacey album well.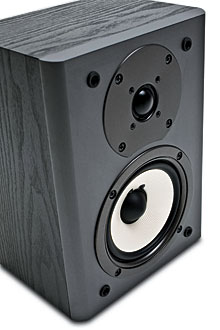 My reference standard for orchestral sound is the Vienna Philharmonic, and one of many specimens in my collection is the Deutsche Grammophon set of all four Brahms symphonies conducted by Karl Böhm. "Intimate" was the first word I wrote in my notebook. The rigorously restrained reverb recalled the dollhouse ambience of the Vienna Musikverein. Spatially, the feel was appropriately modest and self-contained, not huge or airy. The three front speakers—all set up vertically, including the center—provided perfect timbre matching and reasonably good dispersion. The soundstage remained uniform from various listening positions. While the system didn't provide the ultimate in transparency, it had a smooth top end and a well-fleshed-out midrange.
Last up was Shirley Bassey's I Capricorn LP, complete with gold-foil jacket and 99-cent sticker. Regrettably, it doesn't contain her famous "Goldfinger." However, there are two Bacharach songs, including "The Look of Love," which is a definitive version in Bassey's hands. The 1972 production laid on the reverb with a trowel. It generates a soundfield that's echoey, too big, and obviously synthetic. I cut it down from the surround modes to stereo, but this only helped a little. Still, Bassey's honey-drenched voice declaimed from the location of the center speaker and owned the room, even in two-channel mode with a phantom center image.
Onkyo excels at making this kind of system, with or without THX certification. The use of THX Integrated System Plus only makes a good thing better. Although this product won't win any awards for fancy aesthetics, you can close your eyes and imagine that you're listening to something more powerful and better balanced than the price tag indicates. The Onkyo HT-S9100THX will make a lot of budget-conscious listeners happy.