Now Playing: The Man Who Invented Home Theater Page 2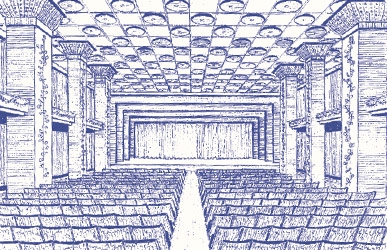 Theo's first attempt at a dedicated theater was in the basement of a brownstone he bought in Brooklyn, and everything was done by hand and on the cheap. "I got seats for a buck apiece from a movie theater that was being dismantled. They were covered in ugly turquoise Naugahyde and were full of cigarette burns; I had to remove about a bucket of chewing gum before I could think of using them. After getting some tips on upholstering, I bought some red velvet and reupholstered the seats on my own." For video, Theo chose an Inflight projector that had been used in airplanes.
Because of his connections in magazine publishing, his friends began writing about their experiences watching movies at Theo's - weekend-long events called "movie orgies."
"Before I knew it, there was a front-page article in USA Today about this crazy guy who turned a basement into a movie theater. What I got out of this was, if people could get excited about a blank room with just three rows of seats, what would happen if I designed something that had a little more character and personality? So I started studying and reading about the architecture of movie theaters."
That's when Theo discovered New York City's Roxy Theater, "the biggest and most legendary movie palace ever built." So in 1985 he bought a second brownstone and began turning the basement into an homage to the Roxy.
"The basement was a cobweb-infested mechanical room with pipes covered with dirt and oil. But over the course of a year, I turned it into a real theater with a vestibule, a neon sign, a curtain that opened and closed automatically, lights that dimmed, and a candy machine."
Back then, there was no CEDIA or custom installation industry - and since Theo's background was in design, not equipment installation, he needed someone who could advise him on the technology that would bring his home theater to life. "My favorite theater was and still is the Ziegfeld. So I went into the projection booth and pestered the projectionist, who was kind enough to show me around. I asked him what speakers they used and how they got surround sound." Through the Ziegfeld's projectionist, Theo found a source for JBL speakers and a contact at Dolby Laboratories.
Theo's Roxy started getting tons of press, including a write-up in The New York Times, and it didn't take long before the phone started ringing with people asking him to come work his magic in their homes. But instead of embracing the opportunity, Theo hesitated.
"I wasn't an architect," he said. "What did I know about design? But Malcolm Forbes had been watching the articles and the offers that I was getting, and he told me that I was being deaf to opportunity knocking on my door, and that I should do one more. Because of this kick in the butt, I accepted my first client, and while I was working on that project, I accepted my second assignment."
But with a regular day job at the magazine, Theo was struggling to juggle two careers. In 1989, he made a leap of faith and started TK Theaters, and the jobs began pouring in. "I went from two theaters the first year to five theaters the next year, to eight the next year, then there were 15, and so on. I realized I had hit on something that was here to stay."
As much as Theo is involved in all aspects of a home theater's design, he isn't interested in installing or even specifying the gear that goes into his cinematic creations. "Most of the time, we get the job referral from audio/video guys, and I don't want to get into their bids. It's daunting what these installers have to deal with, but thanks to CEDIA, they've been trained to make very complex systems into something easy enough for the average person to use. I don't want them telling me what architectural limits to use in the theater, and I won't tell them what amplifier or speakers to use. These guys are doing the hard part, while I focus on architectural design and integration of the technology. Our job is to understand what the A/V installer needs to accomplish and make sure to accommodate him. We are the bridge between technology and architecture."
After all of the effort that goes into designing and creating his "wrapping paper," does it bother Theo that sometimes he has to include an inferior A/V system? He shrugs it off. "I'm about the environment. When a modestly priced system is selected, it's usually because the client doesn't have the budget or doesn't want to spend more money. I can't control it, and I don't feel like it diminishes the theater's design. But it is good to know that the improvements in technology are so astounding that you can get a decent system now for a lot less than what it cost a few years ago. You don't have to worry anymore that if you don't have a big budget, you're going to have lousy picture and sound. There's no such thing anymore. Even the less expensive sound systems and projectors perform decently nowadays."
But the scale of Theo's projects often involves working on systems with seemingly unlimited budgets, and when that's the case, extra care is taken to ensure maximum performance. "On the most elaborate projects, with speakers and amplifiers costing hundreds of thousands of dollars, we always work with a consultant to help us with room isolation and acoustical treatments. That way, the room will reflect the money that the client spent on the technology."