Not Your Great Grandfather's Victrola
Victrola, the name Victor Talking Machine Co. assigned to the iconic floor-standing phonograph it introduced in 1906, has somehow survived the ages and today is known as a purveyor of inexpensive record players and other audio products. Today at CES 2022 the company previewed two portable Bluetooth speakers under the Music Edition banner that represent a break from the vintage motif the company typically embraces.
Slated for release in the April-June timeframe, the handheld ME1 (shown above, $100) and tabletop ME2 ($200) are battery-powered speakers featuring waterproof enclosures with stylish anodized-aluminum grilles. Both carry an IP67 rating, meaning they are impervious to dust and can be submerged in up to 10 feet of water without damage.
The ME1, designed for grab-and-go listening, pairs a 2-inch driver with a passive bass radiator in an ultra-compact enclosure. To maintain a smooth profile without protrusions, controls are mounted flush in the edge along with a USB charging port. Battery life is rated for up to 12 hours of continuous play.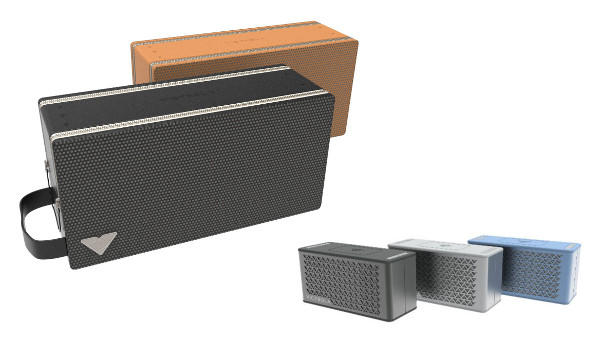 The ME2 mates a 3.5-inch driver and 1-inch tweeter with two passive bass radiators and a more powerful amplifier in a larger enclosure with top mounted controls and an auxiliary input. Battery life is rated for up to 20 hours of continuous play.
The ME1 will be offered in black, gray, blue, red, or green, and the ME2 in black, gray, or blue. Victrola will offer optional black and brown custom-fitted leather cases available at launch (shown with ME2).