Nick Mason Spills a Saucerful of Secrets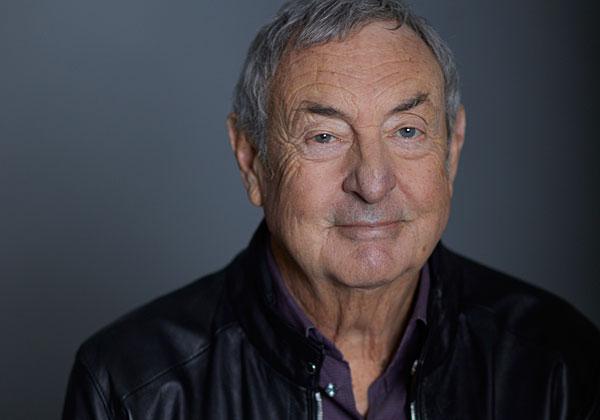 Two words I'd never dream of associating with Nick Mason would be "idle hands." If anything, the longtime co-founding Pink Floyd drummer has always liked keeping himself busy, whether it's been behind the drum kit or handling the respective steering controls of exotic cars and/or flying machines (a.k.a. airplanes, in everyday parlance).
After curating the band's massive, historical Their Mortal Remains exhibition at the Victoria and Albert Museum in London in 2017, Mason was further inspired to revisit the groundbreaking and often psychedelically driven music Pink Floyd made during their quite heady early days, back when visionary guitarist/vocalist Syd Barrett was at the controls (well, for the most part, anyway). Soon thereafter, Nick Mason's Saucerful of Secrets were born, a top-shelf five-piece band dedicated to only playing Floyd music that was entirely recorded prior to their forever-iconic March 1973 masterpiece, The Dark Side of the Moon.
To that end, in early 2018, Mason assembled guitarist Lee Harris, guitarist/vocalist Gary Kemp, bassist Guy Pratt (a longtime Floyd associate), and keyboardist Dom Beken, and they subsequently began performing a cadre of Pink Floyd songs many people—myself included—never thought they'd hear done live in such a fascinatingly detailed fashion.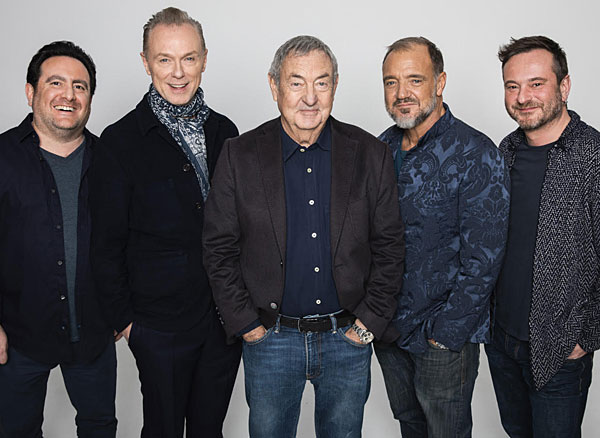 "Oh, it was great. We really enjoyed it. I suppose the honest thing to say is that it was rather unexpected," Mason notes of not only the ensuing Saucerful tour, but the level of response it garnered. "I never really thought I'd be going back to work full stop. And suddenly, to find ourselves not only doing a couple of pub gigs but then doing a full European tour, and finally getting to America again—it was terrific, actually."
I asked the veteran drummer if the band was always called Nick Mason's Saucerful of Secrets and not something like Nick Mason's Psychedelic Breakfast, a modified nod to an infamous song title from October 1970's Atom Heart Mother. "No. I think we toyed with some other names, but I can't remember anything else," he admits. "One of the things we wanted to do, even though it's a mouthful of a title, is make it clear to an audience as much as possible that we were not going to be playing all the Pink Floyd hits. This was concentrated around the [1967-71] era of Saucer so that people weren't going to arrive and go, "Why won't they play 'Money' or 'Comfortably Numb,' or whatever? It was important not to allow things to get confused, and to make it absolutely clear what our mission statement was."
Eventually, the quintet was seasoned enough to merit an official chronicling of their live-prowess progress with Live at the Roundhouse, which was recorded on May 3-4, 2019, at the storied titular London venue. Roundhouse finally emerged on 180-gram 2LP, CD, Blu-ray, and digital formats on September 18, after having been pandemically bumped from an initially intended April 2020 release. ("It feels like quite a long delay," the always wry Mason quips.)
I had the privilege of seeing the five-man Saucerful of Secrets collective perform live at Shea's in Buffalo, New York on April 11, 2019, and was treated to a mind-blowing 21-song set that mirrored the complete track selection on Roundhouse. The wholly invigorating 2-hour show was chock full of vintage Barrett-era songs, including the cat-scratch-feverish "Lucifer Sam," the Kraftwerk template "Obscured by Clouds," the underground Barrett solo track "Vegetable Man," and Mason laying down a toms-and-gong drum clinic on "Set the Controls for the Heart of the Sun" among them.
I got on the line with Mason, 76, at his home across the Pond to discuss the origins of the deep-dive Roundhouse set, his current views on surround sound (and which Pink Floyd album he'd like to see done in Dolby Atmos), and the lasting legacy of Syd Barrett. Let's try it another way / You'll lose your mind and play. . . .
Mike Mettler: Since you recorded this show at the Roundhouse, I checked the date—it was on October 15, 1966 that Pink Floyd opened the venue and played the very first show that was actually held there, in honor of a publication called International Times. Is that correct?
Nick Mason: Yeah, that's right. It was the launch of the International Times, which was like the East Village Other, one of those underground newspapers.
And it wasn't a big event. It was really sort of basic. There was no power in the building itself, so any power had to be brought in from a house on the street that was opposite the Roundhouse.
Mettler: Those were the days, as they say. And you even had some special guests at that show. [Noted Italian director Michelangelo] Antonioni was there, and supposedly Paul McCartney was there too.
Mason: Yep! Well, I believe so! (laughs) It's sort of lost. I know Antonioni was there, and I'm not sure whether McCartney came or [John] Lennon came, but it was a helluva thing. It was sort of our springboard into public awareness. I think it was probably only the sixth or seventh gig we'd actually played.
Mettler: Wow. So that was really one of the first gigs Pink Floyd had played in front of more than 50 people or so?
Mason: Yeah, absolutely. The biggest one before that must have been someone's birthday party in college [at Regent Street Polytechnic, which is now known as the University of Westminster], or something. (laughs)
Mettler: What did you initially like about playing the Roundhouse? Was is already a special place to you, or was it just where you wound up playing?
Mason: Originally, it was an engine shed, where they used to turn the locomotives around; there was a huge turntable in there. After that, it had become a bonded warehouse. And then it was cleared out, and there was just a floor there when we went there. There were no seats, no nothing—in fact, there was just an old cart that had been left there, and we played off the back of that.
But it was quite a short set. I think the electrics eventually gave out, and that was that.
Mettler: Any of those songs in that very first Roundhouse 1966 set get played in the show you recorded for this new release?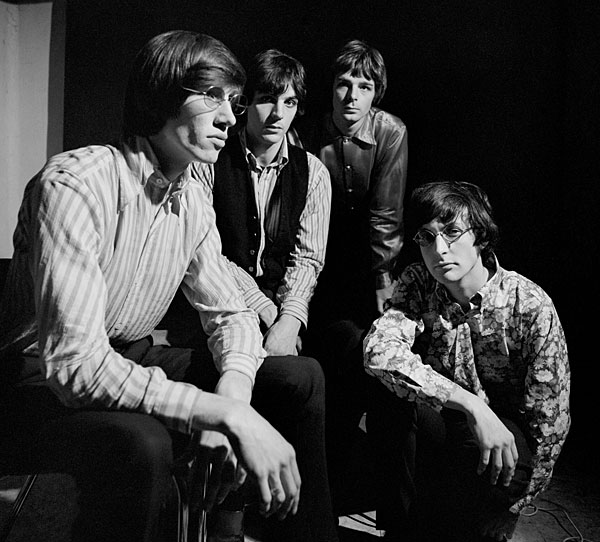 Mason: Oh, definitely! Our repertoire in those days was basically The Piper at the Gates of Dawn [Pink Floyd's August 1967 debut album]. In fact, "Astronomy Domine" and "Interstellar Overdrive" would have been played there for sure, and maybe a few other Syd [Barrett] songs.
[MM notes: Besides "Domine" and "Interstellar," Pink Floyd played one other Syd song at that very first Roundhouse gig alternately called "Stoned Alone" or "I Get Stoned," a track that remains unofficially released to this day. An unreleased demo version of the song, titled "Living Alone," was recorded during the February 1970 sessions for Syd Barrett's November 1970 solo album, Barrett.]
Mettler: Did you always know you wanted to record the current band at the Roundhouse, once the idea came about that you needed to get this tour down on record officially?
Mason: Well, it was the first time they'd opened it up for years, and it still is an extraordinary building. In terms of finding a good showcase place to film, particularly, I think we thought the Roundhouse seemed absolutely right. It was, obviously, tied in with Pink Floyd's history, and it is, in its own right, a great-looking place—and it looks a lot better now than it did all those years ago. It's been cleaned up, and you can actually see the gallery, and so on.
So, yeah, it's a great venue. And it's probably a lot more interesting than the sort of more modern places—or even the [Royal] Albert Hall, which is actually difficult, in terms of the inside screens and so on, and what it lends itself to.