The NHT Classic Four Surround Sound Speaker System
Since veteran Acoustic Research loudspeaker designer Ken Kantor and Chris Byrne founded the company back in 1986, NHT has been tossed around like a corporate football: first to Jensen International in the early 1990's, then to Recoton, and to Rockford Corporation in 2002 following Recoton's failure. Finally, in 2005, Rockford handed it off to Colorado-based Vinci Group.
Yet despite its corporate instability, and the departure of the innovative Kantor, NHT has produced a remarkable run of outstanding, popular and affordable loudspeakers, thanks in part to a team of inspired designers and the consistent direction of Managing Director Chris Byrne, who's navigated the company through these troubled waters since its inception.
Looming large in the NHT legend are designs like the 3.3 from 1994 and the compact Super One and Super Zero speakers, not to mention recent efforts like the Evolution T6 and the innovative, snazzy-looking Xd. All of these speakers have earned NHT a consistent reputation for bringing great sound to audio and videophiles at remarkably reasonable price points.
NHT's latest effort is the Classic Series, which is comprised of a number of sleek, handsome, black lacquered two, three and four-way loudspeakers. The review system is built around a pair of four-way Classic Four towers in front ($1,800/pr.), partnered with a three-way Classic Three C center channel ($600/ea.), plus a pair of stand-mounted three-way Classic Threes ($800/pr.) as surrounds. The Classic series also includes some less expensive models based upon the same drivers.
The Formidable Four and More
The four-way Classic Four utilizes a side-firing 10" aluminum cone and rear port, a 6.5" aluminum cone acoustic suspension mid-woofer, a 2" ferro-fluid cooled dome midrange with a neodymium magnet structure, and a .75" ferro-fluid cooled tweeter. This driver complement is packed into a 64-lb., 41" tall by 15" deep box that's just 7.5" wide, and promises near full range performance and high power handling capacity.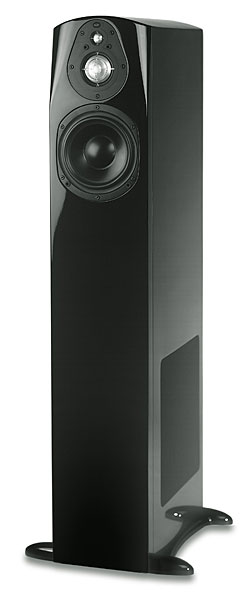 Sleek and sculpted in high-gloss black-lacquer, the Four is a handsome speaker that costs a remarkably reasonable $1,800 a pair in spite of its generous driver array, fine fit n' finish, and hefty cabinetry. That's what a set of decent cables cost in the rarified world of high performance two-channel audio!
Because of their prodigious bass output, NHT claims systems featuring the Classic Four do not require a subwoofer (the speaker is advertised as suitable for installations where a subwoofer is "impractical"). For added flexibility and improved performance an optional outboard X2 active crossover ($350/ea.) and a pair of A1 mono amplifiers ($400/ea.) can be used to bi-amplify the Four. The review system included the X2 and a pair of A1 amps, though an evaluation was first made driving the Fours full-range.
The 17-lb., stand-mounted Classic Three is essentially a Four without the side firing 10" woofer and associated cabinetry, while the substantial Classic Three C center incorporates the same tweeter/mid module flanked by a pair of 6.5" mid/woofs. It doesn't take a reviewing genius to predict that the identical drivers used throughout the line should result in a cohesive three-dimensional surround sound picture.
All of the speakers in the Classic line are fabricated from MDF (medium density fiberboard), which most designers prefer to wood because of its inherent damping abilities and increased consistency and uniformity. The speakers are hand-finished with seven coats of polyurethane followed by two coats of automotive grade clear-coat.
More On The Optional Electronics
The fully balanced X2 stereo active crossover is a compact, ultra- flexible device that allows bi-amping of any full range, bi-wirable/bi-ampable speaker. Its crossover frequencies range between 50Hz and 200Hz, and it can also be used in a satellite/ passive subwoofer system. Front panel controls include master gain, LFE Gain, Low Pass Filter, Phase, and Boundary EQ. There are two rear panel switches: a three-position high pass filter and a two position gain switch.
The A1 is a compact, cool-running, full-range, Class G monaural amplifier that NHT claims outputs 200 Watts RMS into 8 ohms, 250 Watts RMS into 6 ohms and 300 Watts RMS into 4 ohms. Distortion is spec'd at less than .01% from 20Hz-1kHz, and less than .075% distortion 1kHz-20kHz at full power.

Thus, the complete system price with the Fours driven full range is $3,200, going up to only $4,350 with the Fours bi-amped by a pair of A1s with an X2 crossover. An alternative would be to drive the Fours full range, adding an NHT Model 12 powered subwoofer ($850), or replace the Fours in front with another pair of Threes for a system total, including subwoofer, of $3,050. (NHT sent us some important recommendations on using, or not using, the Fours with a subwoofer. See the "Manufacturer's Comment." at the end of this review.—Ed.)
System Setup
Home theater typically doesn't allow the kind of speaker placement flexibility you have with two-channel audio, so the Fours went where they had to: flanking my 65" Hitachi RPTV and toed in to the listening position as suggested by NHT. The Three C went atop the set, angled down to listening level using the speaker's adjustable riser mechanism. The Threes were placed atop ear-level stands on either side of the couch firing toward the listening position. NHT supplies a curved press-on foam piece with each speaker designed to limit midrange/tweeter interference. One was applied to each of the five speakers.