New Music for October 30, 2012: Psychedelic Sessions Present and Past from Neil Young, Jerry and Merl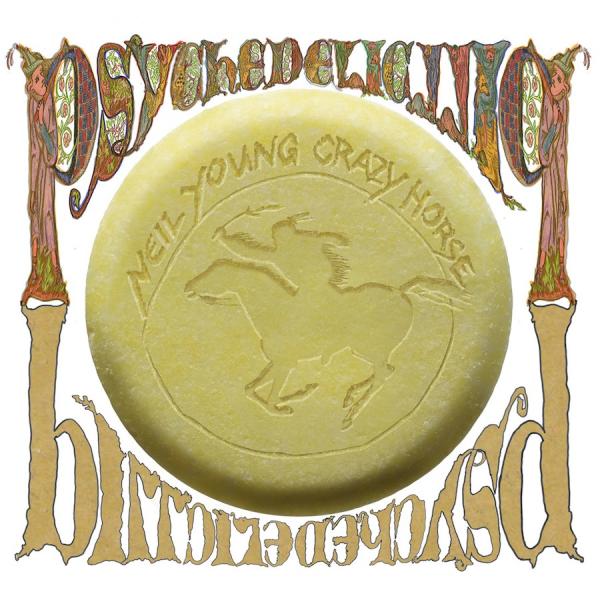 Neil Young: Psychedelic Pill
What a musical treat 2012 has been so far : new music from XTC's Andy Partridge (via Mike Keneally and Peter Blegvad), three new Guided By Voices albums and now a second new Neil Young album - out today - called Psychedelic Pill. True to form, its a bit of a trip that, like many of Neil's recordings; from the opening notes of this new album, I could sense this was going to be a bit of a journey through the past (if you will) which sounds like it picks up where Ragged Glory left off, replete with classic Neil melodies and very long extended jams.
Listening to Neil Young take off on an extended solo is really a treat. What I'm about to say may shock a few people, but I view Neil to be every bit the guitar soloing peer to Frank Zappa in terms of his ability to conjure up notes in an improvisatory setting that take the listener to another place. Neil's playing is more impressionistic than Frank's in some cases, employing bursts of feedback and distortions in place of Zappa's sheets of high-speed scalage. But if you've ever heard Zappa's classic instrumental "Black Napkins," you know that the divide between the two is not as wide as it may seem - they both approach musicality and social documentation through their guitars and songs, coming from different angles.
You'll hear lots of classic Neil Young sounds on this recording: big, fat, distorted overdriven guitars, controlled feedback and relentless driving rhythm through the storm. Yet there are twists like nifty whistled hooks over the din and Beach Boys - like harmonies cutting through the fog.
Despite the implied trippiness of its title, Psychedelic Pill seems to have an underlying theme of reflectivity: "Drifting Back" opens the album with an acoustic bit that recall's "Tonight's The Night" but jumps like a flashback to the time a year or so later when Neil was breaking out "Like a Hurricane" and early material that eventually became his tour de force Rust Never Sleeps. "Twisted Road" recalls tales of Neil's first time seeing Bob Dylan, Roy Orbison and listening to The Grateful Dead on the radio (neat touch how he breaks into a bit of their "Friend of the Devil" there). "Ramada Inn" is like a steady train ride where you look out the window and contemplate life and love.
The sound on this album is quintessentially hi-fi Neil. A man who pays close attention to aural detailing, if the high-resolution sonics on Neil's recent albums Le Noise and Americana are any indication, I am quite sure that the staging this music on the Blu-ray Disc (out later this month) will be pure, with loads of natural sounding ride and splash cymbals, the feeling of the kick pedal hammering the bass drum head and pushing air thought the room, the rush of pure clean distortion as Neil pushes his vintage tube amps to their edges, delivering levels of expressiveness that let you feel every bend of his guitar strings. That is what high-resolution audio can do for you.
We'll have to wait for that final determination when we get our hands on the actual album this week. We have tried listening to the album via the 192 kHz/24-bit stream Neil has made available on his website but, to be honest, we couldn't get it working on our computers; even some extremely computer literate friends who tried it had big problems with Neil's special streaming player crashing repeatedly. I guess others had similar problems and found a workaround: a simple search on YouTube found a copy of the whole stream, though not in high-res. But, like FM radio, it was enough to give us an idea of what the music sounds like.
As you are reading this, we are likely on our way to Amoeba Records to pick up a copy of the album in the store in the best possible formats it is available in. We strongly encourage you to do the same - support your favorite artists so they will continue to make great new music for us.
I am particularly keen on the potential of the Blu-ray Disc version, which should be sweet - maybe Neil will give us good trippy visuals to accompany these classic long Neil jams, twists and turns exploring the universe via two guitars, drums 'n bass and the simplest of chords, and the most honest of lyrics.
Those Lazy, Hazy, Purple Days of Summer: Jerry Garcia and Merl Saunders Live at The Keystone
Last month we reviewed the wonderful four CD box set of Jerry Garcia and Merl Saunders Live at The Keystone, circa July 1973. If you were watching carefully, you noticed that at the end I tagged my story with news of a pending reissue of the original two LP set on Fantasy Records - on a limited edition run of appropriately psychedelic colored vinyl. I saw the albums on the racks at Amoeba Records the other day and even thought they were not marked as colored vinyl, I decided to take a chance - after all, it's a great album either way and the mix is different than that of the CD, so for a very reasonable $20 I splurged.
Guess what? It IS on colored vinyl! My copy comes on pretty marbled purple wax with groovy TEAL colored Fantasy Records labels. Those labels are a different color than the original period brown with red/orange logo but - you know what? - this looks a whole lot prettier. The LP sounds just like I remember it when I first heard my brother's copy as kid: punchy and in-your-face, with just enough room presence to feel like a live-in-the-studio recording. A serious trip down memory lane.
So if you're a completist like me, you'll want this and the box set. If you just want the full sets, get the CD box set. And if you just want to groove on the four sides worth of condensed Berkeley bliss, then the 2 LP version is the way to go.
Any way you slice it , the music will be exemplary, vintage Jerry and jams you can even play for your friends who think The Dave Matthews Band is what jam band is all about. This is heart music from the jam band ground zero known as Jerry Garcia.
LATEST VIDEO