New Gear for Spring 2021
The historic cold of Winter 2021 is almost behind us at last. As a new season beckons and we anticipate what "spring cleaning" might look like in a world moving quickly toward post-pandemic status, it's a good time to take stock in all facets of your life, including the home entertainment setup that helped push you through the darkest days of COVID-19 isolation. Many of us took time during lockdown to upgrade our AV systems with bigger screens, better sounding audio gear, a new turntable, or perhaps a more functional setup. To help keep the wheels of progress turning, we present a sampling of the latest A/V news, which as it turns out is dominated by a gaggle of interesting speakers from brands old and new.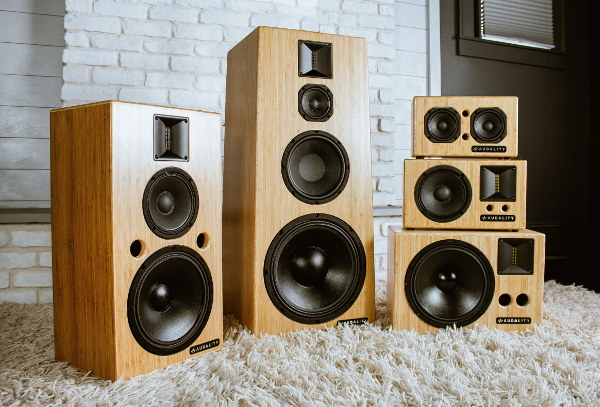 Audality's Wireless Speakers Don't Depend on Wi-Fi or Bluetooth
Audality, a Georgia-based company founded in 2009 with the mission of revolutionizing wireless audio, has until now been focused on professional audio, selling wireless guitar and PA systems based on its patented WiC technology, designed to transmit 24-bit audio up to 500 feet with low latency and "great wall penetration."
Drawing on years of experience in developing wireless products for different industries, founder and CEO Paul Raley created an alternate transmission method based on the belief that "Bluetooth destroys audio quality because it was not developed for audio; it was developed for device control, so it inherently requires compression that kills the frequency response and clouds your music in audio noise." The company is also quick to point out that Bluetooth's range is limited and Wi-Fi isn't "truly portable" because it requires a router that runs on AC power.
The culmination of this work is a new line of wireless speakers designed to stand up to audiophile scrutiny. There are four high-performance models, ranging in price from $750/pair to $2,550/pair and built in the U.S. The speakers are powered by Class D amplification and run on lithium-ion batteries that provide up to 20 hours of listening when fully charged, which takes about 2 hours. Audality went out of its way to design speakers that pair instantly at the touch of a button and don't require an app for setup and operation. Each speaker ships with a USB transmitter that plugs into the source device, such as a PC or iOS/Android phone (with an adapter).
The entry-level S1 speaker (top right in main photo, $750/pair) mates two 4-inch full-range drivers and a 100-watt amplifier in a horizontally oriented cabinet measuring 12 x 7 x 6 inches and is rated down to 55 Hz (±4 dB) with a maximum output of 110 dB at 1 meter. Like all speakers in the series, the cabinet is ported and made of solid bamboo with a natural finish.
Moving up the line, the S3 (middle right, $1,150/pair) mates a 6-inch woofer with a 4-inch ribbon tweeter and 100-watt amp in a cabinet that is slightly larger than the S1. The speaker is rated down to 40 Hz (±4 dB) with a maximum output of 112 dB at 1 meter.
The S5 (bottom right, $1,750/pair) pairs the same ribbon tweeter used in the S3 with a 10-inch woofer (that takes response down to 20 Hz ±4 dB) and a 225-watt amp in a cabinet measuring 17 x 10.5 x 8 inches, while the top-line S7 (far left, $2,550/pair) moves to a three-way design that teams the same ribbon tweeter with a 6-inch midrange driver and 10-inch woofer in a vertically oriented cabinet 2 feet tall. (The tall speaker in the middle of the photo is still in development and scheduled for release later this year.)
Audality says the current transmitter can connect up to four speakers but plans to expand that number in the near future; all models have a volume control and 3.5mm minijack input on the rear panel. The company offers free shipping and a 30-day money-back guarantee and offers discounts when you buy multiple speakers. Visit audality.com for more information.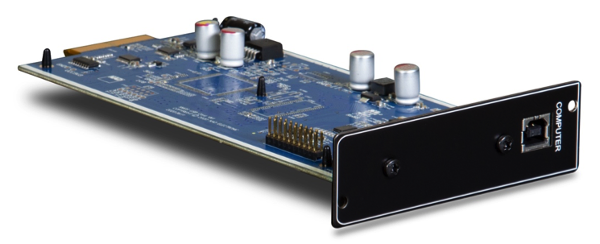 NAD Ships Hi-Res Audio Upgrade Module
NAD Electronics has expanded its obsolescence fighting Modular Design Construction (MDC) portfolio with a new USB module that brings high-resolution audio capability to six of its most popular stereo components.
The new MDC USB DSD plug-in module ($499) adds PCM playback up to 24-bit/192kHz and DSD playback up to DSD256 to the Masters Series M33 and M32 integrated amplifiers, C 388 and C 368 integrated amps, and Masters Series M12 preamp, with support for the C 658 preamp slated for April.
The module provides an asynchronous USB connection that bypasses the mediocre digital-to-analog converter (DAC), clock, and associated circuitry found in most PCs and improves audio quality by reducing distortion and eliminating jitter whether you're streaming from a local hard drive or a music service such as Tidal or Qobuz. Visit nadelectronics.com for more information.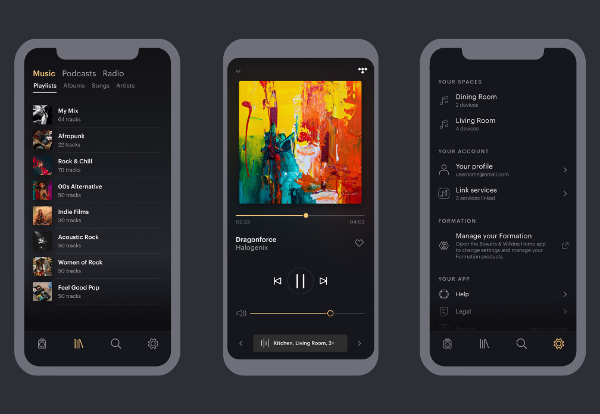 B&W Unveils Improved App for Formation Wireless Speaker Series
The British hi-fi gods at Bowers & Wilkins have introduced a new app for their Formation series of wireless speakers that's easier to use and offers more direct streaming options than the original app.
The Bowers & Wilkins Music App provides access to Qobuz, Tidal, TuneIn, Dash Radio, NTS Radio, and SoundCloud with additional subscription services and streaming platforms to be added in the coming months. Content from each service is aggregated in one interface that makes it easy to browse tracks, albums, playlists, and internet radio stations. High-resolution (24 bit/96 kHz) streaming is supported via Qobuz and the app provides personalized music recommendations as well as a selection of curated playlists.
B&W plans to integrate the new app with the existing Bowers & Wilkins Home App later in the year but for now the original app will be required for system setup. All of the original functionality remains, including support for AirPlay 2, Bluetooth aptX HD, Spotify Connect, and Roon plus compatibility with Amazon's Alexa voice platform.
The company says it has expanded the development resources and engineering team for its Formation wireless platform and is committed to "further improving the user experience" and adding new features, including support for popular custom-installation control systems such as Control4. Visit bowerswilkins.com for more information.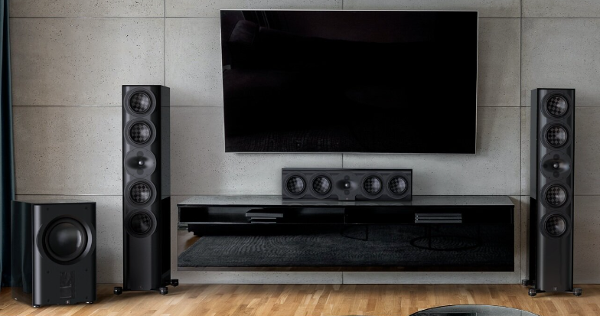 PerListen Speakers Embrace THX's New Dominus Standard
PerListen Audio, a Wisconsin-based audio startup that made its debut at CES 2021, has announced plans to introduce the first full line of speakers designed to meet the new THX Certified Dominus performance class.
Meant to bridge the gap between large home theater speakers and speakers used in commercial movie theaters, the THX Dominus designation is newest and the largest performance class of THX Certification, extending beyond THX Ultra and intended for spaces up to 6,500 cubic feet with viewing distances up to 20 feet.
PerListen's new speaker line starts with the flagship S7t tower speaker and D212s subwoofer previewed at CES and will be expanded to include eight additional in the coming months, according to the company, whose name appears to be an awkward abbreviation of the tag line "perceptual listening experience."
Standing just over 4-feet tall, the S7t is a striking four-way design that places two 7-inch carbon-fiber drivers above and below three 1.1-inch tweeters, stacked vertically in a "beamforming" array with a patent-pending waveguide designed to control vertical and horizontal dispersion; each tweeter has a rear absorption chamber to reduce internal reflections. With a rated frequency response of 80 Hz to 20 kHz ±2 dB, the speaker can be configured for bass reflex (22 Hz at –10 dB) or acoustic suspension (32 Hz at –10 dB) operation and meets the THX Dominus requirement of keeping total harmonic distortion (THD) below 0.5% at a listening level of 90 dB.
Designed with great attention to detail, the S7t is equipped with stabilizing feet and boasts a heavily braced cabinet that's lined with thermoacoustic damping material and has a 2-inch-thick baffle. Finish options include piano black, matte black, gloss white, or matte white with custom finishes also available. Pricing starts at $7,000 per speaker.
The line will also include the smaller R5t tower speaker, a three-way design that's conceptually similar to the S7t, and the S7c center speaker, a four-way sealed design with four 7-inch drivers flanking the same stacked tweeter array used in the S7t. Pricing was not announced.
To meet THX Dominus performance standards, speakers must hit a 92 dB sensitivity requirement and be able to produce sound-pressure levels up to 120 dB while keeping distortion to a minimum. "During our rigorous testing process, we pay special attention to distortion levels at high volumes," explains Peter Vasay, general manager and senior vice president of THX's home theater division. "With Dominus, we push this to the extreme to ensure the best output for hearing content as close as possible to the original creation."
The first of three subwoofers, the flagship D212s is a beast of a sub that "can dance as effortlessly as a ballerina or crush frequencies well below 20Hz." It features two 12-inch carbon-fiber drivers, arranged in a push-pull configuration designed to reduce distortion, a 3,000-watt smart amp, and a 32-bit processor that monitors current, voltage, and a multitude of other parameters in real time. Everything is housed in a 26 x 16.5 x 21.5-inch cabinet with a touchscreen on its front panel. The sub provides dual balanced and unbalanced inputs (with passthrough capability) and can be set up via a companion app offering a range of controls and three banks of 10 EQ presets for each of up to eight subwoofers.
Finish options are the same as for the S7t and pricing is $5,500 and up, depending on finish. Visit perlistenaudio.com for more information.