New A/V Receiver from Denon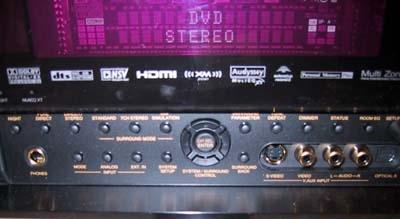 Denon's AVR-2807 receiver is feature-packed.
Denon's new AVR-2807 receiver, coming this spring at $1,099, benefits from the company's trickle-down philosophy. Features found only on Denon receivers at twice the price a year ago now appear on this mid-priced model. Its many audio enhancement technologies require the length of the front panel to list. The receiver has an MP3/iPod input and is XM Satellite Radio-ready. Add the $40 XM antenna/tuner module, which plugs into tiny connector on the back, and you're listening to music from the stars. The AVR-2807 upconverts all incoming analog signals for output from its HDMI jack, allowing easy, single-cable connection to the latest HDTVs.
Check out more CES news. Back to Homepage What's New on S&V
WHERE TECHNOLOGY BECOMES ENTERTAINMENT