NetStreams DigiLinX Audio System Page 3
The Short Form
$7,270 (AS TESTED) / netstreams.com / 512-977-9393
Plus
•System scalable to virtually unlimited size •Great sound quality in every room •VoIP paging and intercom •Add-on automation
Minus
•Very high price-per-zone •Fan noise requires careful placement of power supply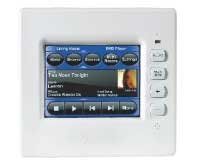 Key Features
•Content and control signals distributed over IP •No audio delay or synchronization problems •No limit to the number of rooms or sources •Control via wired touch panel or keypad, or wireless Web browser •Audio expansion modules allow local source connection •Accommodates analog sources •Can control lighting and climate
I've installed many distributed audio systems, and no matter how great something sounds, if the interface isn't well-designed and easy to use, the system is a failure. With DigiLinX, the KL200 was acceptable as a controller, providing basic source and transport control, but the system shone when using the TouchLinX.
The touchscreen's graphics are clear and sharp, with subtle animations. For personalization, NetStreams just released six new themes or "skins" for its controllers (two are shown in the photographs). Artist, album, song and cover art information appeared on the screen when using the ReQuest or Escient (DigiLinX also supports iMerge servers).
Another cool feature is that any TouchLinX in the house can control any room in the system. And the system also supports control from any Web-enabled computer or handheld device, allowing you to turn a wireless browser such as a PDA into a mobile system remote.
EXTRAS Audio distribution only scratches the surface of what DigiLinX has to offer. Both the TouchLinX and KeyLinX feature built-in microphones for VoIP (Voice over Internet Protocol) intercom and paging functions, and or video monitoring, Panasonic IP cameras can plug straight into the SwitchLinX; you can view camera video on the touchscreen controllers and get full control over pan, tilt, and zoom. Lutron lighting and Aprilaire climate-control systems can be incorporated by adding a ControLinX CL100 ($600). And NetStreams has demonstrated the ability to stream high quality video over the system and should be adding that feature in the coming year.
BOTTOM LINE DigiLinX is cutting-edge in almost every respect. There is no practical limit to the number of sources or rooms that can be added to the system, making it a perfect choice for large projects. Plus, its simple programming makes adding new sources and features fairly painless. At around $3,000 per zone, going DigiLinX doesn't come cheap. But if you can get over the sticker shock, you'll have a system that delivers great audio performance today and expandability for many years to come.
LATEST VIDEO