Natural Wonders
I normally consider LP turntables to be squarely in
Stereophile
's bailiwick, but I couldn't pass up the opportunity to profile these gorgeous vinyl spinners from
Audiowood
. The wood foundation of each one is handcrafted and unique, though designs such as the Barky pictured above can be replicated with relative ease since it's based on a slice from a log.
Others, such as Big Red, use a piece of burlwood, resulting in a one-of-a-kind artwork. But these turntables are not just to look at—they are serious pieces of audiophile gear, using high-end parts to achieve high-end performance. For example, Big Red incorporates a VPI platter and bearing and an Origin Live motor and controller, and it is designed to accommodate SME tonearms.
The Knobby nestles a classic AR XA mechanism in walnut burlwood and is fitted for Rega tonearms and Michell VTA adjusters. As with many Audiowood turntables, this one rests on solid-brass cones.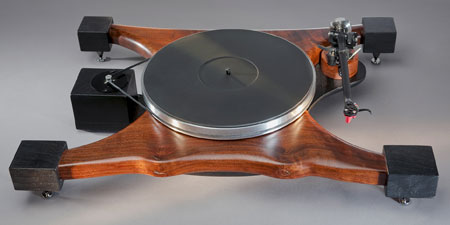 Not all of Audiowood's products have a semi-unfinished look—for example, the Manta is a fully sculpted design with a NOS Linn platter and Origin Live Advanced motor. The armboard is normally fitted for Rega/Origin Live tonearms, but it cam be modified to accommodate most 9-inch arms. And like all the fully machined designs, this one can be made to order out of many different types of wood.
The Pod combines fully machined walnut with a redwood burl holding a Rega mechanism. The feet and armboard are fashioned from solid Gabon ebony.
Aptly named Thor, this walnut-burl design marks the rebirth of the Thorens TD 160 mkII and is fitted for a Rega tonearm and Michell VTA adjuster. The turntable is undermounted to retain the original's suspended character, and the feet are removable.
It takes builder Joel Scilley between 8 and 60 hours to complete one of his beautiful Audiowood turntables, which cost from $1000 to $3500—not including the tonearm and cartridge that can add hundreds or even thousands more to the final price. Still, that's not out of line for a visual work of art that also serves up the vinyl artistry so prized by many audiophiles.