NAD Masters Series M15 THX Ultra2 AV Surround Sound Preamplifier M25 THX Ultra2 7-channel Power Amplifier
NAD has long been a leading player in the audio, and now audio-video, electronics business. Although NAD once took a leap and marketed speakers in some parts of the planet, it's made its name by offering amps, preamps, receivers, CD and DVD players, and surround processors that delivered more performance than the prices and often-plain cosmetics might suggest. Unlike most of its peers, NAD has avoided the temptation to move sharply up market and produce products that only the well healed can afford.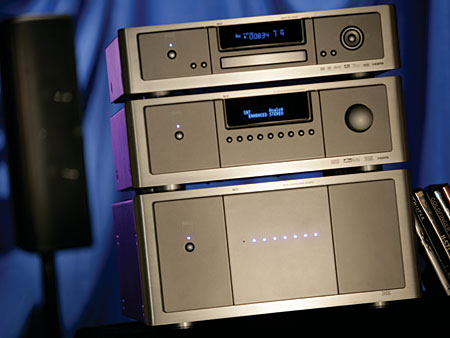 NAD's new Masters Series, which includes several other products in addition to those reviewed here, is a departure for the company in several respects. The line is far more striking in appearance than previous NAD designs, and the looks clearly say "high-end." It's publicized widely as a departure from the past, and is clearly a flagship line.
But the Masters Series components aren't outrageously priced. To be sure, they're more expensive than NAD's standard range. But the $2,999 M15 surround preamp and $2,999 M25 seven-channel amplifier—while hardly cheap—are expensive only if you do most of your AV shopping at Best Buy. You can pay more than that for a top-of-the-line AV receiver from other companies!
The NAD Masters Series products look, feel, and—yes—perform as though they cost twice as much as they do. The pre-pro even comes with a custom designed remote, in contrast to those adapted, generic units that are now included with much of the competition—even the competition that does cost twice as much.
The M15 Surround Preamp
The M15 AV surround preamplifier, as you might expect, is the most complex of the all the products in the Masters Series. The manual seems alarmingly thick, until you realize that it's in multiple languages. The English text covers the first 36 pages.

I'm not sure who needs more than a couple of S-Video and composite video inputs these days, but if you're one of them the M15 gives you six of each. You get four composite outputs, including VCR and Video 4 for recording devices and MS (Multi Source) for a feed to a second zone (composite video and L/R analog stereo only), and video monitor. There are three S-Video outputs, which are outfitted the same as the composite inputs, minus the MS second zone compatibility. There are three sets of component inputs (YPbPr) and two sets of component outputs.
The Direct component output does not provide an on-screen display. The other component output does, but only when the input source is 480i. If you try to call up the on-screen display and it immediately starts flickering on and off and won't stabilize, it's likely that one of the active component sources is set to a higher resolution than 480i. The M15's component switching will operate at higher resolutions, of course, but won't give you a stable on-screen menu at 480p or higher.
There are also two HDMI inputs and one HDMI output. The HDMI switching is video pass-through only, with no option for on-screen menus and, more importantly, no way to tap and use the multichannel audio that can ride along on an HDMI 1.1 or 1.2 connection.
The M15 can convert all composite and S-Video inputs to component, for access at the component outputs. But there is no cross conversion provided for HDMI, nor any onboard video processing such as deinterlacing and scaling.
The M15 (and the M25 amp) is single-ended only; it does not offer balanced analog inputs or outputs. In addition to the analog audio-for-video inputs described above, there are four sets of L/R two-channel audio-only analog inputs.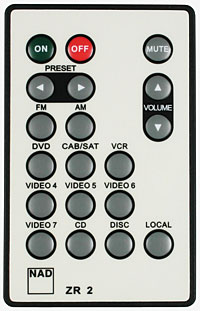 Any two-channel analog source is converted to digital immediately upon entering the M15, processed digitally (for operating mode, level controls, tone controls, bass management, etc.), and reconverted to analog at the outputs.
There is also one set of L/R analog recording outputs, four SPDIF coaxial and four TosLink optical digital audio inputs, and four digital audio outputs (two each coaxial and optical).
There is a single 7.1-channel analog input. Unlike the two-channel analog inputs, the analog signals connected to this input do not pass through the pre-pro's A/D converters, digital processing, and D/A converters, and it offers no bass management, tone controls, individual channel level controls, or other adjustments. This input passes the source signal directly to the output, modified only by the setting of the M15's main Volume control. There is no gain through the multichannel input, only the maximum output from the source itself. In fact, my measurements actually showed a 1dB loss from input to output (with the Volume control at maximum).
The M15's outputs include connections for either one or two subwoofers. You can set the unit up for one or two mono subwoofers, but not stereo subs.
Other housekeeping connections on the back include three 12V trigger outputs and one trigger input, in/out connections for wired remotes, a main power switch, an AC switched outlet, an RS-232 jack, and an IEC connection for a detachable power cord.
The front panel is relatively uncluttered, with an On/Standby power switch, a blue fluorescent information display (not uncomfortably bright, which is fortunate as it can't be dimmed or shut off), nine function selection buttons, and a main Volume control. The latter also functions with the appropriate function buttons to make various input and mode selections. Headphone fans may be disappointed by the lack of a headphone jack.
The available playback modes depend on how many speakers you have configured the system to drive. But it includes all the must-haves: Dolby and DTS (and their variations for music, movies, and more than two surrounds), THX in all its flavors, and good old Stereo and Mono. While there are a couple of enhanced variations on these themes, the processing is mercifully free of the more common DSP surround offerings such as Stadium, Jazz Club, and American Idol Audition.