MrSpeakers Alpha Dog Headphone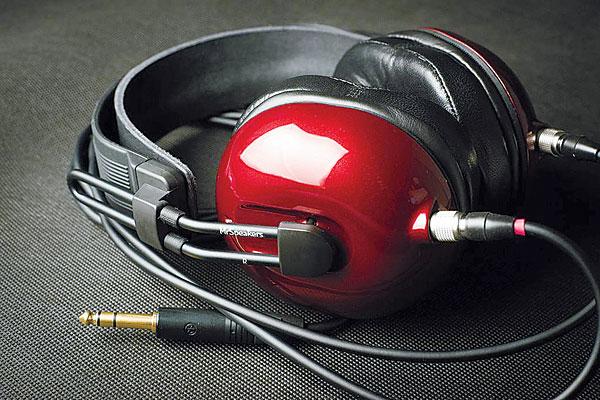 PRICE
$599
AT A GLANCE
Plus
3D-printed headphone
Big, highly dynamic sound
Dig those ear pads
Minus
Lacks mike and phone controls
THE VERDICT
MrSpeakers dared to go where no headphone manufacturer went before and used 3D printing technology to make a better-sounding headphone.
While MrSpeakers' Alpha Dog may be the first high-end headphone to fully exploit 3D printing technology, the original intention was to speed the development process, and then make injection-molded plastic ear cups. But as MrSpeakers owner Dan Clark revised and refined the design, he realized it would be more cost effective to 3D-print his production headphones' double-walled ear cups and added an intricate lattice to the printing process to increase the ear cups' rigidity. He took the next step and bought enough 3D printers to keep quality control in-house. After the ear cups are printed, they're chemically polished, hand sanded, sealed, primed, and finished with automotive-grade paint. My samples' brilliant red cups' finish is on par with what I've seen from ultra-high-end Japanese headphones (metallic gloss black cups are also available). The thick, leather-covered ear cushions are nice and soft, and they do a great job sealing out external noise. The 70-inch-long cables are user replaceable.
MrSpeakers is an odd moniker for a headphone company, so I asked Clark to explain. He said, "I've used the MrSpeakers name for 20 years. I started it when I was designing speakers for a number of companies, and Mr. Headphones was taken, so I stayed with MrSpeakers." Years ago, Clark designed the Platinum Audio Reference Series 2 speakers, which I remember liking a lot, as well as a number of subwoofers for other companies. MrSpeakers transitioned into a headphone manufacturer in 2012, and the headphones are made in San Diego, California.
Clark readily acknowledges that his Alpha Dogs are based on the Fostex T50 RP headphone, but the only parts used are the headband and planar magnetic drivers. I've heard unmodified T50 RPs, and they aren't all that impressive; the Alpha Dog is a completely different animal. The transformation is astonishing. Clark fine-tunes the way the drivers radiate sound, along with their time- and frequency-domain responses. Bass-tuning adjustment is factory set for the flattest response, but users can tweak under-150-hertz bass to taste. I fiddled with the Allen key adjustment and came to prefer the factory bass setting.
With the headphone plugged into my iPod classic, the sound was perfectly fine. The Alpha Dog only really struts its stuff powered by a receiver or a portable or home-dedicated headphone amplifier. For the bulk of my listening tests, I used Schiit Asgaard 2 and Burson Audio HA 160 amps. Detail abounds, and resolution is extraordinary, but the Alpha Dog isn't bright. The top end is sweet and refined; this Dog definitely won't bite your ears off. Bass definition is super tight, and it digs deep, but where the Alpha Dog pulls ahead is the way it handles dynamics. Play a recording with uncompressed dynamic range, like David Chesky's Jazz in the New Harmonic CD, and the Alpha Dog will let you feel the music's large and small dynamic gradations. To my ears, that's what makes music sound live, and the Alpha Dog will take you there. Spatial depth is also extraordinary. When I played Phoebe Killeer's "Weather's Coming," the Alpha Dog unfurled a deep soundstage, considerably deeper and more spacious than what I got from my Grado RS-1 open-back headphones. Frankly, there was no comparison.
MrSpeakers sells direct from its Website and selected dealers in the U.S. and overseas. The Alpha Dog can be ordered with cables fitted with single-ended 0.25-inch or 3.5mm plugs or balanced four-pin XLR or RSA/ALO plugs for use with balanced headphone amplifiers for the same price, $599. The head- phone comes with a nicely finished folded metal table stand.
I'm rarely swayed by manufacturers' new technology claims or breakthroughs as far as sound quality is concerned, but the MrSpeakers Alpha Dog really is something special.