MovieBeam Home Theater Jukebox Player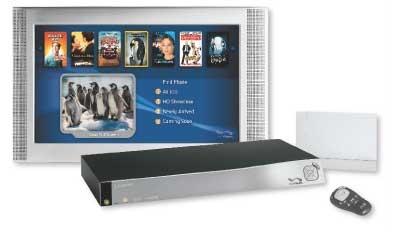 Blockbuster, Netflix, and on-demand cable are among the expanding number of ways to rent movies. One of the latest is MovieBeam, a jukebox for your home theater that self-stocks via an off-air antenna.
TV stations in 29 major metropolitan areas are now datacasting MovieBeam content, hidden in their regular signals. The MovieBeam player's 160-gigabyte hard drive stores about 100 flicks, a few in high-def. Depending on how new they are, the movies rent for $2 to $4; HD titles are a dollar extra. There's no subscription fee and no up-front costs beyond that of the $200 player, and you can watch a movie as often as you like within a 24-hour rental window.
Offerings stay on the hard drive for about 10 weeks, with recently arrived titles replacing the longest-stored. Half a dozen new movies are beamed to the box in any given week. All the major studios except Sony are supplying movies.
SETUP When you buy MovieBeam at a Best Buy or Sears, the player is shipped to your home preloaded with the latest titles. Placing the box near my HDTV, I connected it with an HDMI cable (not supplied), a requirement for watching HD films. (MovieBeam comes with composite-video and stereo audio cables, as well as component-video cables; for $40 extra, you can buy a kit that contains an HDMI cable and optical and coaxial digital audio cables.) I put the paperback-book-size antenna in my window and ran its cord to the player. I also attached the 25-foot phone cord to a wall jack using the enclosed splitter. Once the player powered up, a menu took me through adjusting the antenna and setting up the dial-in connection that allows MovieBeam to track and charge your purchases. The whole process took 10 minutes, after which I was prompted to call customer service and activate the account. (If keeping the phone line attached is inconvenient, you need to connect it only once every 13 days or $28 spent, whichever comes first.)
PERFORMANCE I found navigation simple using the soap-size remote. You determine the order of your movie choices: most recently arrived, alphabetical, via category, those in high-def, or the soon-to-depart. The attractive menu represents the films by movie poster or jacket art; scroll to a title, and you can view a trailer before deciding whether to rent. You can impose spending or ratings limits, but there's no X-rated content to worry about.
Controls are limited: You can fast-forward or reverse at three different speeds, put the film in slow motion, or skip ahead or back in 5-minute increments. You can't go directly to a scene as you can with DVDs, and there are few extras. When you pause a film, MovieBeam shows the remaining rental time; if you switch among multiple selections, it conveniently resumes from where you left off.