The Monster TV Face Off Sharp 61RWP5H
Sharp 61RWP5H Rear-Projection HD Monitor ($4,000)
Sharp's entry in the Face Off is the hefty 61RWP5H, a solid contender that battled its way to the final round of four, where the performance gap between sets narrowed and personal preference began to take over. To be fair, the Sharp also started out in the last round, as there were just too many sets to shove into our small testing room at one time. Considering its $4,000 price tag, which is not extraordinary for a fully featured HD-ready set of its size and quality, this is one you may want to take a look at as you shorten your list.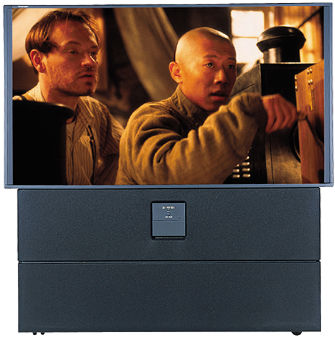 The 61RWP5H is a 61-inch widescreen set that displays all images at the HDTV scan rate of 1080i. It doesn't have a built-in HDTV tuner, so that will add to your initial cost if you want to use this set to its full potential. Perks include various aspect-ratio controls and picture tweaks, a dual-tuner split-screen capability, a Twin 1080 feature that lets you display two HD images simultaneously, a relatively effective automatic calibration system, and a built-in line doubler. The DDFC circuit, as Sharp calls it, first converts standard-def material to 480p and then to 1080i. The set offers three stages of SVM or, thankfully, the option to turn it off. Video-input options are standard, with two component video, a 15-pin RGB connection, two RF jacks, and three each of S-video and composite video (one of each is available on the front panel). The remote is nicely done, offering a variety of button sizes and shapes and, most importantly, backlighting. The set measures out at 57.7 inches high by 56.6 wide by 28.3 deep and weighs a portly 298 pounds.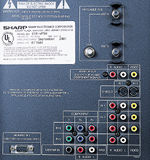 DVD material revealed that the 61RWP5H delivers highly accurate color rendition and saturation via a quality color decoder, albeit with an occasional push to red. Overall, the set's DC restoration was well executed, although Ron did note instances where he felt that it slipped a little. A few of us remarked on the set's lack of dot crawl but also noted evidence of noise and motion artifacts on occasion, such as with the flyover of the giant star cruiser in the opening of Phantom Menace. The line doubler's lack of 3:2-pulldown recognition of film-sourced material didn't help any. The progressive image exhibited all of the motion artifacts that you'd otherwise see in an interlaced picture, only with less-noticeable line structure. The set did track the gray scale reasonably well and offered up a nice combination of stable blacks and punchy whites.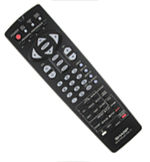 The 61RWP5H's color performance continued to garner attention with HD material, and Claire felt that its effort was the closest to our Princeton reference monitor in this final grouping. A few participants who'd noted a softness in detail with DVD material agreed that the set sharpened up nicely with HD—more so than most of the others. Whereas it may have been the softest of the Final Four with standard-def images (which was surprising, considering that it measured at close to full resolution with Video Essentials), it was neck and neck with the Pioneer for top detail honors with high-def images. The bottom line is, all four of the sets in this final group were rock-solid. Before you jump to any concrete conclusions, I'd give each of them as much demo time as you can.—CL
61RWP5H HD Monitor $4,000
Sharp Electronics
(800) BE-SHARP
www.sharpusa.com
Dealer Locator Code SHA

HT Labs Measures:Sharp HD Monitor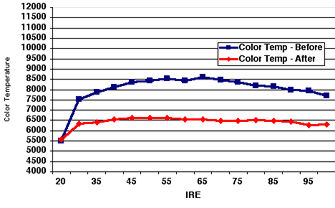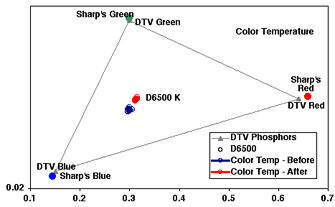 The top chart shows the gray scale of the Sharp HD monitor as set by the manufacturer, in the most accurate menu setting possible. The set measures around 8,000 Kelvin with dark and light images. After making adjustments using the Photo Research PR-650, the gray scale measures within 300 K of D6500, the accurate setting, across the entire range. The bottom chart shows that the primary colors of the display's CRTs are excellent, matching those specified by SMPTE for DTV. This means that the display will reproduce all of the colors available in the system. The gray scale, shown in the middle of the triangle, goes from being blue before calibration to being very accurate (the middle red dots) afterward. The light output was approximately 30 foot-lamberts with both a white window and a full-white field, indicating that the set has a good power supply. The display has excellent DC restoration: Dark portions of the image stay the same as the image gets brighter. Scan velocity modulation is user-adjustable. The color decoder has a mild red push as set by the factory. The TV displays at least 600 horizontal lines (per picture height) with NTSC sources, as measured using the resolution pattern from the Ovation Avia test DVD played on a Sony CDP-650D DVD player.—MW/GM
LATEST VIDEO