The Monster TV Face Off Samsung HCL652W
Samsung HCL652W Rear-Projection HD Monitor ($4,000)
Unfortunately for Samsung, their showing in this Face Off wasn't as strong as it was in the June 2001 direct-view showdown. The HCL652W didn't make it to the final round. However, when you consider that some of the biggest television names—Sony, Panasonic, and Mitsubishi—didn't either, you'll realize how stiff the competition really was. Bring your best or go home was the theme for this fray, and most sets found themselves doing the latter at day's end.
The HCL652W is a 65-inch widescreen set that lacks an internal HDTV tuner but is HD-ready, with a native resolution of 1080i. Like most of the sets in this Face Off, it has a variety of aspect-ratio and picture controls, a useful automatic calibration system, and picture-in-picture features. Connections are reasonably plentiful, giving you enough to connect the average home theater system.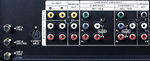 The HCL652W was the largest set in our Face Off, which naturally put it at a minor disadvantage when it came to assessing detail (the larger a picture is, the harder it can be to make it look sharp). Thus, it wasn't entirely a surprise that the Samsung fared less well in terms of detail than most of the sets in the Face Off. Not helping matters was the fact that you can't switch off the set's SVM—a common TV feature that, ironically, claims and even appears to sharpen a picture but is almost always detrimental overall, given the other problems that it causes (including a blurring of fine detail and an extra white edge around objects). Ron immediately picked up on the overedging, which is usually a sure sign of overzealous SVM. I felt that the set's internal line doubler wasn't up to speed and that a good outboard unit, even an inexpensive one like the iScan, or a progressive DVD player could help this set's detail and could eliminate motion artifacts considerably. Then again, you don't have access to the aspect-ratio control with progressive sources.
The HCL652W's color rendition was solid, thanks to a reasonably accurate color decoder, and a few people remarked that it had the most accurate color in its group. Adrienne felt that it drifted toward yellow at times but otherwise did a decent job. As with most units, some real calibration will make a significant difference with this set. It was inconsistent out of the box: very red on the low end and blue on the top end. Post-calibration, however, the set's accuracy improved noticeably, especially with HD material.
It was with HD material that the HCL652W's strengths seem to lie. Many of us, myself included, had noted more concerns with DVD material, but we seemed to agree that the set came around some with HD signals. It still wasn't as sharp as some of the other displays, but, considering its extra inches, even being ranked close to most and on par with some is a minor victory. Color remained solid with HD images, but the contrast wasn't where some of us would've liked to see it. Ron commented that the set didn't handle extreme contrasts well. While I felt that it maintained good shadow detail and had relatively stable blacks, whites were occasionally a problem for this display.—CL
HCL652W HD Monitor $4,000
Samsung Electronics America
(800) SAMSUNG
www.samsungusa.com
Dealer Locator Code SAM

HT Labs Measures:Samsung HD Monitor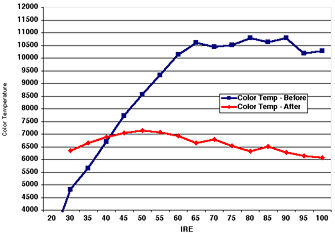 The top chart shows the gray scale of the Samsung HD monitor as set by the manufacturer, in the most accurate menu setting possible. The set measures an extremely low 4,000 Kelvin with dark images and reaches as high as 11,000 K with brighter images. After making adjustments using the Photo Research PR-650, the gray scale measures within 700 K of D6500, the accurate setting, across most of the range. The bottom chart shows that the primary colors of the display's CRTs are excellent, matching those specified by SMPTE. This means that the display will reproduce all of the colors available in the system. The gray scale, shown in the middle of the triangle, goes from red to blue before calibration and is at least reasonably close (the middle red dots) afterward. The light output was approximately 30 foot-lamberts with a white window and about 25 ft-L with a full-white field. This implies that the power supply is OK. The display has OK DC restoration: Dark portions of the image get slightly darker as the image gets brighter, although a technician with access to the service menu can significantly improve this. The scan velocity modulation can also be disabled from the service mode. The color decoder is accurate as set by the factory and likewise can be adjusted by a technician, although there is a fair amount of dot crawl. The TV displays at least 480 horizontal lines (per picture height) with NTSC sources, as measured using the resolution pattern from the Ovation Avia test DVD played on a Sony CDP-650D DVD player.—MW/GM
LATEST VIDEO