The Monster TV Face Off
Ten HD-ready and two HDTV rear-projection televisions lock heads in a battle to the death.
Hi, my name is Mike, and I have a problem. My problem is that I open my big mouth during editorial meetings. Sure, I have some good ideas (like the van-speakers story, which I mentioned as a joke yet everybody loved it—you people are weird). But, for every good idea, there's a multitude of crappy ones. It's a statistical-average thing. Unfortunately, the ideas that editor Maureen Jenson seems to like are the big, time-consuming, and labor-intensive ones. Take this Face Off, for example. We had a couple of sets already. I figured I'd invite other manufacturers, get one or two more sets, and have a good, manageable comparison. It's just my luck that nearly every manufacturer decided to participate.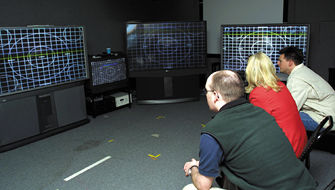 On the plus side, this is the first (and, I pray to God, the only) TV Face Off that includes nearly every manufacturer of 55- to 65-inch, HD-capable rear-projection televisions. The prices of these sets are in the $3,500-to-$5,300 range; most of the less-expensive sets don't have a digital tuner. Street prices seem to range from $2,800 to $4,000.
To make things easier, I set up the TVs in groups of four and then switched out two or three sets at a time, depending on which ones the judging panel wanted to look at again. Each display was calibrated to present as accurate a picture as I could muster, using only the consumer-accessible controls, and the internal line doublers were all set to the film-processing mode. In the measurement boxes, we'll discuss the results of more-professional calibration. A trained technician also used test equipment to calibrate a Princeton AF3.0HD direct-view monitor so that we'd have an accurate reference for each round. Test images consisted of chapters 2 and 10 from the Star Wars: Episode 1—The Phantom Menace DVD, 1080i images from a Sencore HD hard drive (none of the TVs displays 720p in its native format), and off-air NTSC signals. Judges included many staff members: Maureen Jenson, Chris Lewis (Big Papa), Geoffrey Morrison (the Kid), Claire Lloyd (Shady C Dogg), and Adrienne Maxwell. Technical consultant Ron Williams (Mr. HD) also joined us. My comments are limited to each display's ergonomics and to the measurement section. Otherwise, I mostly acted as TV-changeout monkey and feature-comparison-chart data-entry guy (see the chart on this page). Art director Heather Dickson was present, running around us like a caffeinated gopher while directing photographer John Martorano, but did not vote.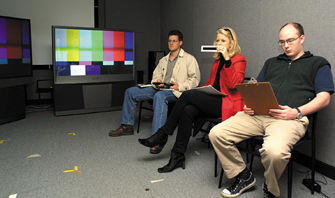 I pointed out to the judging panel that we only had reliable test signals for the DVD input. Therefore, only the DVD images were placed on equal footing. We used HD and off-air NTSC images as more of a tie-breaker, even though opinions of the different displays often changed radically with these signals. Since these inputs were not calibrated, it's difficult to say whether the differences were due to the displays themselves or to the variance in adjustments. While we didn't re-review the displays after their respective professional calibrations, I'd highly recommend that anyone spending this kind of money on a TV spend a few extra bucks to have their TV properly calibrated by a trained technician using appropriate test equipment. The picture only gets better. With that, I present the 2002 Monster TV Face Off.
Click on image for larger picture.