Mobile Surround Sound Page 4
Prowling for Surround The $20,000 question is: How do you put a surround system in your car without tearing it apart? Illustration by Graham Smith Over the course of my last two articles, I gave you the lowdown on surround sound and DVD-Audio in the car environment. We heard from producers, engineers, and musicians on why the car is an optimal environment for surround music and how they went about preparing 5.1-channel mixes for maximum enjoyment while you're out on the road.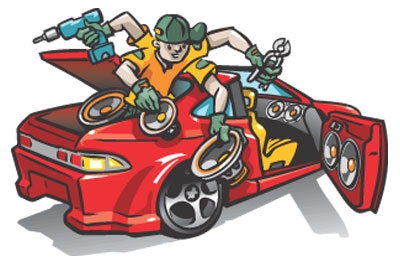 So let's say that you're now down with mobile surround. You're sold on the idea of listening to the same DVD-A and DTS discs in your vehicle that you do at home. (No Super Audio CDs, though - there aren't any SACD players for the car yet, and none are expected to become available anytime soon.) The $20,000 question is: How do you put a surround system in your car without tearing it apart? Speaker placement is one of the biggest concerns when it comes to installing any car stereo system, much less a multichannel system.
I was recently talking about the speaker dilemma with Keith Lehmann, vice president and general manager for Ultimate Sound, a car stereo manufacturer located in Pomona, California. "While the placement of stereo left and right speakers is important," he says, "the placement of dedicated center and surround speakers for multichannel systems is critical. A surround speaker that's mounted too close to the listener - something that happens a lot in two-seaters - tends to steer the program to the rear of the vehicle, and an ill-placed center speaker can create channel-imbalance and phasing problems. One solution is to reduce the surround channels' high frequencies and carefully balance the center channel's level with the left and right speakers so it won't overwhelm the program."
Finding the right spot for a center speaker is one of the most difficult challenges installers face. "Few people like the idea of having speaker holes carved into their pristine dashboards," observes Lehmann. "But the half-DIN-size SRK5 powered speaker array from Clarion seems like a good solution because it can be mounted right above or below an in-dash DVD player with the proper installation kit." (And the system's outboard amplifier can be hidden away just about anywhere.) If you're considering having a center speaker installed in your dashboard, Lehmann suggests that you find a "qualified installer with photo documentation of successful center-speaker installs in a vehicle like yours. You don't want to become some installer's 'center-channel experiment.'"
While I was in Portland, Oregon, on an extended road trip in the summer of '02, I came across an amazing 5.1 install in, of all things, a 2001 Plymouth Prowler. The vehicle's owner, Rik Huserik of Gresham, Oregon, had quite a challenge cramming all of that gear into his tight but sleek purple two-seater, but the install crew at Portland's Car Toys was up to the challenge. The front speakers, two pairs of Phoenix Gold components, were simply put in the factory locations in the dash and doors. The center-channel issue was solved by cleverly placing a Kenwood KSC-900CTR in the top of the dash. Car Toys installer Wayne Ferryman dropped the speaker into the center air vents by way of a special bracket. (The vents stayed functional.) The surrounds, a pair of MB Quart 4-inch coaxials, were fitted into the rear factory locations behind the headrests.
Tunes were delivered by a trio of Kenwood Excelon source components: a Music Keg digital music server mounted vertically on the back of the passenger seat, a DVD receiver in the dash, and a Sirius satellite radio tuner under the driver's seat. (Huserik even stashed a Sony PlayStation 2 videogame player in the center console.) The system is powered by a pair of Phoenix Gold amps, one 75 W x 4 and the other 100 W x 2.
So how'd the Prowler sound? I got behind the wheel while Huserik cued up a Van Halen DVD, and the cymbal-heavy "Dreams" instantly pummeled me from all sides - but in a good way. As Goldilocks might have said (if she'd been a mobile metalhead, that is), the sound wasn't too close, wasn't unbalanced, and wasn't rear-biased. It was just right.
Huserik doesn't keep the Prowler to himself. He loves turning people on to the wonders of his system - whether it's at a tailgate party or a car show. The bottom line: No matter what the vehicle, mobile surround sound is a viable option. Concludes Lehmann, "When the front and rear levels are adjusted to produce a realistic music experience, the effect is nothing short of breathtaking." I couldn't agree more.
LATEST VIDEO