Mobile Surround Sound Page 2
Back to Surround, Part 1 "Musicians are welcoming the mobile audio 5.1 market with open arms and open ears." Illustration by John Ueland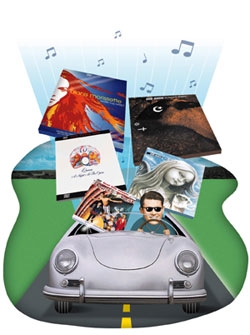 One of the more exciting mobile developments at trade shows this year was the re-emergence of DVD-Audio as a viable format for the car environment. I say "re-emergence" because a DVD-A-compatible head unit was introduced by Panasonic a few years back, but no one else followed suit. For a while, it seemed DVD-A for the car was DOA.
But at January's Consumer Electronics Show, three companies - Eclipse, Kenwood, and Pioneer - announced DVD-A-ready heads, and all was right with the world. This is, of course, great news for those of us who have long enjoyed the surround sound experience in cars, mostly via movies or concert DVDs - as well as for those who've only experienced it at home, or not at all. (SACD is another issue entirely, by the way. Sony tells me there are no current plans to introduce a car-specific SACD player. The company says it will someday, but there's no official timetable yet. That's a shame.)
Musicians and producers are welcoming the mobile audio 5.1 market with open arms and open ears. At a press conference last fall, I asked Peter Gabriel what he thought of surround sound in the car, and he told me, "It has a lot of potential. The car is where 5.1-channel sound will prosper." And engineer/ producer Elliot Sheiner, who's worked on surround releases for the likes of Steely Dan and R.E.M., recently told The New York Times that when he first heard surround sound, he thought the car was the perfect environment for it. "You get DVD-Audio in the car," he said, "and people will want it in their home." The good news is, Sheiner is currently working with Panasonic on a DVD-A system for the car environment,
Bob Michaels, president of 5.1 Production Services in Los Angeles, spends up to 16 hours a week on the road just commuting, so in his mind, surround sound and the car are a perfect marriage. "Here, we can seatbelt somebody in and control the sound around them instead of them having to move couches around," he says. "What we do in the studio is what we want to achieve in the car. When we share the mixes with the artists, they tell us, 'This is exactly how I hear my music when I'm onstage.' "
Al Jourgensen, co-mastermind of the pioneering alternative industrial-metal group Ministry, concurs. (Jourgensen helped mix the 5.1-channel version of his band's current album, Animositisomina [Sanctuary], and Michaels was the executive producer.) "The cool thing is," says Jourgensen, "5.1 is the way I hear the music in my head - in a 360° scope. After hearing this mix, the light bulb went off in my head. It's added another dimension, another element to what I'll do in the future. All of my mixing will be geared toward that.
"I like listening to Animositisomina in the car much better than I do at home," Jourgensen continues. "The ambience and the true intent of the songs are distorted if you listen to them in too wide of a room - too much space. To my ears, this album's 5.1 mix works much, much better in a car."
It's easy to understand why. Animositisomina opens with the hard-driving "Animosity," which immediately envelops the listener in a swirl of metal riffs, percussion, and a swooping helicopter that may make you duck in your seat more than once. "It's flying all around you," marvels Michaels. "When all of the drums and bass kick in, it goes right to the middle of your stomach."
The buzzing guitar line that does a 360 during the intro to "Impossible" is a sample of a riff played by Jourgensen that was looped and then run through a "very overloaded" parametric equalizer. And the DVD-A's epic closing track, "Leper," is awash in organic sounds, such as a razor blade clicking on a mirror and samples of actual train noises. It all sounds great in the car.
So is the car environment the ultimate destination for surround music? "It's one of the final frontiers that will overwhelm the consumer market, just like DVD-Video players have," predicts Michaels. "You're already seeing it with in-dash DVD players, which are approaching the price level where high-end CD heads once were [under $2,000]. And now you can get DVD changers, too. Don't forget that all of these players are capable of playing any DVD-Audio disc. This is, after all, a consumer product that can upgrade with you."
We're just getting started on surround in the car. In Part 2, we'll hear from John Kellogg of Dolby Labs, a producer/engineer who's worked on 5.1 mixes for the likes of Deep Purple, Foreigner, and Emerson, Lake and Palmer. Until then, think about wrapping yourself around the idea of surround in the car. Better yet, let car surround wrap itself around you.
LATEST VIDEO