M&K S-150 THX surround loudspeaker system
In the summer of 1996,
SGHT
editor Lawrence Ullman made me an offer I couldn't refuse: "Wes," he asked, "how would you like to review M&K's new THX speaker package?"
"Sure," I replied.
"Great! M&K president Ken Kreisel wants to come to Santa Fe to set it all up and demonstrate his high-tech test array."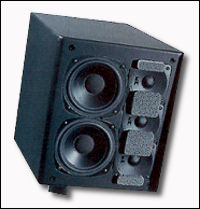 I knew what that meant—I was going to have to clean up the home theater. No sacrifice is too great for SGHT, so I vacuumed and spritzed and polished in preparation for the visit.
In 1973, M&K (Miller & Kreisel Sound Corporation) more or less invented the satellite/subwoofer configuration that dominates an entire sector of the loudspeaker market today. It could even be argued that in freeing loudspeakers from the size constraints inherent in full-range designs, subwoofers made multichannel home theaters possible. (For more on this, see my interview with Ken Kreisel elsewhere in this issue.)
No matter. M&K have used the last 20-plus years to hone their original concept, while consistently providing audiophiles and, more recently, videophiles, with intelligently designed, completely thought-out, compact speaker systems—which, thanks to their state-of-the-art subwoofers, sacrifice none of the transient impact or bottom-end bloom of live music.
Stand and deliver
Several days before Kreisel's arrival, we received an immense shipment of boxes. While the system itself consists of two subwoofers, two surrounds, and left, right, and center speakers, we also received two large cast-iron speaker-stand bases (ST-1, $125 each), two smaller speaker-stand bases (ST-2, $75 each), two sizes of mounting brackets (Standard ST Tilt Bracket and Short ST Tilt Bracket—both costing $95 each), and several of M&K's passive high-pass filters and volume controls. Obviously, the M&K system is mature—it includes every accessory necessary to work under any circumstance.
M&K offers something like 50 mounting accessories, but I was most impressed by their cast-iron speaker-stand bases. Manufactured by York (the barbell people), these bases are heavy. They're threaded to accept *" pipe with standard plumbing thread, which means you can order the length of pipe you need at any full-service hardware store. I did, and walked out with the correct pipes for front and rear speakers in less than half an hour. M&K also sells pipe covers, which present a more civilized appearance than the raw pipe, but I bought some foam pipe wrap at the hardware store that worked just fine and cost next to nothing.
I've installed wood mounting plates in my home theater to allow me to change surrounds frequently without Swiss-cheesing my walls, but the cast-iron base/pipe/tilting bracket system from M&K is easier to use and infinitely adjustable. I can meet THX spec, with the surrounds two feet above the listener's head, or change the length of pipe and really float the speaker up on high. The ST-2 base and 6" of pipe allow you to mount center-channel speakers where they do the most good—either on top of a monitor or under a screen—and then aim them at the listening position through the 17-degree range of tilt capability. Even if you're not interested in M&K's speakers, you should consider their mounting hardware. It has become my new standard.