Mixcder E9: Wireless Noise Canceling Headphones that Won't Break the Bank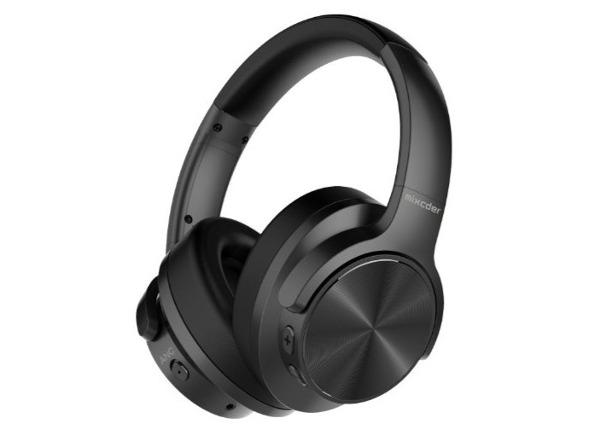 PRICE
$80 ($70 on amazon.com)
AT A GLANCE
Plus
Satisfying sound
Effective noise canceling
Light weight and not overly bulky
Minus
Sound could be fuller
Some discomfort after an hour or so of listening
THE VERDICT
If you're looking for wireless, noise-canceling headphones that won't break the bank, the E9s provide satisfying sound with effective active noise canceling for 80 bucks (or less).
If you've never heard of Mixcder, you're not alone. The company with the awkwardly spelled name — pronounced "mix-see-der" — has only been around for a few years. It's based in California and specializes in super low-priced headphones sourced in China with a current lineup comprising 10 models, all wireless and ranging in price from $19 to $90 for full-size wireless headphones with active noise canceling (ANC).
The company says it's dedicated to delivering "euphonious sound quality at a fractional cost" and offers free shipping plus a 30-day return policy. Considering name-brand wireless/ANC headphones cost two to three times more than Mixcder's most expensive models, I was intrigued and welcomed the opportunity to review the E9, which until recently had been the brand's top model at 80 bucks ($70 on Amazon).
But would they provide satisfying sound and noise canceling that actually works?
The short answer: yes and yes, with a couple caveats.
When I pulled the E9's out of the box, it was obvious that Mixcder had saved precious dollars by covering its earpads and headband with faux leather and making the earcups and outer headband out of plastic. No big deal as far as I'm concerned. It actually makes them lighter than many pricier models. A no-frills clamshell zipper case is provided along with a minijack audio cable, USB charging cable, and two-pronged airplane adapter (do they even use those anymore?). What else do you really need?
Anxious to get the music, I paired the E9s with my phone and cued up Pandora and then Amazon Music. I listened to a wide variety of songs — from Tracy Chapman's "Baby Can I Hold You" from her self-titled 1988 debut to heavier stuff like "Pressure" from Paramore's (All We Know Is Falling).
I liked what I heard. The emotion of Chapman's fragile vibrato was intact with a solid bass underpinning and clear delineation between guitars, strings, keyboard, and the subtle sitar (yes, sitar) accents on the chorus. "Pressure" sounded appropriately grungy with its forward snare ringing true between the crunch guitars framing Haley William's strong yet sweet voice. At times I felt midrange heft was lacking and highs were a bit harsh — like during the vocal harmonies on the chorus of Brandi Carlile's "Hearts Content" from 2012's Bear Creek. But, overall, the sound was pleasing.
Oddly, I preferred the sound with ANC switched on, even while listening in a quiet room. The sound was brighter and more open, if not somewhat louder. When I asked Mixcder about this, they responded via email: "The frequency-response curve changes when a digital signal processor (DSP) creates inverse waves to counteract noise… Thus the sound is a little bit different when ANC is on." Uh, okay…
It was time to take the E9s on the road to test out Mixcder's active noise-cancellation system. With no air travel planned, I did the next best thing: Took them along for a ride on a Northeast Corridor train running between points in New Jersey and Manhattan. Listening to streams running the gamut from The Milk Carton Kids singing "Michigan" and cellist Yo-Yo Ma playing Bach to Pharrell Williams' 2013 breakout hit "Happy" and Weezer's "I Want You To," the ANC did a good job suppressing the low rumble of the rail car while keeping the music intact. The train's clanking and clattering, though reduced by the circumaural earcups, was still somewhat audible, which is to be expected since the noise cancellation is focused on lower frequencies. The ANC was equally effective when I tried it out in the car (no, I wasn't driving), making road noise all but disappear.
There were times when I wished I could push the volume higher but this was due at least in part to the varying levels of program material. Either way, when you're rocking out with headphones on, you do need to be mindful of how loud the music is, which is why I like that the E9's beep when you reach max volume — a gentle reminder that you might want to notch it down.
I found the E9s to be mostly comfortable, although I did experience some pressure on my left ear — but only after wearing them for an hour or more without a break. All in all, I would describe them as comfortable — not cushy comfortable, just comfortable.
Back at home, I concluded formal testing with a few choice hi-res cuts as heard through a wired connection to my PC with Cambridge Audio's DacMagic XS USB digital-to-analog converter (DAC) in line. My 24/96 download of Bonnie Raitt's 2016 album Dig in Deep sounded excellent, proving that the E9s could hold their own against similarly equipped headphones costing far more. I did several quick comparisons with a set of Bowers & Wilkins PX headphones I had on hand and usually preferred the E9's, which sounded fuller to my ear.
Favorite hi-res moment: The contrast between George Marinelli's superb tremolo guitar and the ever-so-fluid signature slide playing that frame Raitt's appropriately gritty voice on "I Knew."
You can hardly go wrong with the E9 thanks to Mixcder's 30-day return policy. Take them out on the town and if you don't like 'em, just send them back for a full refund.