Midweek Music Update: Bob Dylan, David Byrne, Ian Hunter, Jerry Garcia and Merl Saunders, and More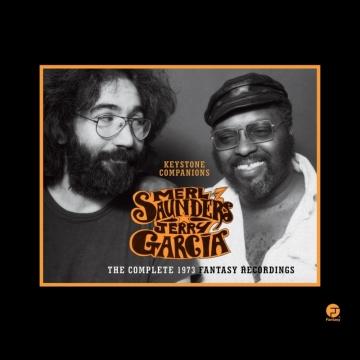 It Don't Mean a Thing If You Ain't Got a Stream
New Nektar Double Play
Nektar will release its album of prog-rock cover tunes on September 9 called A Spoonful of Time. They have also announced the name of their next studio album of new original material (formerly named "Juggernaut"): "Time Machine." Recorded with Billy Sherwood (Yes, Circa, Prog Collective) the album will probably sound pretty fab if Billy's work with Yes is any indicator (this writer is a big fan of his work with them on Open Your Eyes and The Ladder. No official release date announced but we hope it will be soon. Stay tuned!
English Beat Reissued
The whole catalog of classic ska-infused pop records from The English Beat are coming out on Shout Factory in mid-September. Included is a live concert recording from the US Festival in 1982 and 1983.
Zappa for Completists
Yes, the entire Frank Zappa catalog is back in print courtesy of Universal and the Zappa Family Trust. Probably the most exciting news within is that "Hot Rats" - Frank's legendary and influential jazz-rock-fusion breakthrough - is now in more or less the original LP mix for the first time on CD - FZ remixed it pretty seriously for the Rykodisc release in the 1987 reissue, which was cool but it did sound quite a bit different in terms of balances and such. This FZ fan will keep the old CD as an alternate "outtake" version, but is looking forward to picking up the new CD which is apparently based on the 2008 Bernie Grundman remaster. That said, this writer may also pick up that vinyl to replace the one that was stolen from him years ago.
Keystone in Full and Living Color
Finally! The legendary Jerry Garcia & Merl Saunders Live at Keystone album is apparently being reissued COMPLETE. According to a report on Jambase:
Keystone Companions/The Complete 1973 Fantasy Recordings, recorded live on July 10 and 11, 1973 at the Keystone club in Berkeley, California, beautifully captures the magical musical friendship of keyboardist Merl Saunders and guitarist Jerry Garcia. The Fantasy Records lavish four-disc set, scheduled for September 25, 2012 release on the heels of the 70th anniversary of Garcia's birth, includes seven previously unreleased tracks, a special booklet featuring vintage photos; liner notes by Grateful Dead expert David Gans; and a poster, coaster, button, and "scratchbook" (replicating the design of the original album's promotional matchbooks).
http://www.jambase.com/Articles/94847/Merl-Saunders-and-Jerry-Garcia-Complete-Recordings-Reissue
While this writer is still kicking himself for not picking up the DVD-Audio disc that came out back in the day of one volume of this collection, which ranks among Garcia's most sublime playing/performances, this long over due box set release will more than make up for it. And at the end of the Jambase report there is perhaps even more satisfying news for vinyl junkies: "On the collection's September 25 street date, Fantasy Records will also reissue, on multi-color double vinyl LP, the first Saunders/Garcia album Live at Keystone. Ohhhhh Yeah!
...And Some Recent Releases of Note
The Smiths: Hatful of Hollow
Reissue (Rhino)
Many Smiths fans revere this album of live-in-the-studio BBC performances because they are arguably better than the studio creations from the various albums from which they originate. On its own, Hatful is a great record and itis indeed all about the performances. That the fidelity is significantly improved on the new 180-gram reissue from Rhino Records is a big bonus - now you can hear the punchy bass and drum details that were washed out on prior releases (I have a US CD version of this album which I compared it to). This is so good that, frankly (Mr. Shankly) I am considering getting the rest of the reissues on LP - I am especially fond of the self titled first album and Louder Than Bombs but I suspect that Meat Is Murder will sound a lot better in this new Marr-approved mix and mastering. Only downside is there are no bonuses here, but, well it is about the music and this appears to be a loving restoration of some of the best music the 80s left behind. This reissue rocks. Get it.
The dBs: Falling Off The Sky
New Release (Bar None)
2012 so far has been a great year for the unexpected rock and roll as evidenced by great albums released by Guided By Voices and now a NEW release by the original incarnation of The dBs. The who? Ok, so an abbreviated history lesson may be in order for some of you readers: in the late '70s a guy named Chris Stamey headed north to New York and soon found himself playing with Alex Chilton (of Big Star fame). By the end of 1978 another Southerner, Pete Holsapple had migrated to NY and soon a new band was born called The dBs. Singles were released and eventually an album came out in 1981 which influenced bands like R.E.M. and Yo La Tengo, among many others. The dBs arguably became the link between Big Star and the then "new wave" of song-driven, jangly guitar based rock music. Numerous albums ensued including 1987's great Sound of Music before the band members parted ways.
Seemingly out of the blue, they have reunited and released a fantastic new album that more than picks up where they left off - this is the dBs playing with a sense of authority and conviction that can only come from years on the road and writing hundreds of songs to find the great ones. And there are many great ones on this new album including the album's two opening tracks, "That Time Is Gone" and "Before We Were Born" (both of which are available for free download). Actually, if The dBs had only put out the album's first four songs as an EP it would have been an amazing release on its own. However, the album progresses and flows to a point where later tracks like "World To Cry" and "The Adventures Of Albatross And Doggerel" and the closing track "Remember (Falling Off The Sky)" are just as important and engaging as where the album began. The sound on this disc is uniformly excellent. The best deal is to buy the 180-gram LP which features a 10 song version of the album AND you get a CD included with a 12-song version as well! But wait! There's more: you also get a download card for five more (count 'em 5!) bonus tracks! So, for less than $20, you get a killer album you can listen most anywhere you are. That is a great deal and I suspect you'll find yourself playing this album a whole lot.