MartinLogan Fresco i On-Wall Speaker System
High-resolution speakers for high-definition video.
When it comes to high-end loudspeakers, MartinLogan stands out as a clear favorite of music enthusiasts. Avid fans of MartinLogan's electrostatic speakers listen with rapt attention to their superior clarity, transparency, and detail. I admit, I appreciate the same natural sound qualities.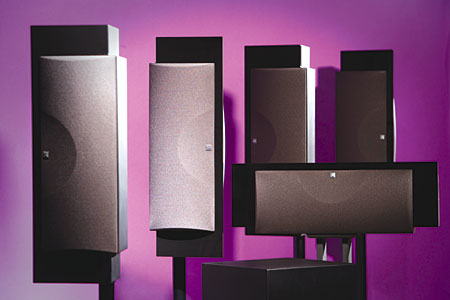 Although the high-end loudspeaker market is strong, the increasing popularity of flat-panel televisions and slim-profile big screens has spawned the on-wall speaker category. Along with high-definition video, true home theater enthusiasts expect no less than high-definition performance from their audio systems. To meet that expectation, MartinLogan has introduced the Fresco i, a loudspeaker system designed to provide some of the same sound qualities as its electrostatic floorstanding speakers in a wall-mounted model.
The Fresco i is a compact speaker with dual 4-inch aluminum-cone woofers in a dual-ported enclosure and two Advanced Thin Film (ATF) planar drivers for the midrange and tweeter. The ATF drivers are based on RADIA planar technology, a line-source driver that uses low-mass DuPont Kaladex thin-film diaphragms coupled with Neodymium magnets. Although they're not electrostatic speakers, and on the small end of the scale, certain sound qualities of planar drivers closely resemble the sound of MartinLogan's
electrostatic drivers. The thin-film, low-mass diaphragms contribute to good transient response, low distortion, and ultra-clear sound reproduction, which are a few of the desirable characteristics of electrostatic drivers.
You can wall-mount the Fresco i either vertically or horizontally with the hinged brackets that come with the speakers, or you can attach the speakers to optional floor or table stands. The brackets resemble a strong door hinge and let you rotate the speakers and lock them into position aimed toward the listening area. This is especially useful for ceiling- or wall-mounted surround speakers. You can also install them using optional floor stands or table stands. The fixed-height floor stands I used for this review are sturdy and heavy and come with speaker spikes and gliders for placement on carpet or hard surfaces. The solid, heavy stands are well balanced to prevent accidental tipping. The table stands have adjustable height to match the screen level of a table-mounted flat-panel television. The Fresco i features an on-wall/off-wall switch, also known as an Acoustic Contour Switch, to adjust its frequency characteristics when installed on or near a wall.
The Dynamo subwoofer that came with the system is a compact sub with a 10-inch aluminum-coned woofer powered by a 200-watt class-D switching amplifier. Its standard downward-firing woofer can also be used in a front-firing configuration with the included grille cover and RCA cable adaptors. A front-firing subwoofer may be more desirable if the subwoofer is placed in a cabinet.
Performance
The MartinLogan Fresco i speaker has a distinctly delicate, fine-grained sound quality with excellent low-level detail and transient response. These qualities are evident with many music genres but are most clear with guitar, piano, and wind instruments. Anthony Wilson's electric guitar accompaniment (somewhat reminiscent of Wes Montgomery's style) in Diana Krall's Live in Paris (Verve Records) is fast and articulate, and each note sounds crisp and detailed. The Fresco's transient response easily keeps up with the tempo in Krall's piano solo in "Devil May Care," from the same recording. The shimmering percussion reveals a truly transparent, unveiled quality that remains clean and uncongested in Spyro Gyra's "River Between" from their In Modern Times SACD (Heads Up International), despite the numerous percussion instruments in the track. Ana Caram's signature airy voice comes across with stunningly delicate detail in "Anos Duorados" from her Rio After Dark album (CD, Chesky Records).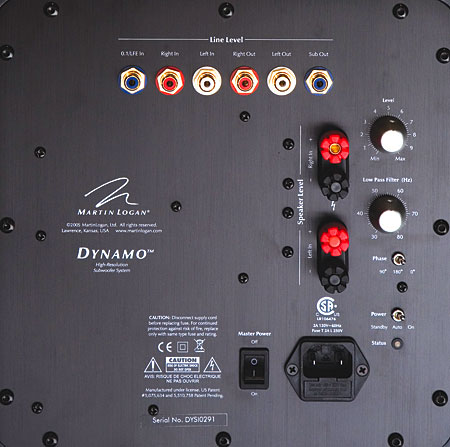 The Fresco i speaker has a "not in your face," easy-listening sound quality that is easy to appreciate and often hard to come by. One of my all-time favorite speakers is the Dahlquist DQ10, of which I still own four. Although from a different era, circa 1970s, the DQ10s let you listen instead of forcing you to listen. They let the listener perceive and appreciate subtle details, and theMartinLogan Frescos remind me of this enjoyable quality. The Frescos are capable of adequate sound-pressure level, but they sound the best at moderate listening levels where details, transparency, and clarity are superb.
As one might expect, a speaker that performs well with music also sounds good with film sources. The dialogue in Notes on a Scandal (20th Century Fox) was crisp and clear and the surround effects full and enveloping. The suspenseful music added to the story line in this odd, twisted story. Dialogue was also clear and distinct in Ocean's Thirteen, although the movie was noticeably absent of any real surround sound effects.
The Dynamo subwoofer integrates very well with the Frescos' 4-inch drivers. The woofers have a taut midbass sound quality, and little adjustment of the subwoofer was necessary, other than correct room placement to obtain a seamless sound quality. With music and film sources, the Dynamo easily reproduced deep, extended bass with a noticeable tightness and absence of heaviness or boominess.
Summary
I've made it no secret that planar, ribbon, and electrostatic speakers are among my favorites, and I don't hesitate to include the MartinLogan Fresco i in that group. Their high-resolution sound qualities and contemporary style are a nice complement to a high-definition flat-panel or big-screen television, and the Fresco i will easily satisfy the passionate purist who appreciates MartinLogan's electrostatic speakers.
Highlights
Features the clean, detailed, high-resolution sound quality typical of MartinLogan
Nice complement to a flat-panel or slim-profile big screen
Will appeal to music and movie enthusiasts