MartinLogan Crescendo Music System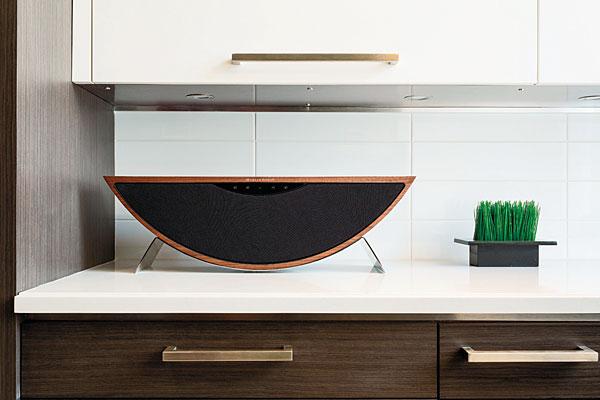 Smile If You Like Music
Yep, you read that right. MartinLogan, the 30-year-old Kansas-based company known for elegant, high-performance electrostatic speakers, is branching out. And, no, the Crescendo is not a center-channel speaker. It is, however, ML's first wireless speaker system, and initial impressions from a CES demo suggest that it just might be the "ultimate tabletop system" the design team was aiming for.
A near perfect blend of art and science, the components that make the Crescendo sing are ensconced in a furniture-grade MDF cabinet finished in high-gloss piano black paint or walnut veneer and perched on an aluminum stand. Build quality is solid and goes a long way toward minimizing vibrations that can quickly ruin favorite tunes played loud—which is exactly what you'll be compelled to do with this little system (they don't call it Crescendo for nothing).
Now, about those internal components. The core of the Crescendo is a 24-bit digital signal processor/preamp that feeds a 100-watt Class D amplifier, which in turn powers a custom-designed 5 x 7-inch polypropylene woofer (housed in its own chamber) and a pair of accordion-like Folded Motion tweeters—the same sweet-sounding, rectangular tweeters used in ML's Motion series speakers. These thin-film transducers, which are angled to encourage stereo separation, "squeeze" the air to produce a remarkably spacious soundfield.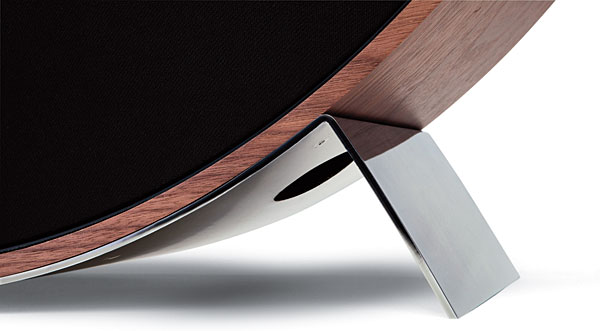 You can connect to Crescendo multiple ways. AirPlay-enabled iPhones and other devices can stream music via Wi-Fi, and the system supports high-quality aptX wireless streaming from Bluetooth-enabled devices. You can also connect the DLNA-compliant Crescendo to a home network via Ethernet or jack in via a fast-charging USB port or a headphone-style 3.5mm minijack that accepts an analog or optical digital input (the latter via a mini-TosLink adapter). There's even a subwoofer output, an unusual feature in the world of wireless speaker systems and one that you may decide you don't need once you hear Crescendo in action.
Four buttons on the crescent-shaped control provide quick access to power, input, and volume, or you can kick back and use the slender remote control. Price: $900.
Watch for our review.