Looking for a TV-Worthy Interface for Streaming Music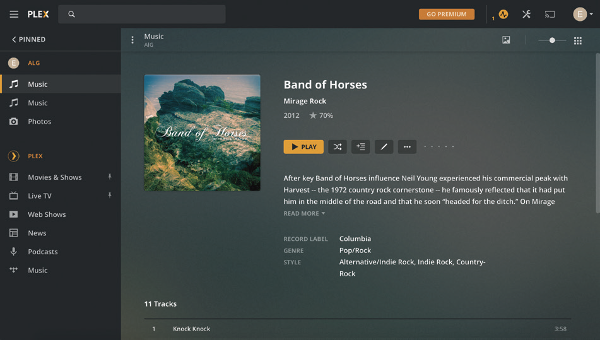 Got a tech question for Sound & Vision? Email us at AskSandV@gmail.com
Q I have over 9,000 songs in various audio formats on a hard drive hooked to my computer. Most of these have been ripped from CDs or captured from vinyl over the years. To listen to the music, I stream it over my home network to a Samsung TV connected to a Denon receiver. The audio quality with this setup is fine, but the visual effect of browsing through folders on a 70-inch screen leaves much to be desired. If I use my Sony Blu-ray player instead to stream the music, I get the same look: plain folders with no album artwork. Is there a way to browse and play your stored digital music library in a home theater using a visual interface like Microsoft Groove Music? One caveat: it needs to be inexpensive. —Jay Sklaroff, via email
A I completely agree that the look of those folders used for audio/video/photo file browsing in a DLNA streaming setup leaves much to be desired. But that's basically what you get when you depend on a networked TV, Blu-ray player, or A/V receiver's basic DLNA digital media player capability. Fortunately, there are plenty of inexpensive, and some not so inexpensive, ways to step up the visual aspect of the music listening experience in your home theater.
One inexpensive example is Plex media server. This free software runs on your PC or Mac and enables music, videos, and photos stored on the computer or an attached external hard drive to be streamed by inexpensive Roku, Amazon Fire TV, or Chromecast devices. Some TVs, including 2016 and later Tizen-based Samsung 4K models, also offer the Plex app in their Smart TV interface. Plex uses metadata to add album art for your music library, which makes the browsing experience on a big screen TV infinitely more appealing than what you get using your TV's basic DLNA capability. And the app supports Tidal, allowing subscribers to also access their Tidal music library from within the Plex interface.
Another, slightly pricier, option is to use an Apple TV to stream the music in your iTunes library on a Mac or Windows-based computer. The Apple TV interface looks fantastic on 4K/Ultra HD sets (especially if you're using an Apple TV 4K model), and it shows album art and graphics. You'll need to enable Home Sharing on both the computer and Apple TV, but once that's done, streaming is a snap. As with Plex/Tidal, Apple TV naturally supports the company's Apple Music service, so you can easily add an Apple Music streaming subscription to augment your stored iTunes library.
In the context of this question, I'd be remiss to not also mention Roon. This $10/month subscription music library/multiroom streaming software offers full high-res audio support plus rich metadata that brings the experience of visually browsing a digital music library to new heights. Like Plex, it features Tidal integration, but goes a step further with Qobuz support. While you don't get the same onscreen browsing and selection features offered by the Plex app and Apple TV (those actions are typically carried out with Roon using a smartphone or tablet app), you can configure Roon software to stream its "Now Playing" screen — with optional song lyrics added — via AirPlay or Chromecast for video display on a compatible device or TV.
Click here for more expert advice on all things audio and video.