Hands On: Plex Adds DVR Features and Alexa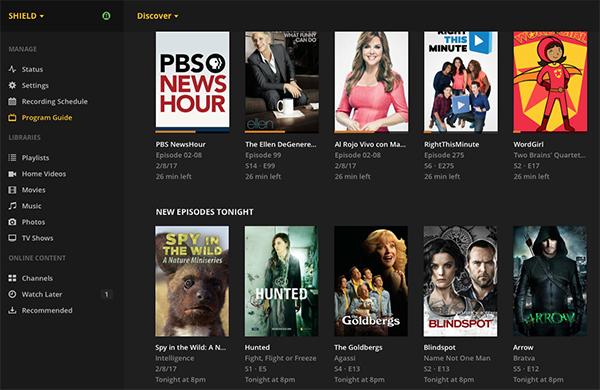 Aiming to improve the streaming experience, Plex has added DVR capability and Alexa voice control to the app that controls its Plex Media Server—an app that has become one of my favorites for its ability to organize and add metadata to my personal media library.
The new DVR feature makes it easy to record and add network TV shows to my library and Alexa lets me use voice commands to play videos on a media player connected to my TV. I've spent the last few days testing the Plex features on various media players. While it's been a bit of a rocky start, with a little patience and some help from Plex I was able to get the DVR and Alexa to work well.
Beta DVR
Plex's DVR is still in beta and will be publicly released in spring 2017. It requires a PlexPass premium account and an HDHomeRun tuner (with antenna) connected to your router.
During the beta phase, the DVR feature is available on computers and the NVIDIA Shield. (When using the Shield, it's best to have a hard drive connected and set up as internal memory because the recorded HD video files are big.) The Plex DVR can be a real draw for those who are on the fence about cutting the cord on cable and pay TV services but, for now, it doesn't work like a typical DVR because it can't pause live TV. You can use the Plex app to record a TV program but you can't watch the live broadcast in the app. Until the beta phase is over, you'll need to use HDHomeRun or another live TV app to do that.
Plex's DVR program guide isn't your typical channel and time grid. Instead, a menu shows what's on now and what's coming up soon along with upcoming sports and news programs. During the beta phase, choosing TV shows to record (for either a Plex Server or the Shield app) must be done via a program guide on a computer web interface.
Hello Alexa
Alexa voice control has made it easier to do everything from controlling lights and thermostats to playing music on demand. But it hasn't been possible to play video on a home theater—until now.
You can ask Alexa to play music and videos on a compatible Plex player. The list of officially supported Plex players includes the NVIDIA Shield, iOS (iPhones and iPads), Apple TV, and Roku. Unless you have a Shield, the Plex app has to be running before Alexa can start playing video or music to it. During my testing, Alexa never found my iPhone or iPad, which were running the app. Because there are multiple Plex accounts in my household, it was easier for Alexa to find my players when they were all signed into the same account. Alexa would then let me choose on which player I wanted to play the desired video or music.
The Plex voice skill works on all Alexa-enabled devices—Echo, Dot, Tap, and Fire TV. While Fire TV initially had limited Alexa capabilities, it now supports full-fledged Alexa voice control. All Alexa devices connect to the same Amazon Alexa server, and the server doesn't know from which device the command originated. When using Alexa to play a movie on my Fire TV, I had to first choose Fire TV as the player or the movie would play on my default player—the NVIDIA Shield. To change players quickly, I could add "on my Apple TV (or other player)" to the end of my command. For example I would add, "Ask Plex to play City of Angels on my Roku" to switch from Fire TV to the Roku. Again, the Plex app has to be open on the Roku for the play command to work.
To activate Alexa on the Plex, I had to say "Alexa, Ask Plex" or start with "Alexa, Open Plex." I found that Alexa can get a bit too helpful with her suggestions: "What would you like to do? Try saying 'suggest something to watch' or watch 'Friends'." I had to wait for her instructions to finish before I could ask for what I wanted. And if I waited too long to speak, she would continue with more suggestions: "How about continuing where you left off watching (a specific title)? or how about watching something you haven't watched in a long time?" If I paused again, she would ask if I wanted to play something new. Bottom line: Alexa can be a real nag. At one point she suggested five songs before I could get the words out and ask her to play the movie I wanted to watch. Don't get me wrong, the suggestions helped me find titles in my library that I might not have thought to watch, or reminded me to watch the next episode in Mr. Robot.
When Alexa asks a question, it's easy to "converse" with her using contextual answers. I could answer with a simple "yes" or "no" or say "play something new" when asked what I would like to do—all without prefacing my answer with the wake word, "Alexa."
The Plex team had some fun with its Alexa implementation. Ask Alexa to play a movie and she might respond with a classic line from that movie. When I asked to play The Big Lebowski , Alexa replied, "the dude abides" before telling me to "enjoy The Big Lebowski." Even error notification was fun. When I hit a glitch, Alexa said, "Uh oh! Something weird just happened. Alarm bells are ringing around the world as Plex engineers are rushing to fix this issue." The problem was corrected right away.
The second generation NVIDIA Shield's Android TV platform worked best with Alexa. Unlike the other players, it didn't have to be running to start playing a video. When I asked Alexa to play a video on the Shield, my command woke the player. And because my Shield is set up (via HDMI CEC) to turn on my home theater and switch inputs, the Alexa command turned on my TV and receiver along with the Shield. However, if the Plex app wasn't open in advance, it was hit-and-miss as to whether the video would start playing immediately.
If you misplaced your remote or you want to start a video while you're carrying a bowl of popcorn to the sofa, Alexa can be handy. When I spoke with a member of the Plex product team for tips on how to get Alexa running smoothly, he hinted that more capabilities and commands will be coming to Alexa in the near future. The DVR will probably get some improved features too. The Plex app may well become an indispensable tool for those of us who have libraries full of downloaded media.