Logitech Ultimate Ears UE900s Headphone Review
PRICE
$399
AT A GLANCE
Plus
UE's tip-fitting system ensures a perfect fit
User-replaceable cables
Sweet, nicely detailed sound
Minus
Premium pricing
THE VERDICT
The Ultimate Ears UE900s look, feel, and sound right, they're big on transparency, without shortchanging body and soul.
I was in for a big surprise when I opened the Ultimate Ears UE900s box. The headphone not only comes with a generous selection of sizes and types of ear tips, UE's color-coded, systematic fitting process makes it easier than ever to achieve the perfect fit. This ensures maximum isolation from external noise and the full bass potential of the UE900s.
Instead of a plastic bag with a jumble of tips, the top layer of the UE900s box has nine pair of silicone and Comply ear tips neatly displayed with the size in millimeters clearly indicated, and each tip is mounted on a plastic fitting handle that makes it easy to quickly insert and remove a succession of tips from your ears. These tips are provided to aid in the fitting process, not for use on the headphones!
It takes a few minutes to run through the choices for your left and right ears. They may vary; the 11.5mm tip that was too small for your right ear might be ideal for the left ear canal. Then the 12.5mm or 13.5mm tip might be perfect for your right ear. Great, now that you've determined which sizes work best, you'll find a complete second set of color-coded tips in the bottom of the UE900s box, neatly laid out on a plastic insert. Those are the ones you'll use on the UE900s' earpieces. Ultimate Ears' fitting system makes so much sense, I'm amazed no headphone manufacturer ever offered something like it before!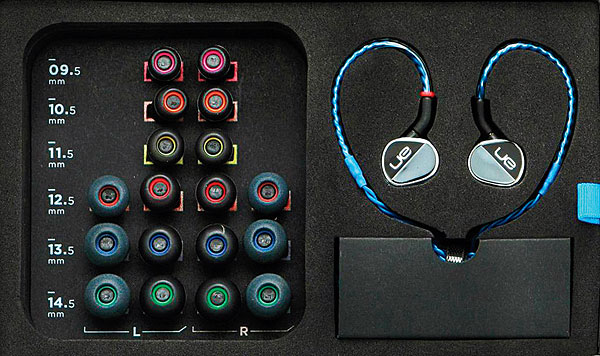 Each UE900s earpiece houses four proprietary balanced armature drivers: two low-frequency, one midrange, and one treble driver. The headphone comes with two sets of 52-inch-long braided cables, one straight one, and one with an Apple compatible mic/remote. The cables and earpieces feature snap-on MMCX connectors and standard 3.5mm plugs. You also get a soft-cloth carry case and a hard-plastic case.
Sound-wise, the UE900s is on the warm side of neutral. There's a little extra bass fullness, which is just the way I like it. More accurate in-ears tend to sound bass-shy when I'm traveling by plane, bus, or train. In those settings, the UE900s sounds neutral; at home, I'm aware of the bass lift.
The UE900s flattered every music genre, so I was in no hurry to compare it with other headphones. Still, that's part of the job, so I grabbed one of my references, the Hifiman RE600S, and played a few tunes. That one sounded "faster" and more immediate, while the UE900s is softer and more laid-back. The UE900s clobbered the RE600S in terms of bass power and overall dynamics. The UE900s has a rock-'n'-roll heart, whereas the RE600S better resolves subtle textures and details. Back with the UE900s, Eric Clapton's Unplugged album was so clear, I could hear his band's instruments filling the studio. I felt like I was in the room with the guys.
Up to this point, I listened with my iPod classic, but I was curious to see how the UE900s would fare with Neil Young's new high-resolution PonoPlayer, with a set of balanced cables on the UE900s. I wasn't expecting to hear much of a difference, but transparency and dynamic impact gains were significant. The PonoPlayer has a standard 3.5mm headphone jack, and a second 3.5mm jack that can be configured to run balanced cables, such as Cardas Clear cables, with the UE900s.
Though it's not cheap at $399, the UE900s is an an audiophile-grade, in-ear design that won't empty your piggy bank. And when you're itching to upgrade, you can pony up for the $399 PonoPlayer and a set of balanced cables that will take the UE900s' sound to the next level.